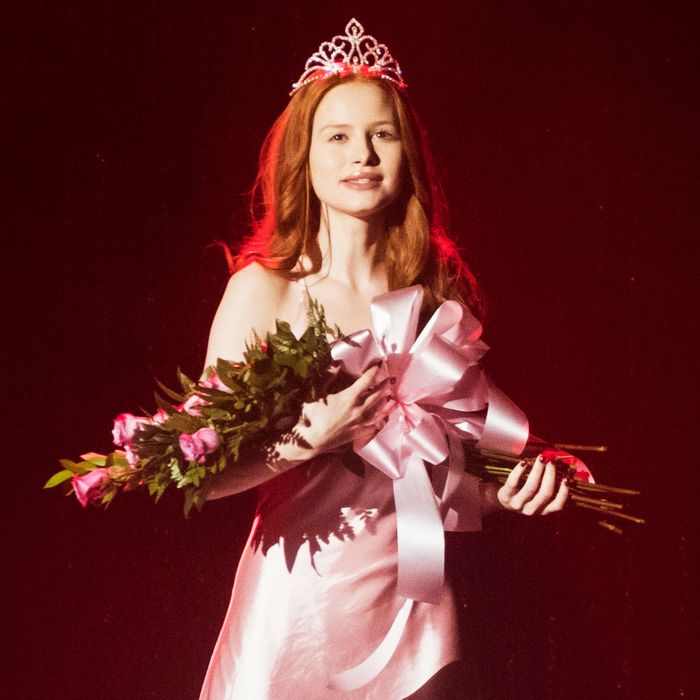 Thousands of voices forever repeating: Carrie, Carrie, Carrie!
Photo: Katie Yu/The CW/Katie Yu/The CW
Most high schools tend to stick to the established hits when they're staging a musical: The Music Man, Fiddler on the Roof, or maybe Spring Awakening if they're really daring (or if Ted Mosby is in charge). Not Riverdale High. For Riverdale's big musical episode that's airing on Wednesday night, the teens are putting on Carrie: The Musical, that infamous adaptation of the Stephen King novel turned Brian De Palma movie. "It felt like, if we were going to do a musical on Riverdale, which is a little subversive and dark, it would be nice to do something that wasn't Grease," series creator Roberto Aguirre-Sacasa told Vulture.
It's a fitting choice: The basic ingredients of Carrie — teen angst, hormones, and a blend of high-school drama and horror — pair well with Riverdale's own campy brew. Aguirre-Sacasa, who also wrote the 2013 film remake of Carrie, called it an "American fairy tale," filled with archetypal characters that would be at home at Riverdale's Americana high school. "The characters in Carrie are so archetypal, and the Riverdale kids, too, are archetypes," he said, "So they really cast themselves." Cheryl Blossom, the tormented outcast, plays Carrie; Alice Cooper, the overbearing religious mom, plays her mother; good and bad girls Betty and Veronica play good and bad girls Sue and Chris. Kevin Keller, resident gay theater nerd, directs.
While the film is iconic, in its stage form, Carrie is best known as a legendary Broadway flop, closing just five regular performances and 16 previews after it received savage reviews. But a cult following of theater nerds, like Kevin, have since reclaimed the show and Michael Gore and Dean Pitchford's kinetic, rock-infused score as their own. Aguirre-Sacasa, whose experience in theater includes writing credits on the musicals American Psycho and Spider-Man: Turn Off the Dark, remembered watching bootlegs of the show's original run. His friend Stafford Arima directed the Off Broadway revival of the show in 2012. Riverdale, too, revives Carrie with a specific vision, as Kevin decides to emphasize the period aspects of the story. "Kevin's grand innovation is to think of it as a period piece," Aguirre-Sacasa said. "There was bullying and it was unfair, but it wasn't internet bullying, it was very visceral."
Though Riverdale has had its characters perform many musical numbers, staging and filming a whole musical episode required "triple the amount of work in the same amount of time," as the actors had to learn songs and choreography, while the production had to create costumes for the show-within-the-show and figure out how to film each musical number. In general, the actors only sing when their characters are supposed to be singing, Aguirre-Sacasa said, "but when we couldn't successfully do that, we just went into fantasy." Though many of Carrie's biggest songs get covered on the show, Aguirre-Sacasa added that there were a few extra scenes that didn't make the cut, which he hopes to get Warner Bros. TV to release if there's a strong enough response to the episode. "I can tell you that one might involve Choni," he said, referring to fan nickname for Cheryl and Toni.
If the response is enthusiastic enough, maybe Riverdale High will even attempt another musical in a future episode. Not to spoil the plot, but everything does not go exactly as planned on the night Carrie is performed. "Kevin is gonna be due for a comeback for sure," Aguirre-Sacasa said. "I think if he's ever allowed to direct again, maybe he'll have to star in the musical."