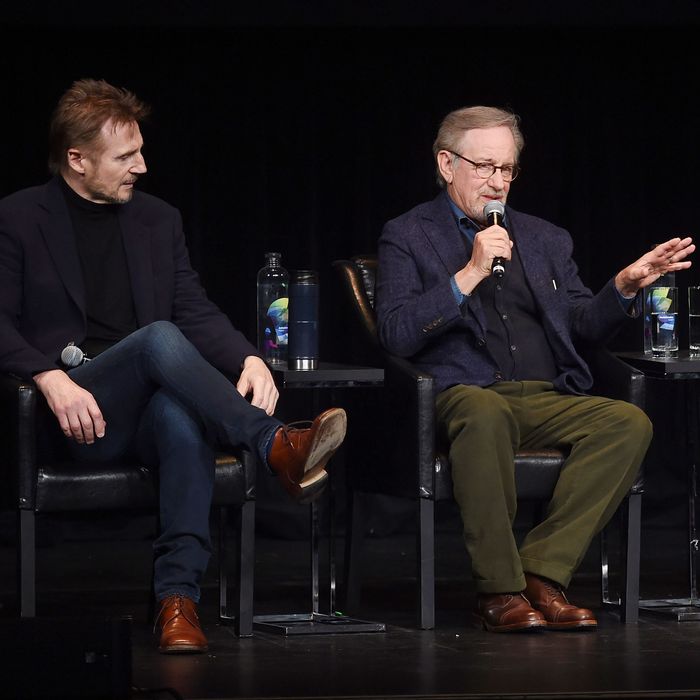 From left, Liam Neeson, Steven Spielberg, and Ben Kingsley.
Photo: Jamie McCarthy/Getty Images for Tribeca Film Festival
The distant sound of sobs drifting down Broadway last night began at the Beacon Theatre, where the Tribeca Film Festival held a screening of Schindler's List in commemoration of the Holocaust epic's 25th anniversary. After three brutal hours of respectfully stifled sniffles, the audience was treated to a rare Q&A with director Steven Spielberg along with his stars Liam Neeson, Ben Kingsley, Embeth Davidtz, and Caroline Goodall. Spielberg did most of the talking, regaling the crowd with remembrances from his time working on the production, some humorous and some solemn.
One particular tidbit was a little of both: As one might expect, spending long hours re-creating one of the grossest violations of human rights in history took quite a toll on the personnel involved. Spielberg divulged that he was in such a rut that he'd arranged a once-a-week phone appointment with Robin Williams, who would cheer up the filmmaker with a tight 15-minute stand-up set. "He was very thoughtful, knew exactly what time it was in Poland," Spielberg recalled. "I would laugh hysterically, because I had to release so much. And Robin, the way he is on the telephone, he'd always hang up on you after the loudest, best laugh you give him."
But the tone of the panel was predominantly somber, fittingly. Kingsley remembered an incident in which a German businessman staying at their same hotel asked cast member Michael Schneider if he was Jewish, and after Schneider answered in the affirmative, the man pantomimed a hanging-by-noose gesture. Kingsley did not take this sitting down; Spielberg claims Kingsley "took him to the ground." Kingsley, ever the proper English gentleman, said only that "I stood up." With a grin, Spielberg shot back, "You did more than stand up!" In another disturbing anecdote, a woman in Poland called out from her apartment to actors in SS costumes how much she loved seeing those uniforms again, and that she wished "all of them were back to protect us again." Spielberg, with a nervous laugh: "I may get arrested if I go back to Poland."
The night ended with a deeply moving description of a Passover seder that the cast and crew put together while shooting: "Somebody organized a seder, with Haggadahs on the table in front of us. As the cast came in, the German cast sat right next to the Israeli cast. They read from the same Haggadah — sitting German, Israeli, German, Israeli — and I just started crying. That broke me."