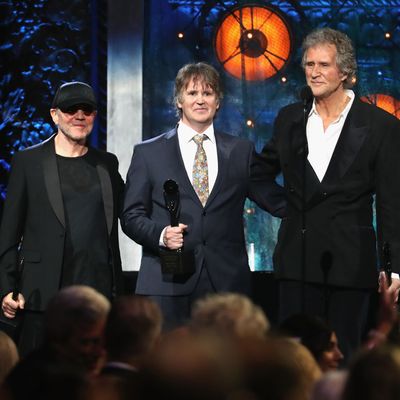 Money for nothing, reunions are not free.
Photo: Kevin Kane/2018 Kevin Kane
The most unexpected source of Rock and Roll Hall of Fame drama this year came from various Dire Straits members, with half of the chaps ultimately choosing to avoid the ceremony for inexplicable reasons. This was most glaring with the absence of bona fide front man Mark Knopfler, who hasn't uttered a word about the ceremony, either in regard to formally say nah or to provide some context for his snub. (Meanwhile, Mark's brother David said his own absence was because the Rock Hall was "reneging" on its promise to pay his full travel bills. Drummer Pick Withers also hasn't commented publicly.) Members of a band skipping the ceremony for personal reasons isn't inherently unusual for the Rock Hall, but this year, something changed — the inclusive spirit of the induction took a full 180 when the participating Straitsmen came onstage, as the two fundamental tenets of the process were completely eschewed.
Perhaps owing to the absence of the Knopfler brothers, Dire Straits — for the first time in the entire Rock Hall history — didn't have an induction speaker present them at the ceremony. (Just think how good Sting could've been. And he could have jumped in afterward for a "Money for Nothing" jam.) The band came onstage following the customary video presentation to speak for themselves, with John Illsley, the band's bassist, being a good sport and designating himself as their official induction speaker. "As as fellow member I found I might be the most qualified one to do this. It's a bit weird, but life's strange," he said. "I know it's a little bit odd, but it's my honor to welcome Dire Straits into the Hall of Fame." His fellow bandmates, keyboardists Alan Clark and Guy Fletcher, followed with short and charming speeches of their own, but not before Illsley tried to clear the air about Mark's absence — which he previously said boiled down to Mark just not feeling like attending.
"I know there's been a lot of speculation about the fact that Mark is not here, but I can assure you, it's just a personal thing. It's personal reasons, let's just leave it at that," Illsley continued. "This is really more about a group of people more than one person, it's a collective, a brotherhood and that's something that needs acknowledging tonight." Clark echoed that enthusiasm in his speech, capping it off with: "This award is for all the people we've made happy."
Their ten-ish minutes of stage time were then followed by … nothing. Neither the trio doing a simple performance with the help of backing musicians, or even a separate showcase of contemporary musicians performing on their behalf. Hell, even another video presentation could've worked, perhaps using some snippets of their famous Live Aid outing. Whether this was at the behest of the Rock Hall or the lack of willingness by the band, though, only one thing for now remains certain: Be, bop, a, lula, baby, this was a major bummer.