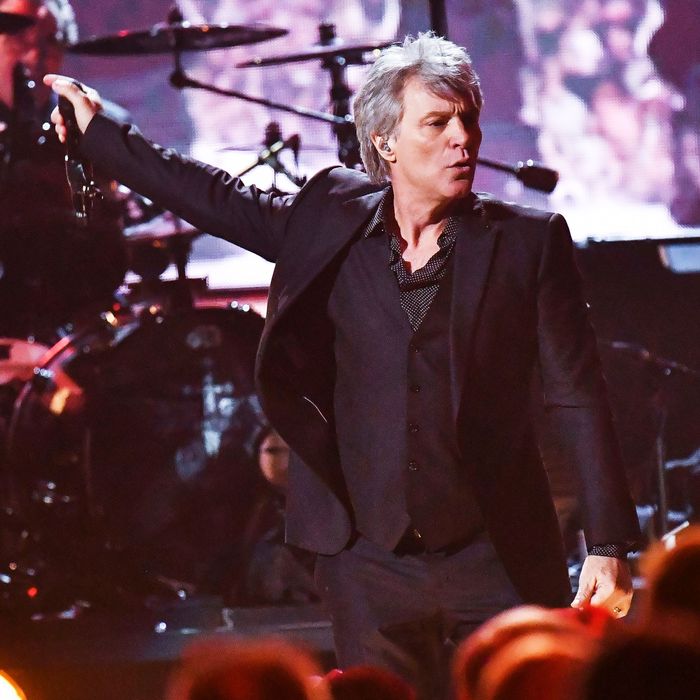 Photo: Jeff Kravitz/FilmMagic
Sure, some moments at Saturday night's Rock and Roll Hall of Fame induction ceremony were a bit odd in execution, but the overall evening was filled with sonic jubilance thanks to the wonderful medley of reunion performances from the Cars, the Moody Blues, and Bon Jovi. But an interesting trend emerged throughout the course of the ceremony within the speeches of the presenters and inductees, and it took the form of biting the hand that fed them: Five people openly expressed varying degrees of disdain for the Rock Hall, beginning with the very first presenter for Bon Jovi, Howard Stern.
"Now, another sign of the zombie apocalypse, Jann Wenner finally let Bon Jovi into the Rock and Roll Hall of Fame," Stern deadpanned. "Way to go Jan, Jonny, John, Jann, whatever the fuck your name is. Anyway, Jann, you did it. You finally gave this fantastic band their due." Wenner, in addition to being the founding editor of Rolling Stone, is a co-founder of the Rock Hall, although his direct involvement in choosing the inductees has been highly disputed over the years. Still, the no-bullshit Stern didn't come to play when it came to criticizing Wenner, questioning why he's still in such an influential position.
"Now, for those of you who don't know, Jann is the man in charge, but I'm not sure why. This guy doesn't play a musical instrument, he doesn't have a band, but he did start a great magazine, Rolling Stone," he continued. "Yeah, and now it's the size of a pamphlet. What a business plan, way to go. I read it in about 30 seconds backstage. Now, Jann required years of pondering to decide if this glorious band that sold over 130 million albums should be inducted. What a tough decision! Gee, I don't know if I should let Bon Jovi in? 130 million albums, that's not such a big deal." Stern could've gone on, but instead summed his feelings up with a few words: "Look, this is an honor long overdue."
Perhaps poetically, another vocal critic of the Rock Hall, Bon Jovi, soon took the stage after Stern wrapped up his musings to share a thinly veiled insult of his own. (Last year, Jon told Stern on his radio show why he believed the Rock Hall's voting board made it their "personal mission" to "fuck with" him.) "I've been writing this speech since I first strummed the broom and sang at the top of the stairs of my childhood home. I've actually written it many ways, many times," he explained. "Some days I write the thank you speech, other days, I write the fuck you speech. Writing it was, in fact, therapeutic for me in a lot of ways. I certainly see things differently tonight than I would have 10, 20, 30 years ago. But in the end, it's all about time." His long, curriculum vitae-esque speech was otherwise gracious to his peers and collaborators — although the fuck you version sounds pretty enticing — but he couldn't help but add a little sass to cap it off at the end:
I know, I know, it's about time. And that has been the theme of our weekend, so it all really just depends on how you read into those words, "it's about time," because time is the most precious commodity we have.
As for the remainder of the evening, the artists — none of whom were ever as outspoken as Jon leading up to the ceremony — generally kept their courteous antennae up while giving speeches, although moments of cheek did shine through. John Illsley, the bassist of Dire Straits, didn't hide his confusion over the band's weirdly lackluster induction segment, for starters. "As as fellow member I found I might be the most qualified one to do this. It's a bit weird, but life's strange," he said, being tasked with inducting the band with the absence of an appropriate presenter. "I know it's a little bit odd, but it's my honor to welcome Dire Straits into the Hall of Fame."
The Moody Blues' Graeme Edge, meanwhile, served some about-damn-time 'tude: "And all the people in the world that haven't helped me — screw you. God bless you all! It was so long that we were eligible and didn't make it, that I got a real sour grapes thinking about it." On the opposite side of the spectrum, fellow Bluesman Justin Hayward just doesn't know if his pals will understand the significance of this fête: "It's quite hard explaining the Rock and Roll Hall of Fame over the other side of the Atlantic."
But nobody showed such open indifference to the ceremony's structure as Nina Simone's brother, Sam Waymon, who gave Simone's induction speech on her behalf. "They said I had three minutes, I said, 'No, I don't.' I'm going to take the time necessary to say what I got to say," he said, proceeding to continue on for nearly 15 minutes, peppering his speech with reasons why it's ironic for her to receive the honor: "It's the oddest thing for you to induct her, because Nina Simone is a nonconformist, she's a non-traditionalist … but still, you know if she was here she would've said thank you, but she also would've said, Damn Sam, what took them so long?"