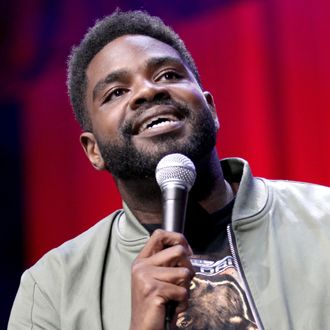 Photo: FilmMagic/FilmMagic
Ron Funches is getting set to film a new special in June, as told to Splitsider, and there's really only one "angle" to it that we know about so far: Funches will be donating all of his proceeds to charity.
Funches' first TV special, The Half Hour on Comedy Central, was ranked as the 11th-best of 2014 by Vulture. He will be filming his next special at the Neptune Theatre in Seattle on June 19, with tickets going on sale this Friday at 10 AM PST at RonFunches.com. Funches will be recording two shows that night, at 7 and 9:30 PM. All artist proceeds will be going to the charity Mary's Place, an emergency homeless shelter in Seattle for moms, dads, and kids in need. Funches' statement on the special and the charity:
"I wanted to find a local reputable charity to donate all proceeds from tickets sales of my show in Seattle. After researching I discovered Mary's Place.  Reading the stories of the people they helped really touched me.  Mary's place has a day center for homeless women, and eight night shelters available for moms and dads with children that provide a warm bed, meals, and a community of support.  Please help me support this great cause!"
The special will air on Comedy Central in 2019.