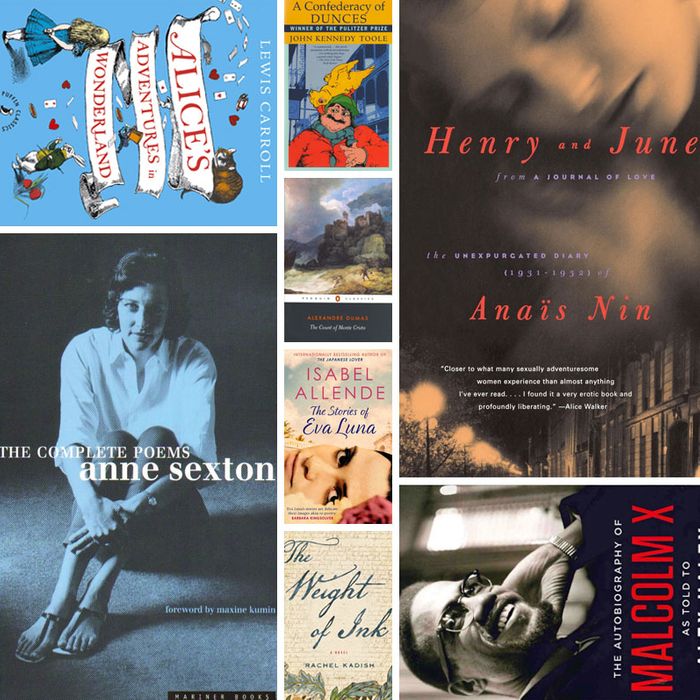 Bookseller One Grand Books has asked celebrities to name the ten titles they'd take to a desert island, and they've shared the results with Vulture. Below is the list of artist and activist Rose McGowan.
Love in the Time of Cholera, by Gabriel García Márquez
I was working at a funeral home when I found this novel. Being 14, I did a lot of thinking about death, and, conversely, how to live. Love in the Time of Cholera made me feel as if I were walking next to the characters as they laughed, loved, lived, and died in a world filled with spirits. Márquez raised my consciousness by taking me gently into other realms.
A Confederacy of Dunces, by John Kennedy Toole
If you enjoy a good snort or cackle as I do, then this may be the book for you. The title pretty much says it all.
Jane Eyre, by Charlotte Brontë
"I am no bird; and no net ensnares me; I am a free human being, with an independent will; which I now exert to leave you."
This is an important book that as a young girl showed me that we can be indomitable, regardless of whether we are seen or not.
The Stories of Eva Luna, by Isabel Allende
Through Eva Luna and her stories, I went on a shimmering odyssey of the mind. Allende's writing has such texture, she makes me hear, see, feel, smell the world with her words.
The Autobiography of Malcolm X, as told to Alex Haley
"I've had enough of someone else's propaganda. I'm for truth, no matter who tells it. I'm for justice, no matter who it is for or against. I'm a human being first and foremost, and as such I'm for whoever and whatever benefits humanity as a whole."
—Malcolm X
Luckily, I found this book in paperback when I was 11. It is a book that should be required reading at a young age. Malcom X's mind, struggle, fight, pain, and truth will live on because this book will keep popping brains open. Look past the propaganda machine that reduces his role in history; there is a whole world of thought here, and that is a world I like to be in.
Henry and June, by Anaïs Nin
I recently reread this study of feminine pain and pleasure that makes the heart and body and mind feel all the feelings. Mind sex is good sex.
The Count of Monte Cristo, by Alexandre Dumas
The hopelessness of character assassination and being trapped by evil people's lies is something I know a little about. I fell in love with Dàntes and his quest for justice long ago. Dumas's writing helped form me. I wish I could thank him in person, but this'll have to do.
The Complete Poems, by Anne Sexton
"Consorting with Angels" is one of my favorite Sexton poems, but with so much raw power it is hard to choose.
"I was tired of being a woman, tired of the spoons and the post, tired of my mouth and my breasts, tired of the cosmetics and the silks."
Sexton was and is so vital and so brazen. Mad respect.
The Weight of Ink, by Rachel Kadish
The author says she asked, "What does it take for a woman not to be defeated when everything around her is telling her to sit down and mind her manners?" Kadish answered the question by writing a superb novel. Reading it, I gasped out loud more than once with the sheer joy at Kadish's use of language and intricacy of thought.
Alice's Adventures in Wonderland, by Lewis Carroll
I imagine how delightful it must've been to write about mind-altering characters. We all fall down the rabbit hole now and then. Such fierce creativity implanted young will last a lifetime.