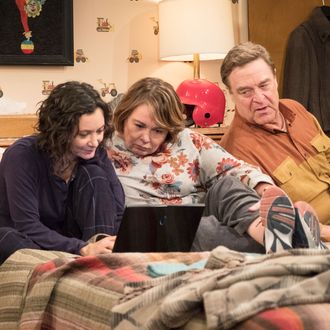 On this week's episode of Roseanne, one particular remark seemed to stand out among the rest when it came to social media criticism. The setup was as follows: Roseanne and her husband, Dan, woke up on their couch after dozing off between "Wheel to Kimmel," referring to a lineup of programs on ABC. (Roseanne, too, airs on ABC.) "We missed all the shows about black and Asian families," Dan remarked, referencing the sitcoms Black-ish and Fresh Off the Boat, to which Roseanne quipped back, "They're just like us. There, now you're all caught up." Actor and writer Kelvin Yu — who currently writes for Bob's Burgers and stars in Master of None — was one of the foremost critics of the joke on Twitter, writing how it "matters" to minority audiences.
"At the very least, it's reductive and belittling, as if to say those shows are nothing more than 'Black' and 'Asian' in their existence," Yu tweeted. "But the real kicker is when Roseanne says: 'They're just like us. There, now you're all caught up.' Which implies that the point of any show about a minority family is simply to normalize them. That's it. The stories, the humor, the characters … not important." Yu also realized the significance of ABC in particular allowing the joke:
Then you take ALLLLLL of that and put it in the mouth of an avowed Trump supporter (not the actress–the CHARACTER of Roseanne) and you have one stinky little shit sandwich of a joke that ABC allowed to be served in their own restaurant. It's a big deal. Do I think the characters Roseanne and Dan watch Blackish or Fresh Off The Boat? Of course not. Do I think they'd say something PC about them? Probably not. But the point is, they didn't HAVE to say ANYTHING. They didn't have to write that joke at all. It's not even a joke.
In further tweets, Yu continued to write that the joke was an "endorsement of dismissiveness and disregard," noting how ABC recently barred Black-ish showrunner Kenya Barris from airing an episode of the sitcom that dealt with kneeling athletes and political divide in the country. (At the time, Barris and the network said it was due to "creative differences.") Coincidentally, Barris is currently looking to end his contract at ABC Studios before his overall deal ends, perhaps as a means of jumping ship to Netflix. And by coincidentally, we mean not-so-coincidentally at all.