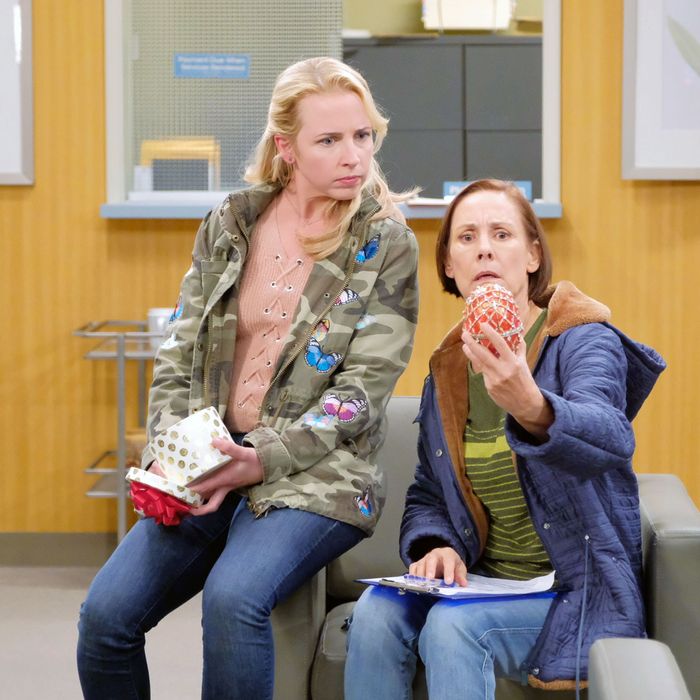 A scene from season ten, episode four of
Roseanne
.
Photo: Adam Rose/ABC
Becky and Darlene, as the sisters acknowledge during a margarita-fueled bonding session, feel stuck in their lives. Meanwhile, Mama Roseanne, in the surprise of all surprises, is evolving.
No, she hasn't declared takesy-backsies on that Trump vote, but Roseanne Conner is admitting when she's wrong. Twice. In one day.
Both are bittersweet admissions in this crushing episode, as Becky's lie about her age catches up with her in gut-punching ways. A visit to the doctor that will oversee her surrogate pregnancy for Andrea reveals her "33-year-old" eggs (the age Andrea thinks 43-year-old Becky is) have little chance of producing a pregnancy. Andrea is out the door immediately, stopping long enough only to declare takesy-backsies on the Fabergé egg she'd gifted to Becky before the appointment. With her also goes the $50,000 that Becky would have earned for the surrogacy, the only way she sees out of her dead-end waitressing gig and lonely life without husband Mark.
That the medical news means it's also unlikely she'll have a successful pregnancy for a child of her own is the sour cherry on top of the crap sundae that Becky's life continues to be. Darlene, with good intentions in spite of the Conner siblings' less than warm and fuzzy relationship, points out to Becky that she hasn't tried to move forward with her life since Mark's death (the exact cause of which we still don't know, and which, maybe out of affection and respect for the late Glenn Quinn, we never will). Becky shares for the first time that she and Mark had tried to have a baby, and after he died, she never met another man with daddy potential. There were plenty of one-night stands, Darlene reminds Becky — Darlene's gonna be Darlene, heartbreak or no — and it's one of the irreverent moments of levity that makes this episode the closest the reboot has come so far to embracing what Roseanne was during the show's original run.
Now, like then, Roseanne still doesn't care for admitting she's wrong. But in this episode, she does, first going along with Dan's insistence that she not meddle in Becky's decision to have a baby for Andrea and her husband. The prospect of the life-changing money she'll make is the first time Dan has seen hope on Becky's face, so he insists Roseanne allow it to play out. He's shocked when she agrees, and unnerved when she follows that up with an offer to fix lunch. "Something prepared, cooked, and sealed at another location," he requests, before Roseanne tosses a microwavable dinner — still un-microwaved — on the table for him.
Roseanne Barr and John Goodman haven't lost a beat with their chemistry, and it's scenes like this one that remind me of Barr's revelation that she fell a little in love with her costar when they did the series the first time. That affection remains obvious.
As do her endearments for the rest of the cast playing her TV family. Roseanne's second apology of the day comes after she and Dan answer Becky's Uber request by showing up at La Casita Bonita (a.k.a. Becky's workplace, the place where an on-duty Becky and Darlene are getting toasted, just to add another entry to the list of things wrong with Becky's life). Roseanne tells Becky she knows she can be selfish in insisting her family follows her wishes all the time. Now, she wishes she'd been at the doctor's office with Becky, even if she was against the surrogacy plan. She also offers a spot of hope to her oldest child, reminding her that she had a baby in her forties.
Plus, there's little Armani to be thankful for. He's the adorably scruffy pooch that Becky adopts from a shelter in anticipation of the house with a yard she's going to buy with her surrogacy cash. When that falls through, she returns him to the shelter, and Roseanne and Jackie embark on a silly adventure to get him back. It provides the opportunity for a great — and initially unrecognizable — guest star appearance (see below), and for a great callback when Roseanne brings up one of Jackie's all-time favorite topics — her stint as a member of the Lanford PD — so the sisters can bust Armani out of the shelter. Now that's more like it.
Couch Surfing
• Why yes, that was Better Call Saul star Rhea Seehorn guest-starring as Carrie, the animal shelter employee. Seehorn costarred with the Roseanne reboot's executive producer Whitney Cummings in Cummings's 2011-13 NBC comedy Whitney.
• Today is National Sibling Day. Just sayin', it was nice to see those great moments between Becky and Darlene, and Roseanne and Jackie's dog-pound caper.
• On Darlene's list of the things wrong in Becky's life: "You shopped at Forever 21 for at least two 21s."
• On Becky's own list: She'll be stuck at La Casita Bonita "tomorrow, and for the rest of my life, listening to white people order fa-jeetas."
• Here's what's still on my Roseanne wish list: a juicier and less farcical Jackie storyline, a D.J. storyline with background on the situation with his still-deployed wife, and the deets on David and Darlene's relationship. Oh, wait, that's coming in next week's "Darlene v. David" episode, with Johnny Galecki popping in as David.