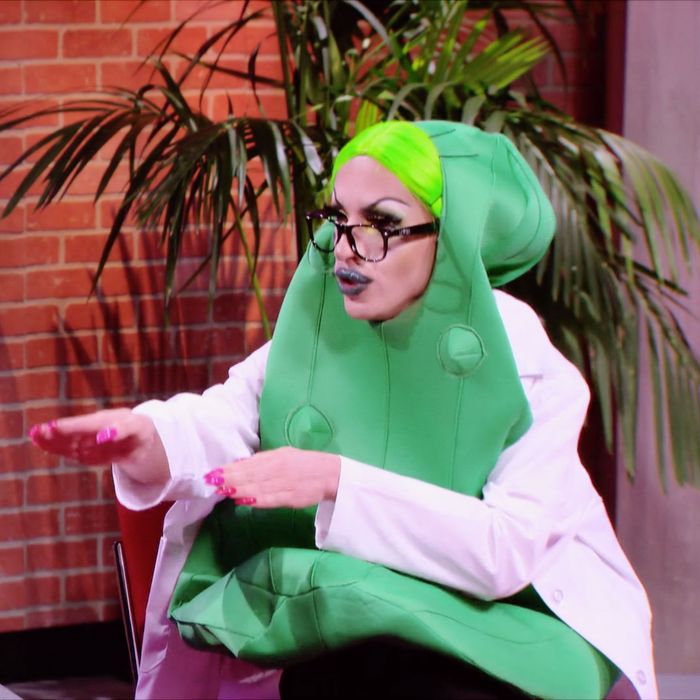 Maybe it's just us sartorial-masochists-cum-volume-queens, but after being bludgeoned into a numbed euphoria with 33 consecutive looks/lewks/lurks last week, our first instinct is to balk at yet another acting challenge, much less one that involves a loose definition of "improv" that no one seems to agree on. The judges, however, seem to be experts in the form. All of a sudden, Ross Matthews is Del Close and Michelle Visage is Viola Spolin and Shania Twain is Aisha Tyler in the Whose Line Is It Anyway? reboot. Thankfully, we get some standout performances with a fun premise and an exceptional runway showing.
The episode begins with a minor lash-out from Asia O'Hara, who takes an opportunity to sew up a Miss Congeniality win for the season, says "no thanks, bish!" and then throws it out the window. Suddenly, Ms. O'Hara feels very "used" by the rest of the contestants, who dared allow Asia to help them with their costumes without offering help in return, despite the fact that Asia never appeared to require help! Those bitches! To allow an established queen to help you in your hour of need because she insists on doing so? Unconscionable! Asia is obviously in her raw feelings at this moment, and is put firmly in her place by Miz Cracker, who confirms with the rest of the girls that the tongue-lashing they are currently receiving is some actual bullshit. Regardless, we now have a new Asia O'Hara, one who is no longer here to make connections with other drag queens and establish sisterhood above all else. "If y'all want to just compete, we can just compete," says Asia, on the fifth episode of the tenth season of RuPaul's Drag Race. And so, now that it's finally clear what we're all doing here, the game is afoot.
A new day in the workroom also seems to bring forth a change in attitude for the Vixen, who says that she'd like to "start over again" after last week's Untucked, in which she claims Eureka came for her especially hard. It's true that there were fireworks in the Untucked lounge, but whether or not Eureka was solely to blame for said 'works is up for debate. We seem to remember two tangoing, or screaming at the top of their lungs, as the case may be, but we suppose that Eureka did Poke the Bear™ with some shady, coded comments about the Vixen being a "crafty" queen, as well as a mean-spirited dismissal of Vixen while she was basically mid-sentence. The Vixen tells it like it is, and she isn't wrong that Eureka does seem to love the sound of her own voice. But her reaction was a whole lot of a lot! So it's probably for the best that we start fresh.
This week's mini-challenge requires the queens to take the contents of "government-issued" duffel bags and create a drag persona that screams "Fierce Military Drag Queen." Overall, the queens succeed with nobody botching the assignment, but it should come as no surprise that the queen who has been here to fight since the beginning, Miss Vixen, is the victor of the combat-inspired game. She is awarded the responsibility of pairing all of the queens up for the maxi-challenge, which will be an improvise a comedic scene set in the world of trashy, conflict-heavy daytime talk shows a la Geraldo, Sally Jessy Raphael, and The Jerry Springer Show. Ross Matthews steps in for those aforementioned pulp icons as the host of The Bossy Rossy Show, and there's a ton to get excited about already.
Being in the zen place that she is on this, a day of new beginnings, the Vixen takes her decision-making opportunity to set everyone up for success except her two enemies, Eureka and Aquaria. It ain't no mistake, either: Later, she explains that she believes that their personalities will clash, causing them to fail. You know what? Forget what we said before about it being for the best that we start fresh! Burn the world, the Vixen! Unlike Asia O'Hara, she remembers exactly what show she's on, owkay!?
Stars of the episode thus far, Vixen and Asia are actually paired up for the challenge, in which they must act out the scenario "Why You So Obsessed With Me?" It doesn't take them long to figure out that they can shadily act out an Aquaria versus Miz Cracker scenario, as those queens have a well-documented "did this bitch just copy my look?!" past. Asia seems a touch more hesitant to wade into messy waters than the Vixen, but before long they are wickedly scheming to roast those hos the house down. The opportunity is truly too good for them to pass up.
Over on Team Monét and Kameron, things are off to a slow start. The challenge seems tailor-made for comedy queen Monét, but in an improv challenge you are truly only as good as your scene partner. Monét's is the decidedly reserved Ms. Michaels, who hasn't exactly been popping in the personality department thus far. Minutes earlier, a quick talking head in which Kameron shares that she worships guest judge Shania Twain marks what feels like the fifth or sixth time we've even heard this queen speak, so Monét's fears about getting nothing from her comedic duet partner seem justified. Coming off being in the bottom two, Monét has no choice but to slay this challenge, in which "A Freaky Addiction Is Ruining Her Life!"
Miz Cracker feels drawn to a pickle costume that is available for her and Mayhem's assignment, "Save Me From My Deadly Fear of … Pickles!" It's quickly decided that Mayhem will portray the fearful party, while Cracker assumes the wacky role of Dr. Dill, the Jewish health professional who will help Mayhem confront and conquer her phobia of advanced cucumbers. This feels like it's going to work, as Cracker will be given the opportunity to drive the scene and fill it with her trademark brilliant stupidity while Mayhem reacts. Blair and Monique also seem to be working well together, and they hilariously decide that if one of them feels lost or needs help in the scene, their safe word will be "Vanjie." We do not know at this point if "Vanjie" is funny because "Vanjie" is actually still funny or if it's just insane that this is still an ongoing bit, but we're on board either way. Blair and Monique's safe word is "Vanjie" and, you know what? Now, it's ours too.
They are up first in the challenge and while Blair adequately sets up her character — a woman who married a cactus named Lloyd — it truly is all about Monique Heart when she makes her entrance as the Other Woman in Lloyd the cactus's life. That's because Monique Heart is a full star. We are going to go out on a limb and say that she has the potential to be an Alyssa Edwards–like character in the canon of Drag Race. She effortlessly commands attention, and even if the performances or the runway presentations aren't always a ten out of ten in terms of what we're told the Drag Race rubric is, Monique is always hypermemorable. In terms of improv skill, you can't say she doesn't "yes, and" the shit out of this crazy-ass scenario. "I'm his wife!" screams Blair. "I'm his fiancée," coos Monique, and it somehow feels like a heighten. Blair should be given credit for keeping up with Heart during their performance, which inevitably ends with the word "Vanjie" being screamed at full volume back-and-forth into each other's mouths. It nails the assignment, entertains the hell out of the live studio audience, and charms the pants off of host Ross. We cross our fingers that Monique will not walk the runway later in something hideous because we are deeply invested in this queen being on the show for as long as humanly possible.
As a woman addicted to eating her own hip pads, Monét has a difficult time. Her performance is personable and charming at the start, but the jokes never materialize. She seems overcome by nerves, and before we know it, Kameron is entering as a lady addicted to huffing her own tucking panties. She surprisingly manages to outshine Monét by whipping out an energetic, if mostly stunt-y and physical performance while X Change sort of just looks on, bewildered. When Ross asks Monét what she thinks of Kameron's addiction, she merely replies that "It's disgusting." She strikes out looking, while Kameron commits to the bit.
There isn't a ton to say about Mayhem Miller's performance as a woman deathly afraid of pickles, though it is funny that she takes the stage whilst body-rolling and soaking up the attention of the live studio audience as if her character is completely unaware she will be confronted with her worst fear on The Bossy Rossy Show. It's when she has to play the game of "Scared of Pickles" that her performance labors, and that is unfortunately her only real assignment. Miz Cracker comes out armed and prepared with jokes, bits, and puns galore, and therefore saves the whole scene. She even pushes Mayhem into some physical comedy when it is revealed that Miz Cracker's character is not just a doctor who specializes in curing pickle-phobia, but is actually a pickle herself. It's a singular, surreal Cracker move, and it kills.
The highly anticipated send-up of the Aquaria and Cracker conflict is then upon us, and it becomes evident that this is an idea only half-committed to. Maybe we're wrong, but wouldn't it have been stronger and clearer if the Vixen and Asia had actually come out and named Aquaria and Cracker? What could have been a direct roast of those two queens feels like a half-baked, unrehearsed inside joke. Asia has her funny moments, but if what the Vixen says is true and she is not following up on their prepared cues, then that's a big no-no. You can't leave a scene partner out to dry like that, girl! They don't seem to be on the same page throughout the performance, and it's disappointing that what could have been such a deliciously shady performance ends up feeling odd. "We should have rehearsed," concludes Asia, who is just made of Hot Takes this week.
In a performance that will surely make villainess the Vixen shout "Curses!" into a crystal ball that then shatters into a million pieces as lightning strikes in the distance, Aquaria and Eureka shine. Their scenario is "I'm a Very Sexy Baby" and they play that idea for all it's worth, literally coming out as diapered Sex Babies. Aquaria seems to thrive in a setting where she can offer comedic support but not steal focus, and Eureka … needs to be the focus! So it all works! In an "homage to body positivity," Eureka presents her natural, unpadded body and goes for broke in the climax, in which she hysterically cries amidst Aquaria's lived-in bitchiness. The reveal that Aquaria is now being romantically pushed around town in a stroller by Eureka's ex-husband Michael proves to be too much, and results in a breakdown that is big and wet with tears. A tour de force, hawney.
On elimination day, the Vixen reveals that she is still actively avoiding Eureka after their Untucked blowout since she knows that's what bothers her most of all. Eventually, though, the tension is too thick for Mayhem, who has to share a makeup station with both of these queens and, in the words of her sister Detox, has had it, officially. She props them both up to settle their differences, and it's fascinating to see them both navigate this emotional terrain. When Eureka opens up about her struggles with confidence as a person of size, it seems that the Vixen listens. In return, the Vixen shares that she has made a vow to always speak up for herself and say what she thinks, especially in the current political climate. Both of those queens have reasons for the ways they behave, and while the Vixen admits that their damage "doesn't mix well," it's nice to see them talk about maybe someday potentially burying the hatchet. Eureka asks to shake hands and the Vixen, somehow endearingly, says no.
On the runway, the theme is Denim & Diamonds in honor of this week's iconic guest judge Carrie Preston, who of course played Arlene on True Blood. Shania Twain is also present. It's a very fun series of runway presentations without any clear standouts: Aquaria, Asia, Blair, and Kameron are all deemed safe, and Ru gives Kameron the opportunity to tell Shania Twain that she is her ultimate idol. Shania politely says thank you and it's over. It is simultaneously ho-hum and the most exciting non-fashion related thing that's happened with Kameron thus far. We are into this queen much more than we thought we would be, but are waiting for something. Give us a big moment! Get your hands dirty, Kameron! Butch queen get filthy!
Monét sullenly receives negative feedback on her ill-fitting assless onesie as well as her performance in the Bossy Rossy challenge. Michelle correctly clocks her for not doing enough with what she was given, and the look in Monét's eyes at the end of her critique breaks our heart. The Vixen is praised for her runway look, an immaculately stoned denim mermaid dress, but is told her performance in the challenge was one-note. In a moment that will undoubtedly come back to haunt her later, she explains that — while she isn't going to throw Asia under the bus or anything! — Asia fucked the challenge up for them by missing cues left and right. So much for being best girlfriends all episode!
Eureka's feedback is extremely positive all around, as expected. We hold our breath as Michelle Visage begins critiquing Monique Heart's denim ensemble, which we think is fun but could see being clocked for recalling a giraffe more than the "brown cow" that Monique insists she is referencing. Her performance in the challenge is so beloved across the board that any runway criticism ends up being a nonissue, and again, the back and forth between Monique and the judges solidifies her legend. "I saw [the garment] and I was like, 'Oh! Brown cow! Stunning!" she explains, and the judges fall out laughing. It is at this point that we have to start asking: Will Monique Heart run in 2020?
Mayhem and Miz Cracker are the last to be critiqued on the runway, and the former is critiqued negatively while the latter is praised. Mayhem's pink denim is not reading as obviously denim, and is a touch Halloween costume for us. Her explanation that she wanted to appear as "The Chocolate Judd" is funny, but it doesn't read. A Pippy Longstocking–inspired Miz Cracker is encouraged to continue with her bizarre comedic ways. She continues to be a front-runner.
Eureka is handed the victory on the anniversary of her dismissal last season, and the bottom two queens are, not shockingly, Monét and Mayhem. While that checks out, it sinks in that we are going to lose one of these amazing queens. This is an incredible, competitive season, and we are therefore going to lose a ton of queens who are seen as iconic where they come from. At the beginning of this season, each of these girls had to be considered front-runners, and now they must fight to stay. The lip sync is to Twain's "Man, I Feel Like A Woman!" and Monét simply does more with it from an entertainment perspective. It is not the knock-down, drag queen-out slay that her "Pound the Alarm" performance was last week, but it's a reminder that Monét is still very much a contender. She just has to start bringing it, like yesterday.
And so it is with a heavy heart that we say good-bye to the queen who finally decided to crash the party, Mayhem Miller, who is fierce as fuck. That fierceness may not have wholly translated to her season ten appearance, but anyone who turns out this Fifth Element–inspired costume and performance, as well as this Evil Head of a Cosmetics Company moment, has our respect and our dollars.
SAID THE BITCH! A Weekly Quote Spotlight
Monét on Kameron: "She might have been homeschooled, or something. I don't know."
…SAID THE BITCH!!!!! This attack on Kameron's intelligence is also an attack on alternative education! Jeez, Monét, okay! So you're a rocket scientist. That don't impress us much.