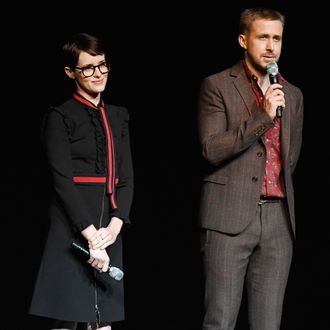 Photo: Ethan Miller/Getty Images
Oscar-winning La La Land director Damien Chazelle turned up at CinemaCon Wednesday with his La La Land leading man Ryan Gosling and The Crown's Claire Foy to tout their new collaboration together: the Neil Armstrong biopic First Man. The film follows the American astronaut's early-1960s journey from suburban idyll to the lunar surface with Foy portraying Armstrong's wife, Janet Shearon, in the film. "What I really wanted to do here was get to know the people who embarked on the ultimate human journey and to take audiences with them as they shot toward heavens and took those first steps on the moon," Chazelle said. Foy added the film also gives voice to "the unsung heroes who gave their support to this almost impossible mission."
First Man was an enthusiastically received centerpiece of Universal's movie panel at CinemaCon and will receive an October theatrical release with Academy Award gold squarely in the studio's sites. Its first trailer — the first footage shown publicly to date — framed Chazelle's dramatic ambitions.
The clip opens not in space but in a decidedly terrestrial setting with Gosling as Armstrong cradling his infant daughter in his arms and singing her a lullaby. With voice-over intoning about "humble beginnings" and "how many rivers we had to cross before we found our way," we see him and Foy in passionate embrace, slow dancing in the living room of their humble suburban home. The message is implicit: Although Armstrong has been lionized as humanity's first Moon-walker, he was, in fact, just a man, and the biopic seems aimed at humanizing that backstory.
In the trailer's most poignant moment, we see the astronaut just before his Moon shot, seated at the table in conversation with his young children. His son asks, "Do you think you're going to come back?"
"We have real confidence in the mission," Gosling says. "But there are certainly risks."
"But do you think you'll come back?" the boy asks.
"I think so," Gosling as Armstrong says, underscoring how far from a fait accompli his mission to the Moon was at the time.
From there, the clip flashes through the astronaut's NASA training, including the fiery deaths of several of his fellow spacefarers en route to the first successful blastoff. In one penultimate moment, we see Armstrong dressed in his space suit looking clearly anxious — aggrieved, even — on his final walk to the rocket that will propel him toward his ultimate destiny.
Gosling remarked from the stage: "It was a true honor for me to portray Neil Armstrong."