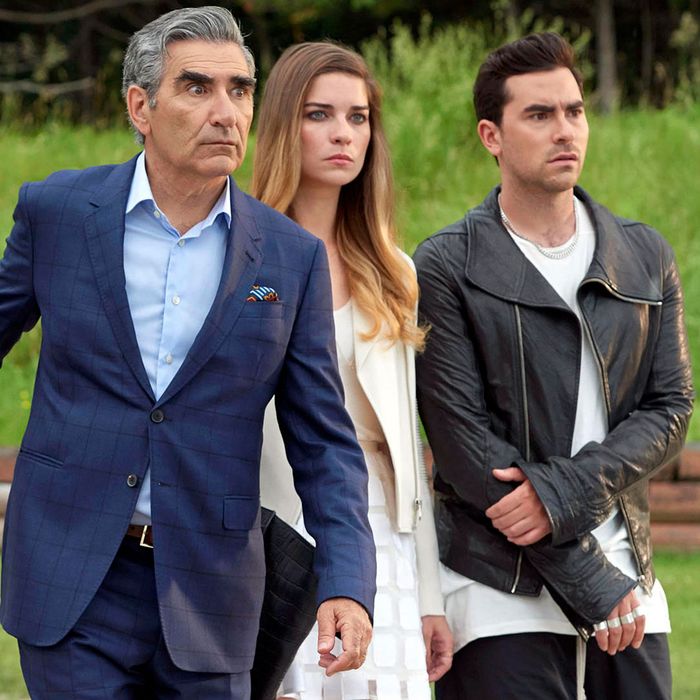 We get it, there's a lot of television out there. It is impossible to watch every great show and still have time to go outside, breathe some fresh air, and live like a regular human. Do you really need another show recommendation? When it's Schitt's Creek, yeah, you really do.
You may have heard of this Canadian gem of a sitcom, created by SCTV great Eugene Levy and his son Daniel Levy. You may have chuckled at its title. But if you haven't sat down and spent quality time in Schitt's Creek yet, well, you're missing out. Now's a great time to get onboard: The fourth season ends on Wednesday, it's already been renewed for a fifth, and the earlier seasons are all available on Netflix.
For all the non-Schittheads out there, here's a quick primer: Schitt's Creek, which airs on Pop in the U.S. and CBC in Canada, follows the adventures of the Rose family. After getting busted for tax evasion, video-store tycoon Johnny (Eugene Levy), former soap star Moira (Catherine O'Hara), and their two adult children, David (Daniel Levy) and Alexis (Annie Murphy), lose all of their money and are left with only the deed to a rural town named Schitt's Creek, which Johnny bought for David as a joke birthday present years prior. The family is forced to abandon their pampered lifestyle and move into adjoining rooms in the Schitt's Creek Motel, surrounded by wacky, small-town characters. The hilarity comes from the goofy fish-out-of-water scenarios, the heart comes from watching this family finally act like one. The show takes a few episodes to get into its groove, but once it does, you'll never want to leave.
Still not sold? Here are a few more reasons you should give Schitt's Creek a chance.
You get to watch Eugene Levy and Catherine O'Hara make comedy magic together.
Whether you love them from SCTV or as various characters in Christopher Guest's movies (#NothingEverHappensOnMars), it's great to have the Levy-O'Hara comedy duo back in our lives. Obviously, their comedic chemistry is wonderful, but they also emotionally anchor the show. The Roses aren't exactly the best people, so we need a very good reason to care about them. Johnny and Moira's relationship offers that from the get-go. They genuinely care about and support each other: Moira bolsters up her husband when he's feeling low, and Johnny knows how to talk Moira down when she's having an episode over whatever has puts into a tailspin (a bag going missing, her nudes not being available on the internet anymore, and so on). Whatever it is, Johnny and Moira navigate their troubles together.
Moira Rose has a *fabulous* wardrobe.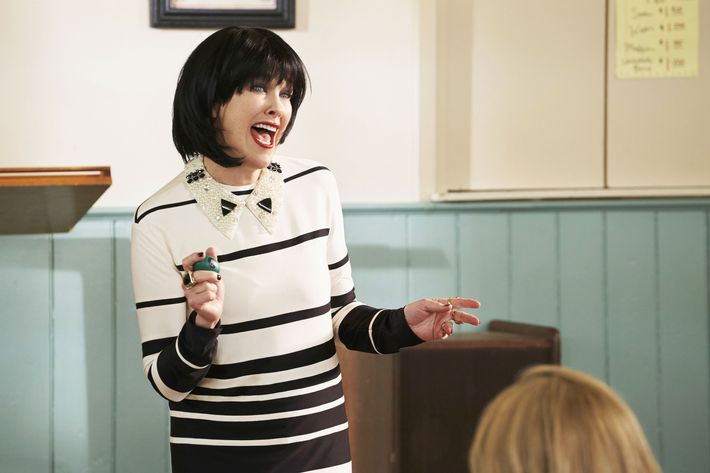 Just because you live in a small town, doesn't mean you have to dress small town. The feathers! The fur! The insane necklines! The never-ending supply of platform heels! Yes, of course a bejeweled and feathered pilgrim-like hat is the perfect thing to wear when tracking down your missing son (i.e. your favorite bag). No statement piece makes a big enough statement for Moira Rose. Oh, and the wigs. Never forget the wigs. Also, never pack Christy with Robin, because those wigs don't like each other. That's just Wig Care 101.
David and Alexis are the best siblings on TV.
It's strange to call David (an adult who believes the minimum wage is $45 an hour) and Alexis (someone who has been held hostage in multiple East Asian palaces) relatable, but when it comes to their brother-sister dynamic, they really are. They fight and get on each other's nerves, but over the course of four seasons, David and Alexis show how much they really care about each other. It's more than just having a brother who will stand in line at the consulate and send you passports and colored contacts when necessary; it's about hugging your sister when she's heartbroken for the first time (seriously, Alexis typically feels nothing and has seen doctors about it), even when hugging isn't your thing. Or helping your brother curb his anxiety enough so he can pass his driving test. There are a lot of great pairings on Schitt's Creek, but when you get a David and Alexis story line, you know you're in for a treat. BRB, just tearing up thinking about them dancing together at the end of season two.
You'll never say "David" the same way again.
I guess this is only a factor if you have a David in your life, but still, behold the magic that is Alexis saying David's name.
Need a good romantic comedy? This is it. Seriously.
I came to Schitt's Creek knowing I'd get some laughs, but I didn't realize how much time I'd spend swooning. I won't give too much away, but there are several romantic story lines that will leave you weak. Alexis has been back and forth between two suitors for quite some time, but watching her figuring out what and who she wants in season four has been wonderful. In the season's second-to-last episode, "The Rollout," she makes a soul-baring declaration of love worthy of any Meg Ryan movie.
David's current relationship makes me misty-eyed just thinking about it. Not only does it have a very romantic build-up (that first kiss!), but it feels very authentic as it develops — especially in regard to David confronting his fear of being vulnerable. What's most important, of course, is that Schitt's Creek blesses us with a gorgeous acoustic version of Tina Turner's "Simply the Best" that I never knew I needed. If that doesn't give you butterflies, well, maybe you should call up one of Alexis's doctors because you're probably dead inside.
A deep bench of endearingly wacky townspeople.
What good is a small-town comedy without the weird and wonderful folks who inhabit it? Much like Parks and Recreation, Schitt's Creek wouldn't work without its eclectic cast of characters. The most recognizable is Chris Elliott's infuriating Mayor Roland Schitt, but there's also David's practically perfect business partner Patrick (Noah Reid); Stevie Budd (Emily Hampshire), David's best buddy and the surly and sarcastic motel owner; Twyla (Sarah Levy — yes, that Levy), the sweetly odd waitress at the cafe; town council member Ronnie (Karen Robinson), who is no nonsense and also appreciates a good fur coat; and Ray (Rizwan Manji), the town's realtor-slash-photographer. Schitt's Creek also leads the way in making veterinarians hot again with kindhearted and handsome Ted Mullens (Dustin Milligan). Meanwhile, the unsung hero of this show is Jennifer Robertson's Jocelyn Schitt, high-school teacher, head of the Jazzagals, and wife to Roland. She's sweet and perky, but has a hilarious edge. Any time Robertson and O'Hara share a scene, it is a delight.
This shot of Dan Levy crouching in a field, holding a pitchfork next to an Amish child while wearing sunnies and a bonkers hoodie.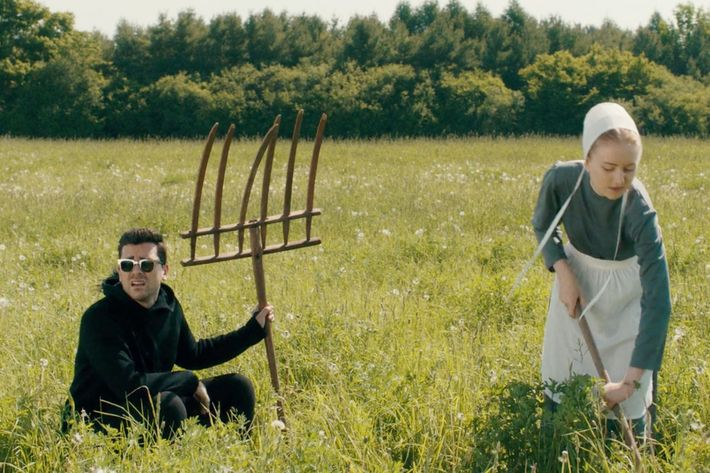 Frame this screengrab, for it may be the greatest tableau of our time.