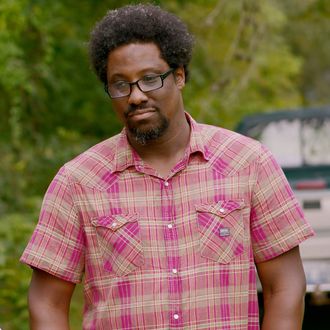 Photo: Staff/Cable News Network. A Time Warner Company. All Rights Reserved.
W. Kamau Bell returns to CNN this weekend with a brand new season of his Emmy-winning series United Shades of America, and the network released a promo to give you a sense of what issues Bell tackles in the new batch of episodes. Here's more info about what Bell will explore in the 8-episode third season:

In season three, Bell heads to the border, visits the coast of South Carolina to meet the Gullah Geechee people, travels to Hawaii to talk to natives, heads up north to Canada, meets with students at Historical Black Colleges and Universities, explores Sikhism in America, talks to members of the disabled community, and visits his dad in Mobile, Alabama to retrace his family roots. In the season premiere, "The Border," Kamau travels to the U.S./Mexico border to find out what life is like for people living there and talk about the proposed new wall.
Check out a promo above, and catch the rest when United Shades returns to CNN this Sunday, April 29th at 10:15pm.