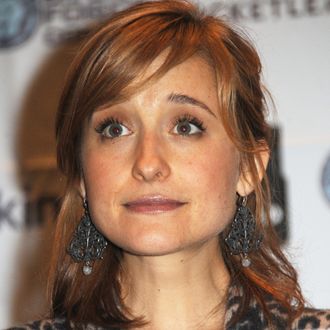 Allison Mack.
Photo: Albert L. Ortega/Getty Images
Earlier this month, Smallville actress Kristin Kreuk had to fend off rumors that she worked as a recruiter for a sex cult called NXIVM. It was started in 1998 by a man named Keith Raniere, who billed it as a self-help organization. After the New York Times published an exposé of NXIVM last year, Raniere was tracked down and finally arrested several weeks ago for alleged sex trafficking. Now, a different Smallville actress has entered the plot. "Page Six" reports that Allison Mack was arrested for allegedly serving as Raniere's recruiter. It's unknown whether or not she participated in or enforced practices like bodily branding, forced dieting, and physical abuse that are reported to have taken place within NXIVM.
According to TMZ, Mack was on the scene when Raniere was arrested in March, and today she was taken into custody by FBI agents. Mack will reportedly be brought back to New York state to face charges.
Update: The United States Attorney's Office has issued a statement on the arrest of Mack, which has been obtained by The Hollywood Reporter. "As alleged in the indictment, Allison Mack recruited women to join what was purported to be a female mentorship group that was, in fact, created and led by Keith Raniere," U.S. Attorney Richard P. Donoghue said in a statement. "The victims were then exploited, both sexually and for their labor, to the defendants' benefit." Raniere has already been charged with sex trafficking, sex trafficking conspiracy, and forced labor conspiracy by the USAO for the Eastern District of New York. Mack was scheduled to be arraigned today.