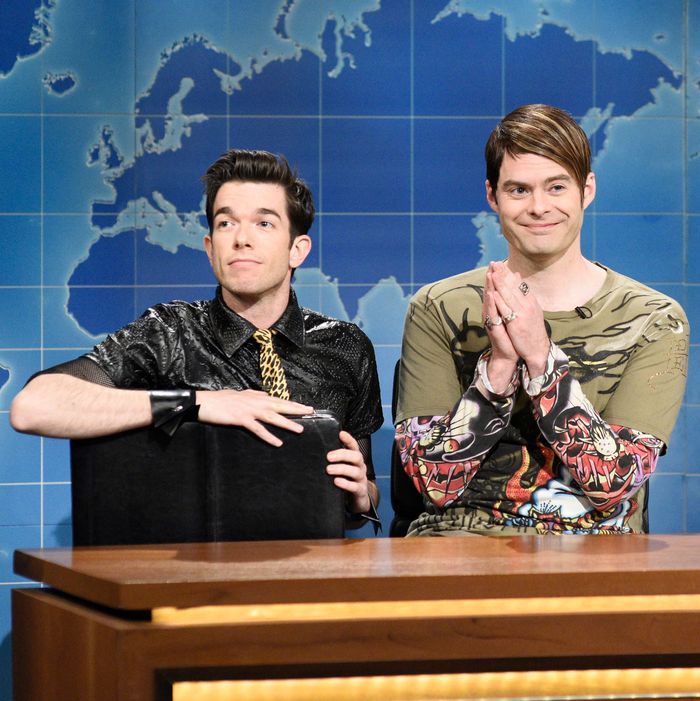 Photo: NBC/Will Heath/NBC
Stand-up comedian John Mulaney, whose five-year tenure as a Saturday Night Live writer ended in 2012, returns to host the show this weekend. Since he left SNL, Mulaney has had plenty of writing opportunities — first, with the short-lived Fox sitcom Mulaney; then Oh, Hello! on Broadway with Nick Kroll; and on stand-up tours including his most recent, Kid Gorgeous. He's undoubtedly one of the smartest joke-writers in comedy today, and though there's ample evidence of that in his specials, it's worth looking back at his ten greatest sketch successes at SNL before he takes the stage this weekend.
Stefon
The club-promoting party boy that Mulaney created with the help of Bill Hader is wildly popular for a reason. Though the recurring Weekend Update character has a simple M.O., Mulaney's sharp jokes and Hader's coy delivery proved to be an unimpeachable formula. Even after Stefon had a moment as scary as shark-jumping was to the Fonz — when he got married to Seth Meyers — he bounced back with no noticeable scars. The details of Stefon's monologues never fail, from the shout-out to forgotten '90s MTV host Dan Cortese to explaining how Alf in a trenchcoat helps make for a great party atmosphere. Part of the allure of Stefon is the sense that Hader might break any moment, as Mulaney likes to change up jokes in Stefon's monologues at the last minute. Picking his best appearance would be difficult, but watching Hader lose it after explaining "Jewish dracula" is pretty great.
Herb Welch
A lot of Mulaney's creations are inappropriate in some way, but the bumbling, elderly news reporter Welch (Bill Hader) is particularly out of touch. Welch's bit is pretty straightforward: He grumbles about everyone who isn't an old white man, and then, when asking questions to an interview subject, he pops them in the face with a mike. If he weren't such a relic, Welch's tasteless grumbling and groping would be unforgivable. As it stands, Welch is impervious to criticism and no matter what he says, nothing can take him down — not the interviewees, not the hosts, and certainly not the network. ("Can't we fire him?" asks Nasim Pedrad's character at the end of one segment, right before she gets a Welch-style pop from an anonymous hand.) Death also seems to have a hard time crushing Welch, as he dies and returns to life at the end of every segment.
What's That Name?
It's no doubt Mulaney and his co-writers Marika Sawyer and Simon Rich wouldn't have been able to get away with this sketch without a self-deprecating participant like Timberlake. "What's That Name?" is a game show in which the abusive host Vince Blake (Bill Hader) brings out various people and asks the contestants for the mystery guests' names. In this celebrity edition of the game show, Lady Gaga (played by Gaga herself) knows everyone, including some random fan who "said he loved my music — you don't forget something like that." Timberlake can't remember the identity of a recent hookup, nor can he recall the name of a former 'N SYNC band member. All at once, the sketch manages to mock celebrity, privilege, and that niggling fear the rest of us have about forgetting those we encounter and rely on everyday.
Beethoven: Meet the Band
As America's youngest comic curmudgeon, John Mulaney is repeatedly drawn to the figures and cultural artifacts of the past. He doesn't always go as far back as the 1824, but here, Mulaney and co-writers Erik Kenward and Reggie San Miguel toy with the idea of a classical composer riffing like a bandleader might while he introduces his gratuitously large band. In this case, the bandleader is Ludwig van Beethoven, and the band is a bunch of guys named Olaf. Essentially, the sketch is a flood of dad-quality gags ("The tuba, music's answer to the fart") on either side of snippets of "Ode to Joy" played on horns or strings. But it is a flood of gags, the little character portraits are fun, and there's something inherently likable about Jimmy Fallon's chatty, charismatic Beethoven.
What's Wrong With Tanya?
This is a cable-TV parody buried in a game-show parody, which lets Mulaney and his co-writer Marika Sawyer poke fun at many melodramatic tropes of Lifetime movies with incredible speed. Three typical Lifetime moms — cheery, white, suburban women in pastel colors — try to figure out what's wrong with "beautiful daughter" Tanya. While the ladies analyze kids' glares and pouts, they cry out about eating disorders, pregnancy, illiteracy, and any other teenage difficulty they can possibly imagine, real or invented. Eventually, Mary Jo-Beth Jojo (Anna Faris) reaches the final round, only to be abused by nasty host Vince Blake (Bill Hader). "Who's gonna believe you?!" he cries, in the manner of all evil Lifetime husbands. It's campy, larger-than-life and a quick study of cliché.
Bridal Shower Gifts
Where exactly is the line between the sexy-cute and sexy-disturbing? That is, what is the difference between using a pair of furry handcuffs and using something called a "human toilet"? In this sketch, a clueless woman named Wallis (Emma Stone) muddles her way through a bridal shower thrown for a co-worker (Kristen Wiig). While other girls bring gifts like edible underwear, Wallis shows up with an open jar of anal lube and what appears to be a massive, double-sided dildo. "Did I do wrong?" she wants to know. The sketch heightens beautifully, and Stone gives the sort of oddball performance she ought to have the chance to do more often. Plus, we get to learn about a film called Twink Summer, which boasts "90 minutes, 100 twinks, one unforgettable summer."
Family Flix: Rocket Dog
The host of a chat show (Kristen Wiig) welcomes Percy T. Douglas (Tracy Morgan) to talk about his latest movie, Rocket Dog. The movie is about a boy who finds a jetpack, straps it on his dog, and then launches the dog in the direction of fast-moving objects. In the place of disclaimers, Douglas's clips feature memorial montages, as many, many animals were harmed in the making of this movie. Good thing Douglas filmed in Thailand, "a place that was heavy on dogs and light on laws." (This sketch just would not work without Tom Cochrane's "Life Is a Highway" underpinning the death montages.) (Yes, you read that sentence correctly.) There are wonderfully absurd gags here, but it's also worth mentioning that Morgan's emphatic nonanswers and Wiig's raised eyebrows make the material sing.
The Obama Show
In 2018, it's hard to separate The Cosby Show — an upstanding, all-ages family sitcom — with the behavior of its creator and star Bill Cosby. In 2012, a few years before his trial began, it was (somewhat) easier to remember Cosby as his goofy-sweater-wearing, pudding-pop-eating character — and through that specific lens, casting the Obamas as the Cliff and Claire Huxtable was a brilliant move. (Like the Huxtables, the Obamas had broken barriers with white America and endeared themselves in a sweet, charming, and wholesome way.) In this parody, which Mulaney wrote with Seth Meyers, Michelle Obama's interest in nutrition finds a new outlet in an "educational yet laugh-filled comedy." From there, Fred Armisen flaps his feathers as Cosby, Maya Rudolph does a great, officious Phylicia Rashad, and Jason Sudeikis makes for a chummy, childish combination of Joe Biden and Malcolm-Jamal Warner.
Don' You Go Rounin' Roun to Re Ro
The British crime dramas of the late '90s almost prided themselves on characters with impenetrable accents. Where Guy Ritchie mocked this practice in Snatch, making Brad Pitt's character unintelligible even to other characters in the movie, Mulaney's hammy parody takes this incomprehensibility to its absurd extreme. There's a protagonist (Bill Hader), an antagonist (Fred Armisen), a girlfriend (Nasim Pedrad), some guy with dreadlocks (Russell Brand), and an inevitable stand-off: This is all we know and all we need to know. The only lingering question, given voice by one of the reviews quoted in the trailer: "Is there a way to turn on subtitles for a movie in English?" Mulaney has mentioned this as one of his favorites, too.
The Bride of Blackenstein
This is a big, silly parody that mashes up a classic sci-fi scenario with a blaxploitation movie. Written by Mulaney with Jay Pharoah and Seth Meyers, The Bride of Blackenstein features Pharaoh as a mad scientist with the voice of Bootsy Collins and the mind of, oh, say, Blac Youngsta. In the sketch, the Bride of Blackenstein is played by Nicki Minaj — and Dr. Blackenstein, Blackenstein himself (Kenan Thompson), Igor (Jesse Eisenberg), and all of the townspeople are as hypnotized by the Bride's backside. ("That booty is a masterpiece of modern science!") Beyond that butt gag, there are goofy jokes about how dating a black (or Jewish) girl is bound to put a man in his place. All in all, it's yet another angle on Mulaney's ability to handle parody.