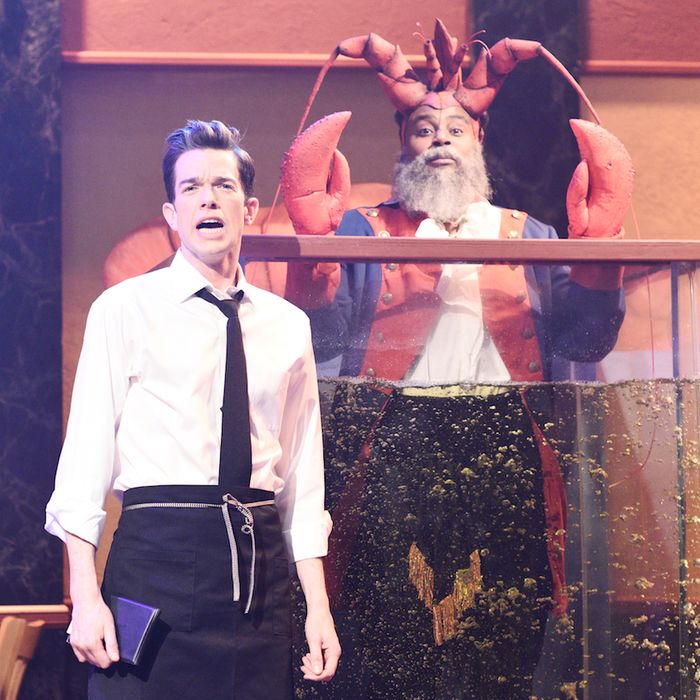 John Mulaney.
Photo: Will Heath/NBC
John Mulaney is easy to love. Onstage and off, the stand-up comedian exhibits a combination of smarts, affability, mischievousness, attention to detail, and a sort of cantankerousness usually reserved for octogenarians. (The bit on Mulaney's special New in Town, in which he describes his younger self as an "old queen," sums this last quality up nicely.) In five seasons writing for SNL, Mulaney created a lot of worthy material, often with the help of fellow writers Simon Rich and Marika Sawyer — though two of his most popular characters, Herb Welch and Stefon, were collaborations with Bill Hader. Mulaney himself has appeared on the show rarely, but his presence as a stand-up and in his Oh, Hello! act with Nick Kroll will surely bring something extra to his hosting debut.
Michael Cohen Cold Open
Deep in the halls of the Department of Justice, Jeff Sessions (Kate McKinnon) and Mike Pence (Beck Bennett) sweat the latest developments in the Robert Mueller investigation. While they worry about the raid on Trump lawyer Michael Cohen's office, Cohen himself (Ben Stiller) arrives. Eager to cut ties, Sessions and Pence hand Cohen off to Mueller (Robert De Niro). "I'll start with some easy ones," Mueller says, hooking Cohen up to a lie detector. "How'd you like that pee-pee tape?" There's some talk about milking cats, code names for Trump's associates and, of course, a Fockers reference. The inspired casting of De Niro as the dead-serious Mueller is reason enough to watch, but the banter between his character and Stiller's Cohen has some fun moments.
John Mulaney Monologue
Yeah, "John Mulvaney" takes the stage because that's what SNL announcer Darrell Hammond calls him — so let's go with that. His stand-up here is taut and relatively short, given that other comics have carried on for eight or ten minutes. Among Mulvaney's topics: what it means to build a gazebo during the Civil War; how people once waved at departing ships because they needed things to do with their time; and why CAPTCHA robots make him want to "walk into the ocean." It's all funny and incredibly well-constructed, so presumably it's an introduction to his Kid Gorgeous special on Netflix. And in SNL news, he loved the way Patrick Stewart announced musical act Salt-N-Pepa when Stewart hosted in 1994. (I agree. It's a three-second clip that I've watched about 30 times.)
Drag Brunch
During a restaurant's drag brunch, four friends (Cecily Strong, Pete Davidson, Aidy Bryant, and Alex Moffat) anticipate sassy backtalk from the cross-dressing servers. While three of the four patrons get catty comments about their knockoff Canal Street purses and shoddy smoky-eye makeup, Gary (Moffat) gets hit a little harder. "When was the last time someone smiled because you walked into a room?" asks the server, Tawny Pockets (Mulaney). After a few pointed swipes about his privilege and relative soullessness, Gary admits he might cry. Then Tawny strips off her drag to reveal Milton Saunders, a man getting revenge for the poor treatment he received as Gary's intern. It's a playful opener that lets Mulaney strut a little as one of his favored, catty characters.
National School Walkout
Moments before the protest of National School Walkout Day, teen organizers Gerald (Mulaney) and Maggie (Melissa Villaseñor) have readied their classmates. But when Maggie makes eye contact with Gerlad and rubs his shoulder at the same time, Gerald gets a boner and can no longer stand up — even if it's to protest gun violence. One kid (Aidy Bryant) imagines he's sensitive about the media coverage in black schools, an exchange student (McKinnon) wants America to be more like Sweden, and one conservative kid (Moffat) thinks Gerald isn't really a snowflake. This sketch is a rare feat, insofar as it's a big, ensemble piece in which every single character gets their moment to shine.
Wild Wild Country
This parody of Netflix documentary Wild Wild Country is a riff on the doc's unbelievable story about the guru Bhagwan Shree Rajneesh and the cultish Oregon colony of Rajneeshpuram. While some former Rajneeshee members feel duped and others have fond memories, one guy (Kenan Thompson) remembers all the tail he got. Say, Mulaney's new special is also coming out on Netflix too – oh yeah, the synergy is real! Though it features a nice appearance from Nasim Pedrad, this is essentially a four-minute Netflix commercial with the word "ass" thrown in every thirty seconds.
Diner Lobster
When one freakazoid at a diner (Pete Davidson) orders lobster, the beleaguered waiter (Mulaney) has to face the inevitable. He brings out the lobster tank with its single lobster (Kenan Thompson), who has been in residence for 40 years – because, of course, only fools order diner seafood. The lobster sings a mournful version of "Who Am I?" from Les Miz, which is followed by a revamped snippet of "Castle on a Cloud" sung by a sad child lobster (McKinnon), and then the dishwashers and waitstaff leaping behind a barricade to belt "Do You Hear the Lobster Scream?" (rather than "Do You Hear the People Sing?"). The whole production is ambitious, impressive, and very much worth watching — it's a fantastic feat that brings laughs, too.
Weekend Update
This week, Colin Jost considers how often the word "historic" is used in reference to the president, noting it's a polite way of saying "unbelievably terrible." (Used in this way, someone might leave the bathroom and say, "You might want to give it a minute, I just did something historic in there.") Michael Che tries to find the endearing aspect of Trump's potential urine fetish, likening it to the humanizing video of Obama playing basketball: "It's the same thing, but like, times two." Then conservative talk show host Laura Ingraham (McKinnon) talks about the sponsors she's added to offset those jumping ship since she trolled Parkland survivor David Hogg. (These include: Carl's Sr., Lady Bump Stock, and Shkreli's Jelly.) It's a smartly written piece, but as Ingraham, McKinnon doesn't find a lot of room to play.
In the second half, the stray news stories include one about a studio in New York that offers a yoga class with goats. "The way it works is: It doesn't," says Che. Then the narcissistic LaVar Ball (Thompson) comes on to talk about his son Lonzo's first year with the Lakers and his new Big Baller basketball league. As with all of Ball's appearances on Update, he goes on about his kids and his accomplishments before announcing a new product — in this case, a Teva-like sandal that gets hot enough to fry an egg. Nothing new, though alongside Lonzo, LiAngelo, and LaMelo, Ball does mention his long-lost Mexican son, LaBiblioteca.
Sitcom Reboot
In this spiritual successor to Mulaney's old Rocket Dog sketch, Hollywood Update host Mara Schultz (Strong) welcomes Jay Paultodd (Mulaney) to talk about a reboot of his '80s sitcom, Switcheroo. The sitcom, in which a father and son trade bodies, draws particular attention to one detail implied in the swap: While in his dad's body, the kid would ostensibly be having sex with his own mother. While the actors (Bennett and Gardner) appear in disturbing clips implying incest, Schultz gets weirded out and Paultodd confesses to a messed-up childhood that might have something to do with his creepy project. The premise is sound, though it gets weirder and weirder the more it commits to Schultz's discomfort and Paultodd's creepiness.
Horns
Lucien (Luke Null), a young guy with gauges, tats, and assorted piercings, talks to a doctor (Mulaney) about getting his horn implants removed. They're all ready until his girlfriend Trina (Gardner) shows up to lodge her complaints. Lucien swears he is going to keep his gauges, his "calf holes," and his buttcrack zipper. He's just hoping that removing the horns will help him get a job and make it so Trina's brother and dad will speak to him. "Even without the horn," the doctor assures her, "He'll still be a walking disaster." The jab at the body modification crowd isn't all that refined, but there are a lot of clever jokes peppered in. (For instance, when Trina enters, she asks if she's pregnant and Lucien replies, "You can't get pregnant from the sex we have.")
The Real Intros of Reality Hills
"Do you love our programs but don't give a D about the storylines?" asks the chipper voice over for Bravo's new show, The Real Intros of Reality Hills. From there, a series of characters step forward to give their catchphrases and fade away. A typically overloaded one from Aviva (Leslie Jones): "I'm half Jewish but I'm all woman. Oy gevalt, ya heard?" Then the voice over says, "You've heard the taglines, now all that's left is three seconds of drama." One of the characters splashes water in another character's face, says, "You know what you did, bitch," and it's over. It's pretty overwhelming, but if you watch a lot of reality TV you'll feel right at home.
Mulaney seems right at home back at Studio 8H, giving a solid debut host performance (and presumably offering a hand to writing sketches behind the scenes, too). The cold open kicks things off with a little intrigue and a lot of star power, which never hurts. Though some of the night's sketches don't have a great sweep to them, others like "Diner Lobster" are epic. And there are lots of jokes packed into the smaller sketches, with peripheral gags that flesh out characters on the way to the heart of each sketch (like the implication that Gary of "Drag Brunch" cries so often his friends have to caution him against it). Also, if you get the chance to watch the cut-for-time sketch "Fish Dreams," do it.