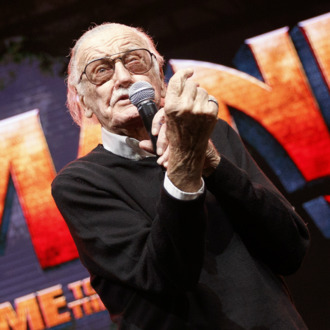 Stan Lee.
Photo: Rich Polk/Getty Images for Entertainment Weekly
Earlier this week, The Hollywood Reporter published an upsetting report about the many warring factions surrounding 95-year-old comic book creator Stan Lee. The major players, which include Lee's daughter J.C., memorabilia dealer Keya Morgan, former business manager Jerardo "Jerry" Olivarez, and Stan Lee museum proprietor Max Anderson, have exchanged accusations of manipulating, defrauding and potentially even abusing the comics legend. Now, a new lawsuit filed by Stan Lee Friday singles out one person in his circle as a perpetrator of numerous wrongs against him. According to THR, the suit accuses Jerardo Olivarez of committing "conversion, fraud, financial abuse of an elder and misappropriation of his name and likeness" against Lee through a variety of perturbing, and occasionally bizarre, schemes.
According to the suit, filed by attorney Jonathan Freund, Olivarez is allegedly one of various "unscrupulous businessmen, sycophants and opportunists" that targeted Lee during a period of emotional vulnerability after the death of his wife, Joan, in 2017. After insinuating himself into the comics creator's life and firing Lee's long-standing lawyer and financial manager, the suit claims Olivarez allegedly "convinced Lee to give him power of attorney," subsequently manipulating him into buying a $850,000 condo and transferring $4.6 million from his accounts. In another scheme, Olivarez allegedly persuaded Lee to lend more than $300,000 to Hands of Respect, a fake nonprofit charity ostensibly set up to promote racial harmony. The company was later registered as a for-profit merchandising company.
But if you thought tricking a grief-stricken old man into giving money to a phony charity was the most "diabolical and ghoulish" allegation in the lawsuit, you are sadly mistaken. That prize goes to the accusation that Olivarez allegedly had a nurse draw "many containers" of Lee's blood, which was then sold "in Las Vegas as a collectible" for "thousands of dollars" without Lee's consent. All of which is to say, if you're in Vegas this weekend and you see Marvel Comics legend (and millionaire) Stan Lee's actual blood for sale, please, think twice before you buy it, as it is a pretty clear sign something has gone terribly wrong.