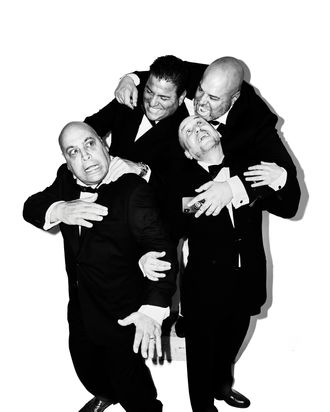 L-R: Dom Detore, Mike Palmer, Adolfo LaCola, and Big Ron Montana
Photo: Bobby Doherty
"See that guy?" says Dom Detore, chucking a thumb over at an unassuming-looking gentleman in thick dad sneakers and an oversize hoodie. "That guy's got the most money on Staten Island." He lets out a phrase in quasi-Italian: "Mataraz!"
"That means 'mattress,' right?" deadpans Adolfo LaCola, his castmate on CNBC's new reality show, Staten Island Hustle, a kind of Shark Tank for the forgotten borough. (It's actually a localism meaning, more or less, a miser.)
"That's right," Dom says, "and that's where he keeps it!"
It's a few days before the show's premiere, and the cast is at the Panini Grill, an Italian restaurant on Forest Avenue, enjoying giant plates of cold antipasto and calamari fritti. Every week on Staten Island Hustle, which premiered this week on CNBC, the hustlers — Dom, Adolfo, Mike Palmer, Tony DeCicco, and Big Ron Montana — get together to suss out kooky get-rich-quick schemes. The hope is to reflect the familial, bootleg, quasi-legal nature that small-time business dealings in places like Staten Island can at times take on. In the first episode, Ron finds a deli meat slicer and trades it to some bodega guys in exchange for raw meats, which he trades to a travel agent in exchange for plane tickets to California. Multiple other favors are secured via the surreptitious gifting of fresh mozzarella.
"We're like Shark Tank meets Duck Dynasty!" says Dom. "Like they were in a car together and they crashed" — he slams his hands together — "and we popped out!" Mike nods effusively, and points to a nearby CNBC rep with an implicit write that down gesture. All five guys grew up either in Staten Island or Brooklyn and have been pals (and occasional business partners) for decades. The conceit of the show is that they brainstorm these side-hustle schemes together, then collectively invest in them and try to make them happen. Their big idea these days is the New York WaterMaker, a filter specifically designed to mimic New York City water so that far-flung eateries can ostensibly use it to make their pizzas and bagels as good as New York's. (Dom also claims to have racked up nearly $300,000 selling a "ready-made" salad product called Just Add Lettuce.) But they've been scrappily entrepreneurial from early on.
Dom, who owns a citywide construction company, made his first dollar shining shoes. Adolfo has marijuana dispensaries in Vegas and California; he first hustled his mom's homemade chicken parmesan sandwiches to other kids at lunch. (Soon after, he switched to selling them fireworks.) Mike, a third-generation auto-shop proprietor, shoveled snow. Ron, who's an investor in a Hoboken pizzeria and manages a rapper named JoJo Pellegrino, used to have a whole crew of kids helping him move blow pops. (Tony, a financial services consultant, is absent: He's in Chicago, "doing a deal," Dom explains vaguely.)
Hustle has been in development for a few years, originally under the title I Got a Guy. It comes with a reality-TV pedigree: Dom's sister-in-law is Big Ang, the Mob Wives legend who passed away in 2016. Right across the street from the Panini Grill, there's a massive and lovely Big Ang mural. Janine, Dom's wife, comes and goes from the dinner table with a bottle of Big Ang–branded prosecco. And the series already has some notoriety. In January, one of the show's schemes — a prototype for a luggage-compressing vacuum — caused a bomb scare at Newark Airport. TSA found the device in a carry-on bag and thought they'd found an IED; nine members of the show's crew, including Mike and Adolfo, were arrested.
"We can't, you know, discuss that at the moment," Adolfo says, citing their attorney's advice. "I mean I'll tell you the truth — we'd be more than happy to, down the road …"
"Eeeeeerccchhh," Ron cuts in, squealing. "Pump the brakes." Over the course of his life, Ron has served about seven years in prison altogether, he explains, on a variety of charges: "Racketeering … conspiracy … I stole checks when I was a kid …" While inside, he took anger-management classes. He does something called the "camera check," in which you moderate yourself by trying to imagine what your actions would look like on video. "I'm sensitive," he continues. "I'm a Scorpio. I'm a mix of emotions. I fight hard, I love hard, I try hard, I …" — he drops his voice — "fuck hard. Everything I do is extreme."
Now that he's actually on camera, is this how he envisioned TV stardom? "We actually envisioned we'd be retired already," Ron says, "$20 million in the bank!" "After we came up with the [WaterMaker] idea," Adolfo adds, "Ron put a deposit down on a Dassault Falcon." (That's an extremely expensive private jet.) "We're gonna make big money off this!" Ron swears. "What's better marketing than a TV show?"
"We joke, we spoof, we kid around," Mike adds, "but it's not a game we're playing. We're all in our late 40s, early 50s. We only got a certain amount of time, and we got obligations to our families. We wanna take it to the next level." He reaches over to grab a bite of chicken scallopini off Ron's plate and is rebuffed. "But I ordered the bolognese for us!" he whines. "For us, I ordered the bolognese!"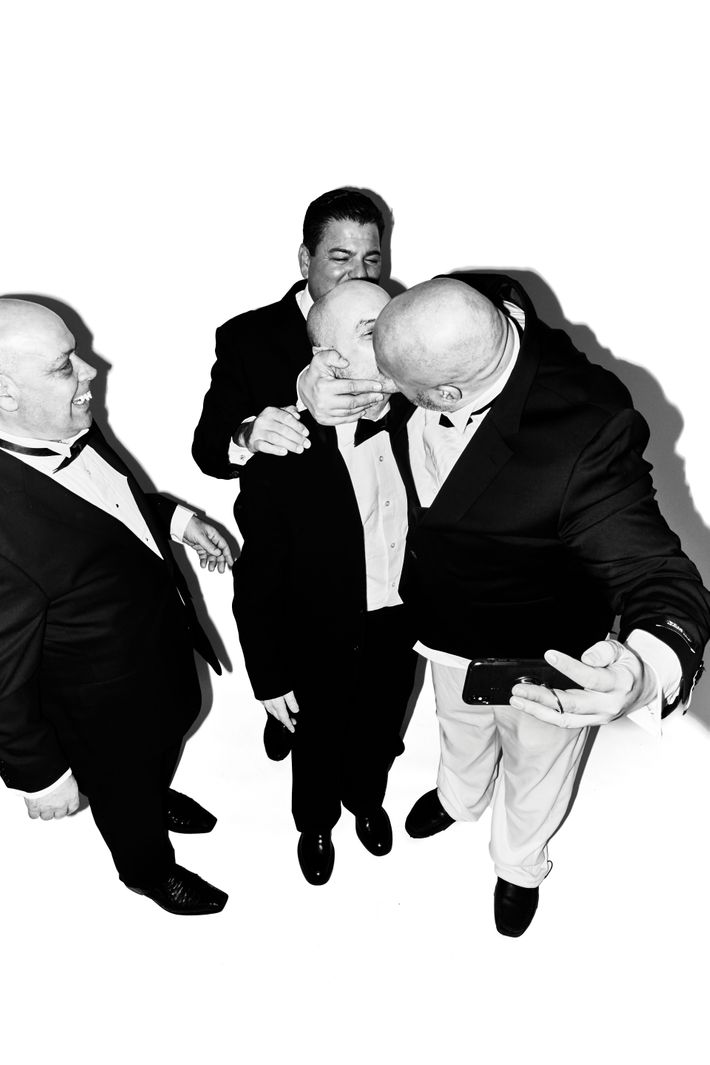 As the hustlers start to wind down, their plates are cleared, and a massive platter of cannolis and ice cream covered in whipped cream is laid on the table. The aforementioned richest man in Staten Island comes by the table and Dom greets him with a cheek kiss. Dom's daughter, Jeanie, comes over, too, and he lights up, listing off her accomplishments: "She's brilliant! She's going to medical school to be a surgeon, she has an online store that does very well, and she manages a psychic!"
Before they take their leave, they try to impart the spirit of what they do. "Hustling is not for the faint of heart," Dom explains. "There's a lot of rejection." In his construction projects, he says, "I've put millions of dollars out there knowing I could lose it all. And people got over on me more than I got over on them, trust me! But we're showing what the true Italians did. They were bricklayers and laborers. They broke their backs to support their families!"
"It's not necessarily about the money," Ron adds. "I can hustle the waiter to give me a discount, or hustle a girl's phone number. It's the challenge of getting something. I don't know. I can't explain it. But you're born with it."
Janine, Dom's wife, suddenly stands up from the table and offers her take: "We hustle hard, our daughter hustles hard, and we're all hustling," she says. "It's the hustle!"