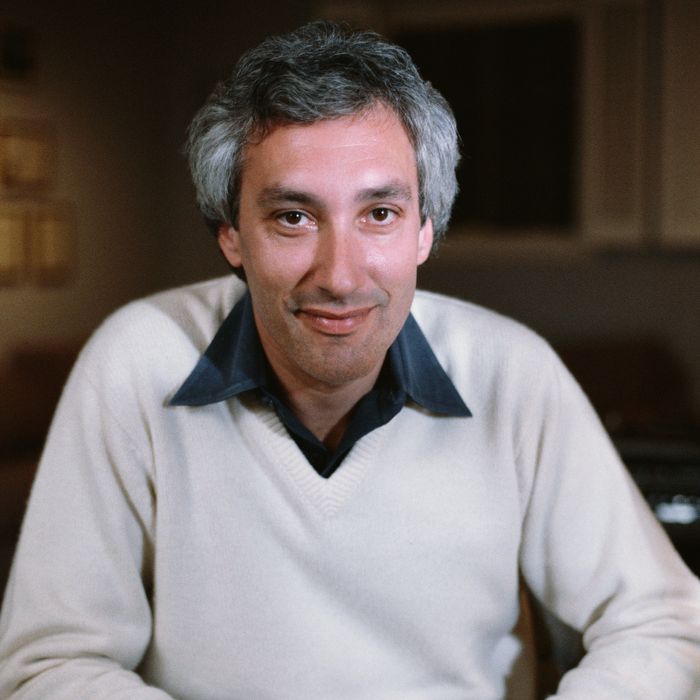 Steven Bochco.
Photo: William Nation/Sygma via Getty Images
TV evolved because of Steven Bochco.
The writer-producer, who died Sunday morning of leukemia at 74, was the mastermind behind a number of critically acclaimed and popular series, including Hill Street Blues, NYPD Blue, L.A. Law, and Doogie Howser, M.D. He won multiple Emmys and Peabody awards, the Humanitas Prize, and countless other honors, and incidentally ran a series of on-air finishing schools for writer-producers (including Deadwood's David Milch and Law and Order's Dick Wolf) who absorbed his sensibility and went on to be almost as important has he was. From the early 1980s onward, starting with Hill Street, Bochco pushed relentlessly, some said fruitlessly, to loosen commercial broadcast television's restrictions on both content and style, and allow showrunners, writers, and directors to create programs as artistically free as the best titles that could be viewed in cinemas or on cable.
Bochco was born in Miami to a painter mother and a violist father, studied playwriting and theater at Carnegie Mellon University, and had his first career milestone at NBC, where he wrote the story and teleplay for the first episode of the classic Peter Falk mystery series Columbo. (The director on that episode, a then-24-year old wunderkind named Steven Spielberg, would go on to his own great success.) His work took a more socially aware and cerebral turn in 1978 when he started working for Mary Tyler Moore and Grant Tinker's production company MTM, the creators of The Mary Tyler Moore Show, The Bob Newhart Show, Lou Grant, and other classics, and one of the most creatively fertile operations in 1970s television. Bochco's first effort there, 1978's Paris, a rare network star vehicle with an African-American lead (James Earl Jones), was canceled after one season, but Bochco's ambition ultimately paid off in 1981 with Hill Street Blues — a cop drama that in retrospect feels like ground zero for every significant development that occurred in dramatic TV after that point.
Co-created with Michael Kozoll, Hill Street was set in and around a beleaguered police station in a run-down, racially mixed area of a large, unnamed eastern city. Interiors and exteriors were filmed in Los Angeles, but the opening credits featured stock footage of Chicago, and the bleached-out visuals evoked Sidney Lumet's New York–set cop dramas. The storytelling seemed inspired by the daytime soap opera, ex-police officer Joseph Wambaugh's despairing, bleakly hilarious novels, and Thornton Wilder's Our Town. The tone was elastic enough to encompass everything from romantic melodrama and hard-edged violence to Catch 22–style satires of bureaucracy and the macho mentality, and earnest examinations of racial and ethnic tension, homophobia, sexism, drug and alcohol addiction, and what would later be known as toxic masculinity. The camera sometimes tracked characters in long, unbroken dolly shots as they moved through the police station, as if the show were a three-dimensional theater production staged for an audience of one person who was allowed to go onstage and wander silently among the actors. The show's attention shifted from one character or group to another when the camera decided to follow someone who had passed in front of the lens — a technique developed during the era of live TV drama in the 1950s, then successfully imported to features by directors like Robert Altman, who got their start in TV.
This ensemble-focused, community-driven series was the antithesis of everything airing on network TV at that time. Hill Street's storytelling split the difference between "one-offs," which wrapped up stories before the end credits, and ongoing arcs that continued over the course of several episodes — a model that would be refined on other series throughout the '90s and beyond. This, too, was a gussied-up borrowing from soaps, commonly seen on the likes of Days of our Lives and Dallas, but rarely applied to prime-time programs.
The show was a farm team for brilliant young talent, including Wolf, whose Law and Order franchise obviously learned from the black humor and terseness of Hill Street; the young Yale graduate Milch (whose first screen credit was "Trial by Fury," one of the best single episodes in the history of the medium), and actor Dennis Franz. The latter made such a strong impact in the role of bad cop Sal Benedetto, who committed suicide after the full extent of his corruption was exposed, that the show brought him back as a new character, Detective Norman Buntz, who was as uncouth and intemperate as Benedetto, but decent at heart and ultimately sympathetic.
Franz would power two more Bochco-derived series, Beverly Hills Buntz and NYPD Blue. The former, co-created by Milch, was part of a wave of half-hour, single-camera, laugh-track-free "dramedies" that also included Bochco's John Ritter vehicle Hooperman. NYPD Blue proved to be just as significant as Hill Street and far more controversial. Running from 1993–2005, and co-starring Franz with David Caruso (who was later replaced by Jimmy Smits, Mark-Paul Gosselaar, and Rick Schroder), the series was specifically designed to prove that network series could be as edgy and adult as a lot of what ran on cable and become across-the-board popular hits even though they were intended to be viewed by adults only. Each episode started with a content warning and sometimes featured more than one if it was an especially intense installment. The series was centered on Franz's Detective Andy Sipowicz, a straight-up antihero who could be as frightening as a villain at times. It used profanity and racial and sexual slurs that had been mostly forbidden up until then, showed and discussed sex in a frank way, and threw in glimpses of nudity (something Hill Street occasionally did as well, though less ostentatiously), and sometimes reached for expressionistic or surreal images, as when Andy, a tortured Catholic, hallucinated encounters with Jesus. As conceived by Bochco and increasingly informed by the sensibility of Milch, it was a macho soap opera in police garb that often played like a network TV answer to Abel Ferrara's quasi-mystical cop potboiler Bad Lieutenant. It was refreshingly unafraid to plunge into matters of morality and spirituality. The mix of sadism and masochism, disapproval and empathy, was brutal, weird, and consistently surprising, and it regularly confounded audience sympathies. At its bleakest and most melodramatic, it played as if the story of Job's suffering had been retold through the character of a Roman centurion.
Hill Street and NYPD Blue alone would have been sufficient to ensure Bochco's place in the pantheon, but he generated many other significant series as well, including the comedy-drama/legal procedural L.A. Law (which made the career of writer-producer David E. Kelley, whose subsequent series took a lot from Bochco) and Murder One, an experiment in serialized network TV storytelling that spent an entire season chronicling a single case. The latter was too contrived and manipulative for its own good, but it helped pave the way for more successful and assured experiments in that format, including The Wire; as such, it deserves at least a footnote in TV history.
So does Bochco's short-lived musical telenovela Cop Rock, which earned the No. 1 spot on many critics' top-ten worst lists at that time. Anyone who watches it on YouTube now will marvel at how ahead of the curve it seems. Glee, Flight of the Conchords, Smash, and Crazy Ex-Girlfriend are tame in comparison. The pilot includes a hip-hop number decrying police brutality, one where a jury bursts into a gospel song while delivering a guilty verdict, and a closing solo by a woman who's selling her baby on the black market for drug money.
Bochco's adventurous spirit shone through no matter what he did. Even Doogie Howser, M.D., a collaboration with Kelley that's often mischaracterized as a one-note gimmick, and that made an instant star of then-juvenile actor Neil Patrick Harris as a barely adolescent physician, had serious things to say about relative maturity levels and subjective ideas of wisdom and qualification, and used its inherently absurd premise as a means of Trojan-horsing social commentary into its story lines. Some of his one-season wonders, such as Bay City Blues, Brooklyn South, City of Angels, Philly, Over There, and Commander in Chief, are worth at least sampling, for their surprising choice of subject matter (that last series, which Bochco took over from creator Rod Lurie, starred Geena Davis as the first female president). It's impossible to imagine modern television existing without him.