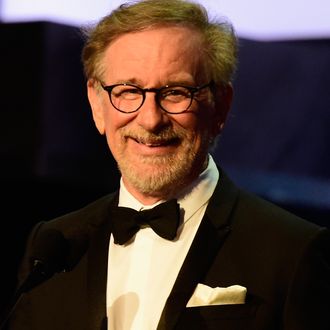 Spielberg to direct a comics film.
Photo: Frazer Harrison/Getty Images for Turner
Sooner or later, they all go super. It was announced today that Steven Spielberg will direct an adaptation of the DC Comics title Blackhawk for Warner Bros., based on a script from frequent collaborator David Koepp (Jurassic Park, War of the Worlds), according to The Hollywood Reporter. Even though this will be Spielberg's first superhero movie, the story is set in World War II, putting it in very familiar territory for the director. The story centers on an elite team of pilots called the Blackhawk Squadron — led by the titular Blackhawk — that, in addition to fighting Nazis, squared off against foes called King Condor and Killer Shark. Blackhawk will be added to a development slate for Spielberg that already includes a new adaptation of West Side Story and Indiana Jones 5.