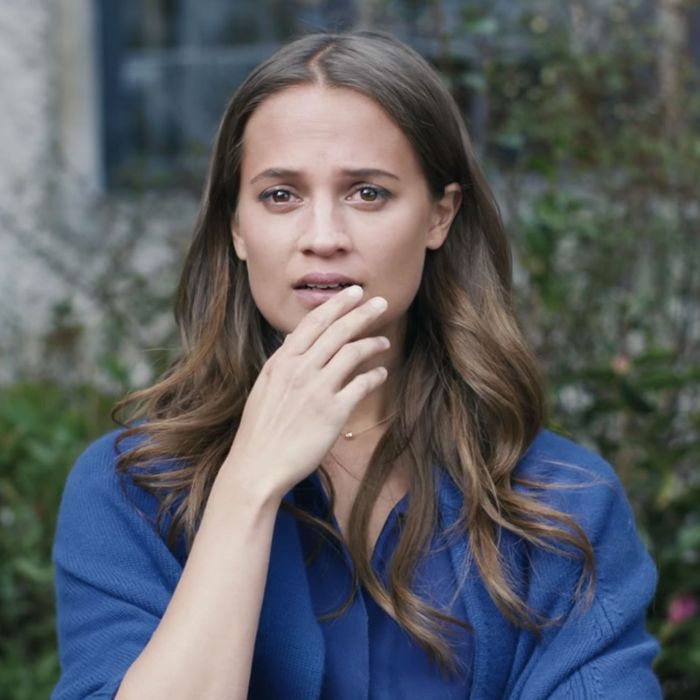 Very sad
Photo: Samuel Goldwyn Films
Oscar winner Alicia Vikander has many talents, including the ability to do pull-ups, as she demonstrated repeatedly in Tomb Raider, and Googling things. But she excels most at one specific thing: wearing sweaters and being sad at the same time onscreen. Especially if she is being sad in said sweaters near an ocean.
In this way, Wim Wenders's Submergence, based on J.M. Ledgard's novel, marks a triumphant return to form for Vikander. Even if it isn't a particularly interesting movie, Alicia gets to wear more than half a dozen different knits over the course of its running time, while also experimenting with taking glasses on and off. Personally, as somewhat of a Vikander sweater aficionado, it's thrilling. I'm sure her mom's friend would agree.
Submergence cuts between the brief romance between Danielle Flinders (Vikander), a biomathematician, and James More (James McAvoy), a British secret operative, and their separate adventures after the fact: James's capture in Somalia, and Danielle's journey to the depths of the sea. The story hinges on metaphors about the ocean, which Danielle delivers while wearing glasses and a sweater and being deeply serious. James finds this all very sexy.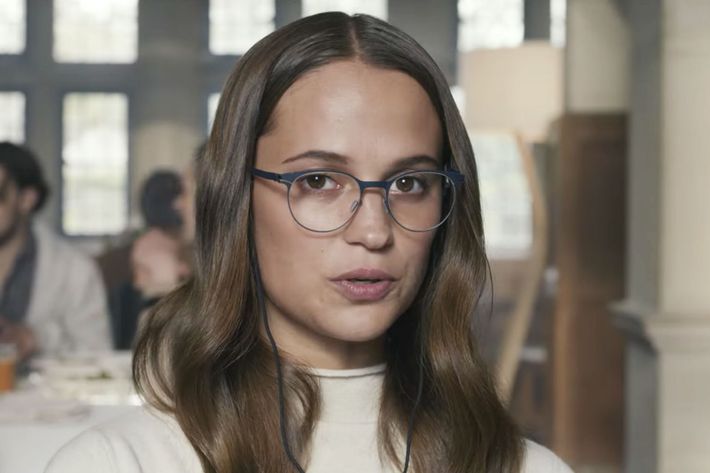 Vikander's knitwear-and-ennui skills really broke out in The Light Between Oceans, a period drama about stealing babies that deserved more attention than it got, if only for the bountiful collection of coziness on display. Other memorable films about Vikander being sad in warm clothing include Testament of Youth, The Danish Girl, and Tulip Fever, though the primary thing knit in that movie was an intricate web of deceit and betrayal.
It's important to note that many actresses actresses similarly excel at the art of combining knits and feelings: Julianne Moore, Meryl Streep — heck, Nancy Meyers and Diane Keaton have created a whole genre by associating midlife irritations with ecru. But Vikander's sweater sadness has a specific valence, an eerie simultaneous warmth and depth. Her doll-like face, combined with her inner dramatic intensity, plays well against the comfort of knitwear, especially when combined with her character's inner Sturm und Drang. To borrow a metaphor from Submergence, think of Vikander's screen presence like the ocean: the calm surface giving way to a force primeval, deeper, and darker.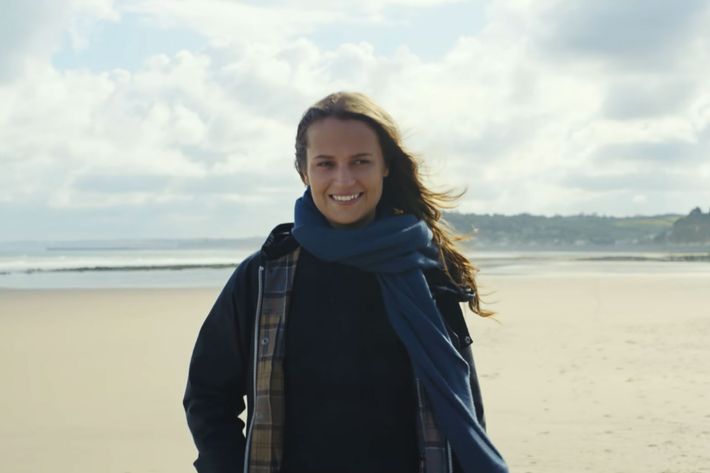 Submergence doesn't reveal much when it comes to its own depths, but it does put forth a convincing argument for putting Alicia Vikander in more grim seaside knitwear costume dramas — a category I would happily binge on Netflix. Perhaps there's a movie for her where she works as a novelist by the ocean and meets a handsome lobster fisherman (Dev Patel) and falls in love (while wearing knitwear and being sad). Or a period drama about her moving from the big city to care for her sister (Rachel Weisz) and discovering that they have access to mysterious magicks (and wearing knitwear and being sad). There's a vast ocean of possibility for Vikander before us. Let us slip into our sweaters and stare off into it, filled with possibility, and yet, melancholy.