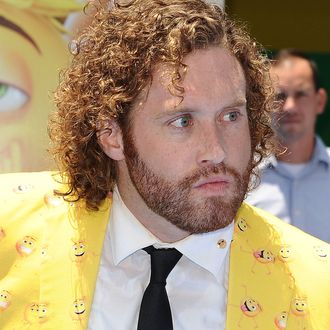 Photo: Jason LaVeris/FilmMagic
Former Silicon Valley star T.J. Miller was arrested on Monday night and charged with calling in a false bomb threat, according to federal authorities. Miller was released on $100,000 bond on Tuesday after appearing before a U.S. District Judge and charged "with intentionally conveying to law enforcement false information about an explosive device on a train."
Prosecutors say that last month, Miller called 911 while riding on an Amtrak train from Washington, D.C. to New York, claiming that a female passenger had a bomb in her bag. The train was forced to stop so that the bomb squad could check the vehicle for an explosive device, but none was found. When investigators contacted Miller, he changed important details about the woman and the bag, and it was later revealed that Miller was traveling on a different train than he had initially reported, according to the complaint against him.
Miller was also suspected to be intoxicated when he boarded according to a First Class attendant, who alleged that Miller continued to drink on the train and that he was removed from the train in New York, according to the report. The attendant also said that Miller was in an argument with a female passenger sitting near him. The complaint against Miller alleges that he called in the fake bomb threat and accused the woman because of a "grudge" and that he continued to relay false information to them while the safety response was still ongoing.
Miller faces a charge that carries a sentence of up to five years in prison.
HBO announced last May that Miller would be leaving Silicon Valley because of a "mutual" separation, months after he was arrested for battery against an Uber driver in December of 2016. He was then accused of sexual assault last December by a former girlfriend.