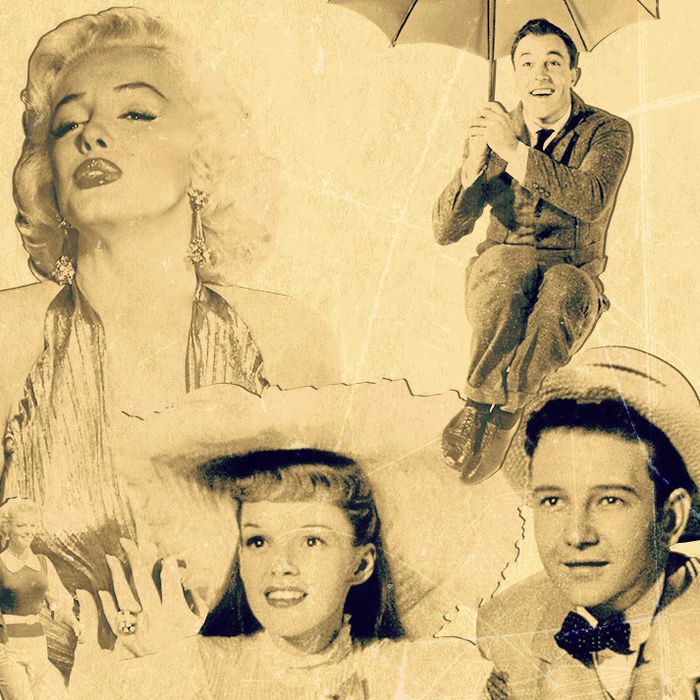 Photo: Maya Robinson/Vulture
From the 1930s to the early 1950s, musicals dominated the big screen.
The genre emerged alongside the invention of sound in the late 1920s thanks to the first full-length — and controversial — sound picture, The Jazz Singer (1927), and soon the sounds of singers and tap shoes were highlighting the groundbreaking audio technology in ways that dramatic pictures couldn't. Which is why a bulk of the earliest musicals were simple Broadway adaptations like Gold Diggers of Broadway (1929) and plotless song-and-dance productions like The Hollywood Revue of 1929 (not to mention these mindless extravaganzas satisfied Depression-era audiences seeking escapist entertainment and thus turned a profit for studios).
Soon, studios like MGM, which spearheaded the musical genre, found further success in backstage stories, ones that centered on the lives of the players when the curtains were down. MGM was also the first studio to use the cutting-edge filmmaking process Technicolor as way to make the costumes and settings in each musical number pop.
By the end of the 1950s, costly productions and waning audiences forced studios to pass on any musical pitch that wasn't a guaranteed box-office hit, and the genre began to dwindle. But the Golden Age paved the way for some of Hollywood's biggest musical hits later on, like West Side Story (1961), Grease (1978), and Zoot Suit (1981), and even big-budget Oscar winners like La La Land (2016) and indies like Saturday Church (2018). Below, in no particular order, are 25 of those inspirational films.
Cabin in the Sky (1943)
Based on the stage production by the same name, Cabin in the Sky centers on a gambler's journey to redemption after he's shot and given a second chance. The film marked Vincente Minnelli's directorial debut and was one of the only studio-backed major motion pictures to feature an all-black cast during this era. Starring Lena Horne, Ethel Waters, Rex Ingram, and Louis Armstrong, Cabin in the Sky was one of the least-expensive musical productions of the 1940s and had a limited release, particularly in the South, due to racism in the U.S. However, the film turned a profit, and "Happiness Is a Thing Called Joe" was nominated for an Academy Award for Best Original Song.
Singin' in the Rain (1952)
In the 1950s, public interest in the decline of Old Hollywood inspired studios to produce some of cinema's biggest classics like All About Eve (1950), The Barefoot Contessa (1954), The Bad and the Beautiful (1952), A Star Is Born (1954), Sunset Boulevard (1950), and Singin' in the Rain. Its story of the industry's transition from silent to sound boasts lavish and exciting song-and-dance numbers performed by musical stars like Gene Kelly, Debbie Reynolds, Cyd Charisse, and Donald O'Connor.
The Wizard of Oz (1939)
After being swept away by a tornado, Dorothy (Judy Garland) awakens in Oz and must find her way back to Kansas. Based on L. Frank Baum's children's book The Wonderful Wizard of Oz, this famous musical wasn't deemed a classic until its rerelease in 1949. And even then, The Wizard of Oz needed the help of television stations like CBS and NBC to solidify its place as one of the greatest musicals of all time. With its use of Technicolor when Dorothy awakens from her black-and-white life to the rich colors of Oz, the film mirrors the industry's very real shift away from black-and-white film. After all, 1939 was the first year that Cinematography was divided into two categories at the Academy Awards: Best Cinematography, Black and White; and Best Cinematography, Color.
Cover Girl (1944)
Rita Hayworth was one of only six women to dance alongside both Fred Astaire and Gene Kelly, and her work with Kelly in Cover Girl — a story about a chorus girl who turns magazine cover girl, which inadvertently jeopardizes her relationship with her dancing and romantic partner — has been deemed her biggest and best musical. Having grown up dancing alongside her father as part of the Dancing Cansinos, the ease with which Hayworth performs each number — not to mention her bright-red lips and hair — outshines her partners in comparison. Cover Girl also marked the first time that Kelly had complete artistic freedom as the film's choreographer. And with that freedom, he created one of the most memorable numbers in movie musical history, the "Alter Ego." Kelly superimposed a large double to mirror his own steps, thus creating a dark, ghostlike alter ego that reflected his character, who wanted his dancing partner to succeed — but not if that meant leaving him behind.
A Star Is Born (1954)
This 1954 remake of the 1937 David O. Selznick–produced original may be the most popular — despite having lost money at the box office — of the four, with later productions in 1976 starring Barbara Streisand and 2018 with Lady Gaga. A story about an aspiring actor on the path to stardom, A Star Is Born separates itself from other musicals of its time by revealing the darker side of Hollywood, spotlighting how the studio system works and the alcoholism that plagues the industry. The 1954 A Star Is Born was one of Judy Garland's last films and also one of her best. It wasn't Garland's easiest film to make, however, as her later years were troubled by illness, addiction, and anxiety that famously prevented her from remembering lines and showing up to the studio on time.
Stormy Weather (1943)
Shortly after the release of Cabin in the Sky came another major- studio-backed, all-black-cast hit, Stormy Weather, a film about two married performers who struggle with wanting both a happy marriage and a successful career. This film also stars Lena Horne, but the real highlight is watching the Nicholas Brothers fly all over the screen. Known for their flash dancing, a type of dance that blends acrobatics with tap, the Nicholas Brothers found themselves in Hollywood during the 1930s after producer Samuel Goldwyn spotted them at the famous Cotton Club in New York City. Their "Jumpin' Jive" performance in Stormy Weather is the Nicholas Brothers at their best.
Cab Calloway, an original writer for this hit, opens the number up with his orchestra before the Nicholas Brothers enter. As they tap dance on music stands, jumping their way through the orchestra, viewers witness the full scope of their talent. The Nicholas Brothers inspired dancers from every studio with their elegance, control, and creativity. Fred Astaire later remarked that the "Jumpin' Jive" was the greatest movie musical number he'd ever witnessed.
An American in Paris (1951)
Gene Kelly leads this film about three friends who are in search of work, but instead find love. Winner of six Oscars at the 24th Academy Awards, An American in Paris was inspired by George Gershwin's 1928 composition by the same name. The Brooklyn-born composer wrote the piece during his short stay in Paris. Among this musical's memorable dances are Leslie Caron's "Dance in the Mirror" and Georges Guétary's "I'll Build a Stairway to Paradise," but the number that tops them all is the An American in Paris ballet. The sequence begins after Kelly's sketch floats away in the wind, becoming the backdrop and opening the sequence. What follows is an extravagant 17 minutes of Kelly and Caron performing dances inspired by French painters like Pierre-Auguste Renoir, Henri Rousseau, and Vincent van Gogh.
You Were Never Lovelier (1942)
Rita Hayworth stars alongside Fred Astaire in this romantic musical about the comically unusual courtship between a New York dancer and the daughter of a hotel owner in Argentina. It was the second movie the two danced together in, and Hayworth's career was coming alive, thanks in part to her sensual Life Magazine cover, which was meant to promote their first film You'll Never Get Rich and officially marked her as a GI pinup girl. Like in Cover Girl, the ease with which Hayworth performs is captivating; her energy in "The Shorty George" and elegance in "I'm Old Fashioned" steal the scene. Astaire later said, "She learned steps faster than anyone I've ever known. I'd show her a routine before lunch. She'd be back right after lunch and have it down to perfection."
Meet Me in St. Louis (1944)
Meet Me in St. Louis was the first of five films that director Vincente Minnelli and Judy Garland worked on together, and they were married shortly after its release. This classic is about one family and their lessons learned during the year leading up to the 1904 St. Louis World's Fair. It was one of Garland's first films featuring her as an adult star, all thanks to makeup artist Dottie Ponedel, who altered Garland's childish appearance to look more mature. Despite the film's acclaim and financial success (not to mention its role in the birth of the Christmas classic "Have Yourself a Merry Little Christmas" that was subsequently recorded and sent to soldiers overseas), Garland initially didn't want to do the picture. Producer Arthur Freed remarked, "Even her mother came to me about it." But after its preview, he said, "Judy came over to me and said, 'Arthur, remind me not to tell you what kind of pictures to make.'"
Till the Clouds Roll By (1946)
A biographical musical that follows the early career of composer Jerome Kern, the man responsible for hits like "The Way You Look Tonight" and "Ol' Man River." Till the Clouds Roll By starred everyone from Lena Horne to Judy Garland to Frank Sinatra to budding starlet Angela Lansbury to Robert Walker (who played Kern himself). It was the first of a series of biographical musicals to come out of MGM. Despite its star power, critics have commented on the film's lack of story, and it earned back little of what the film cost to make. Even so, Garland's role as Marilyn Miller and her performances in "Look for the Silver Lining," "Who," and "Sunny" were praised by critics.
Show Boat (1936)
Speaking of Jerome Kern, Show Boat was based on his most notable score for the 1927 Broadway production by the same name. Spanning more than four decades, the film centers on a Mississippi riverboat and the lives of the people who perform on it. A remake of the 1929 film from Universal Production (known today as Universal Pictures), Show Boat highlights Irene Dunne's versatility. Known for comedies like My Favorite Wife (1940) and dramas like Penny Serenade (1941) and Love Affair (1939) — which was remade in 1957 as An Affair to Remember — Dunne got her start in musical theater in the early 1920s. She starred as Magnolia in the original 1927 Ziegfeld-produced Broadway adaptation and was discovered while it was on the road.
Top Hat (1935)
Fred Astaire and Ginger Rogers, the best-known musical duo of the Golden Age, starred in a whopping ten films together, with Top Hat being their fourth. The film features Astaire as Jerry, an entertainer who falls for Dale (Rogers); Dale isn't the least bit interested in what he has to offer until the two start dancing. Though it's still debated whether Top Hat or Swing Time (1936) is their best movie, it's no question which film features Astaire's best tap solo. Irving Berlin's song "Top Hat, White Tie and Tales" comes to life through Astaire's rapid footwork. Because Astaire dubbed his performances during postproduction, viewers can almost feel the crisp swiftness of each tap of his shoe. "Cheek to Cheek" is often regarded as the duo's greatest routine, both for its ability to mirror the emotional shift between the characters as they fall in love, and for its unfortunate feathered fiasco. Though Rogers's dress, half of which was covered in feathers, makes each kick of her foot pop, every movement caused them to fall off until the entire stage was completely littered.
Bathing Beauty (1944)
Esther Williams, a competitive swimmer who caught the attention of MGM while performing in Billy Rose's Aquacade, shows off her talent in this Technicolor musical about one man's comedic journey to win back his fiancée after a misunderstanding. It was her first for the studio, though she played bit parts in other productions like Andy Hardy's Double Life (1942) and A Guy Named Joe (1943). The elaborate swimming sequences required a special crane that provided a full range of motion for the camera as well as a phone-booth-like contraption that allowed the camera to go underwater. The film's most striking performance may be its finale, "The Aquacade." Williams's synchronized routine ends with swimmers twirling around high-reaching fountains spewing both water and fire.
The Broadway Melody Series
MGM produced four installments of Broadway Melody, released in 1929, 1936, 1938, and 1940. The films are unconnected plot-wise, but each one centers on a performer working toward their big break. While the story is fairly cliché, the 1929 film marked a handful of firsts: It was one of the first "talking" movie musicals, the first musical to include a Technicolor sequence, and the first musical to win the Academy Award for Best Picture. The Broadway Melody series opened up opportunities for actors who would become some of MGM's top-billed stars, like Eleanor Powell, leading lady of the 1936 film; and Judy Garland, who became a singing sensation after her performance of "You Made Me Love You (I Didn't Want to Do It)" in the 1938 film. The 1940 film, meanwhile, is the only film in which two of the top dancers in the industry, Powell and Fred Astaire, danced together.
Yankee Doodle Dandy (1942)
James Cagney is often remembered for his work in gangster films like The Public Enemy (1931) and White Heat (1949). But Cagney got his start in vaudeville performing as a dancer and earned his only Academy Award for his role as writer, producer, and composer George M. Cohan in the biographical musical Yankee Doodle Dandy. It was a box-office success that didn't come easy; Cohan didn't want his personal life included in the film and was unhappy with his portrayal. Cagney was Cohan's pick for the part, but Cagney had his own motives taking it on: After being labeled a communist a number of times, Cagney and his brother thought leading a patriotic picture would squash any career-tarnishing rumors.
White Christmas (1954)
The Michael Curtiz–directed musical about two singing duos who unite to put on show that will be sure to save a small Vermont business, was labeled an addition to Paramount's Holiday Inn (1942). Thankfully, this time around they had the wit and sensitivity to forgo the blackface. It was the first film to feature VistaVision, a widescreen process developed by Paramount Pictures that filmed 35mm horizontally. (Other VistaVision works include the 1957 Fred Astaire–Audrey Hepburn musical Funny Face and Alfred Hitchcock's 1958 film Vertigo.) With festive production design and numbers like Rosemary Clooney and Bing Crosby's "Count Your Blessings (Instead of Sheep)," this movie musical was a box-office hit that quickly became a holiday classic.
The Band Wagon (1953)
The first of two films pairing Fred Astaire and Cyd Charisse, The Band Wagon is another movie musical about show business. However, it focuses not on aspiring actors or a shift in the entertainment industry, but on the comeback of aging Hollywood star. Director Vincente Minnelli actually used Astaire as inspiration for the story. It seemed uncharacteristic to pair Astaire with Charisse, who was 23 years his junior, romantically, but because age plays such a significant role in the film, Minnelli hoped that audiences would see past this oddity and understand the casting decision.
Guys and Dolls (1955)
This comedic film about two gamblers and their love lives caps the Golden Age of Movie Musicals with its 1955 release. The film stars an outstanding cast that includes Frank Sinatra, Vivian Blaine, Marlon Brando, and Jean Simmons. Though the latter two were viewed as non-singing actors simply because of their dramatic roles — Brando more typically starred in classics like On the Waterfront (1954), and Jean Simmons in films like Angel Face (1953) — they surprised audiences by using their own voices in numbers like "A Woman in Love," a decision made by producer Samuel Goldwyn himself.
Seven Brides for Seven Brothers (1954)
Seven Brides for Seven Brothers was an extravagant production shot in CinemaScope and set in Oregon during 1850, telling a story about courtship. Filled with exciting performances, the "Barn Raising" dance (which features a young Russ Tamblyn jumping around on balance beams) has been praised by film critic Stephanie Zacharek as "one of the most rousing dance number ever put on screen."
Carmen Jones (1954)
Dorothy Dandridge became the first African-American woman to be nominated for the Academy Award for Best Actress for her role in the Oscar Hammerstein stage adaption Carmen Jones. Originally, director Otto Preminger was hesitant of casting Dandridge as Carmen — an independent, provocative woman who grabs the attention of a local soldier only to then throw him by the wayside — because she lacked the character's hedonism. But Dandridge was determined to win the part and paraded around in front of Preminger in skimpy clothing to show she was a fit for the role. The song-and-dance numbers in most musicals, when done correctly, are meant to progress the character's story. None do it quite as well as Dandridge's "Dat Love ('Habanera')," which reveals Carmen's habit of chewing men up and spitting them out, a pattern that leads to violent consequences.
For Me and My Gal (1942)
Gene Kelly made his screen debut in this film about a pair of aspiring vaudeville performers whose relationship hits a snag when Kelly's character gets drafted. For the first time, Judy Garland was top-billed, and the film took advantage of every bit of her acting and musical talents. Kelly and Garland are utterly charming as they fall in love while performing the musical's theme, "For Me and My Gal." In Joe Morella and Edward Epstein's book Judy: The Films and Career of Judy Garland, Kelly said, "Judy was a good dancer, but not a fine one. Her ability here was to take a group of steps or a routine beyond her capacities and somehow give it an authenticity and authority that made her look a far better dancer than she was technically … You can't define charisma, but she had it always."
The Great Ziegfeld (1936)
William Powell stars as the famous Broadway impresario Florenz Ziegfeld Jr. in this three-hour biographical production that earned three Academy Awards: Best Picture, Best Actress, and Best Dance Direction. True to Ziegfeld's own presentation, the film features extravagant performances with lavish costumes and overwhelmingly intricate routines, most notably the original Ziegfeld act "A Pretty Girl Is Like a Melody," written by Irving Berlin. The famous sequence, known as the "Wedding Cake" sequence, took several weeks to shoot, required 180 performers, and used over 4,000 yards of silk.
Thank Your Lucky Stars (1943)
Warner Brothers produced Thank Your Lucky Stars as a way to fundraise for World War II, specifically for the Hollywood Canteen, an establishment created by Bette Davis and John Garfield that provided entertainment for troops. Stars like Rita Hayworth, Hedy Lamarr, and Marlene Dietrich volunteered their time to serve food and dance with the servicemen. In a way, Thank Your Lucky Stars mirrored that pleasurable escape, with its light plot about two producers who put together a wartime charity show with the cast starring as themselves. Thank Your Lucky Stars was Ida Lupino, Olivia de Havilland, Bette Davis, and Errol Flynn's first and only time acting in a musical.
Gentlemen Prefer Blondes (1953)
This movie musical comedy, based on Anita Loos's comic novel of the same name, stars two of Hollywood's biggest sex symbols during the Golden Age: Jane Russell and Marilyn Monroe. The two sparkle as Lorelei and Dorothy, two showgirls being followed on their way to Paris by a detective hired by Lorelei's rich fiancé's father, who's certain she's only after his money. The film was an instant box-office and critical success, and "Diamonds Are a Girl's Best Friend" its most popular number. The performance, in which Monroe donned her iconic hot-pink silk dress, has been re-created throughout the years by stars like Madonna, Nicole Kidman, and Anna Nicole Smith.
That Night in Rio (1941)
Alice Faye and Don Ameche starred in a total of six films together during the late 1930s and early '40s; That Night in Rio, a film about an entertainer whose impersonation of a baron gets him into a hilarious bout of trouble, was their last. Its over-the-top extravagance provides the type of escapist pleasure people sought during wartime years, but the real draw of the film is watching the scene-stealing Brazilian bombshell Carmen Miranda perform. Though the film's most famous performance — "Chica Chica Boom Chic"— is a duet, Miranda far outshines Ameche. After a series of luminescent purple fireworks, Miranda emerges from a line of sparklers donning a glistening silver costume and gets right to moving, with her signature fruit hat and all.