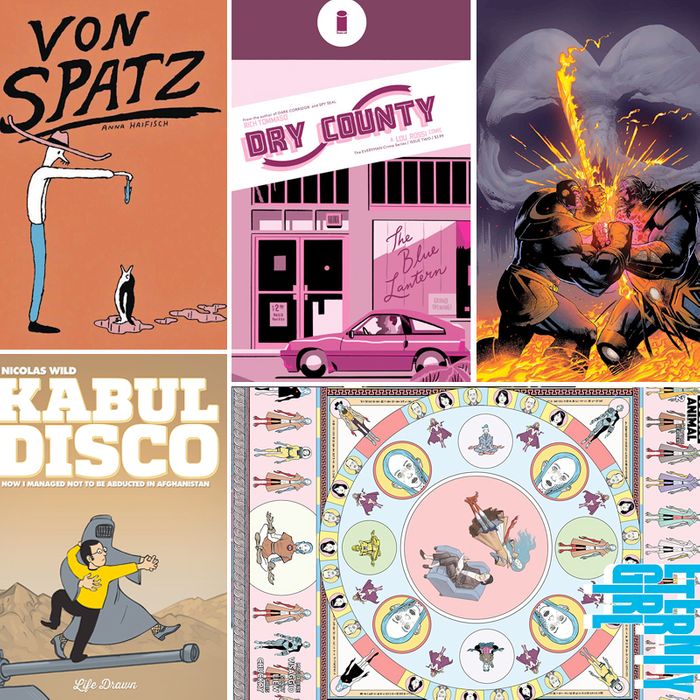 Each month, Abraham Riesman offers recommendations of comics media, including book-length graphic novels, comics-format nonfiction, ongoing series, and comics-related items in other forms. With any luck, at least one of them will be a match for you.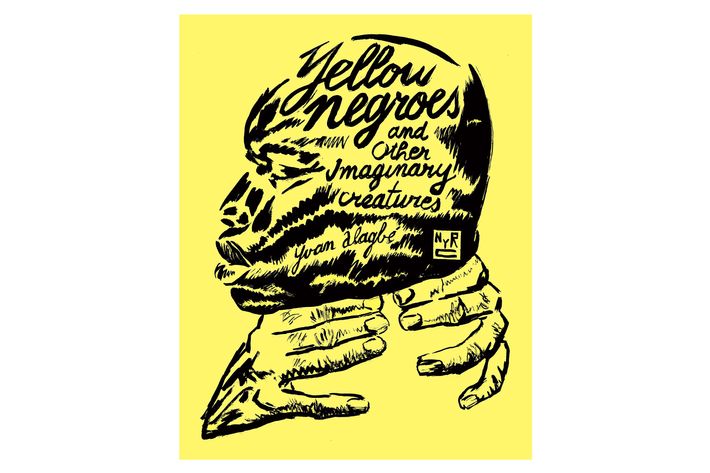 Yellow Negroes and Other Imaginary Creatures by Yvan Alagbé (New York Review)
It's been said that comics have more in common with poetry than prose fiction, and never has that been more in evidence than in Yvan Alagbé's stunning Yellow Negroes and Other Imaginary Creatures. A compellingly inscrutable work, it paints — both literally and figuratively — vignettes from the lives of a handful of black people in contemporary Paris. None of the stories are easy to map out; many of aren't really "stories," but rather just impressionistic streaks of fear, anguish, passion, and alienation. The verbiage, even in translation from the original French, raises goosebumps ("You didn't know you'd still be here, and I'd take you home, even if we were both dead in the road. We are driving, but around our corpses people are gathering"), and the sumptuously thick chiaroscuro burns itself into your memory.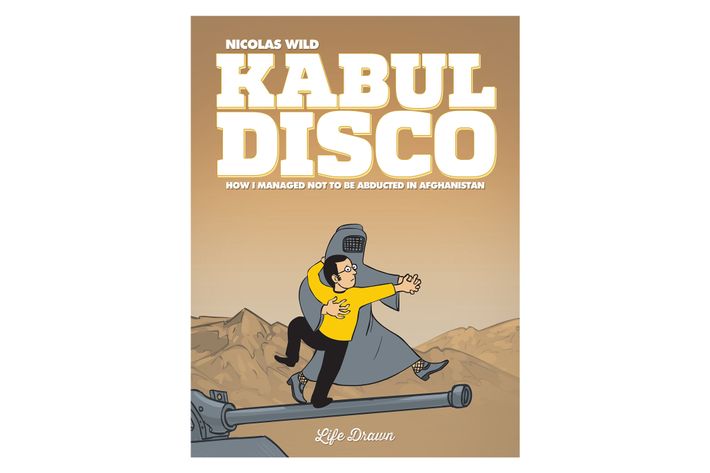 Kabul Disco: How I Managed Not to Be Abducted in Afghanistan by Nicolas Wild (Humanoids)
The most important thing to remember about French cartoonist Nicolas Wild's Kabul Disco is that the author isn't a role model — and that's okay. Readers who approach this graphic memoir about Wild's time doing comics art for a communications agency in Afghanistan may be turned off by the fact that its protagonist looks at the experience as something of a game. In elegant ligne claire art and buoyant text, we don't see Wild take risks to save lives or wander off the beaten path to find out what it's really like to be an Afghan in the 21st century. No, he just muddles through his assignment, lonely and weirded out by his fellow expats, and then runs home. But that's the point: He basically does what nonheroes like you or me would do if we were in that situation. Humans are often pathetic and cowardly, and Kabul Disco captures that truth with subtlety and humor.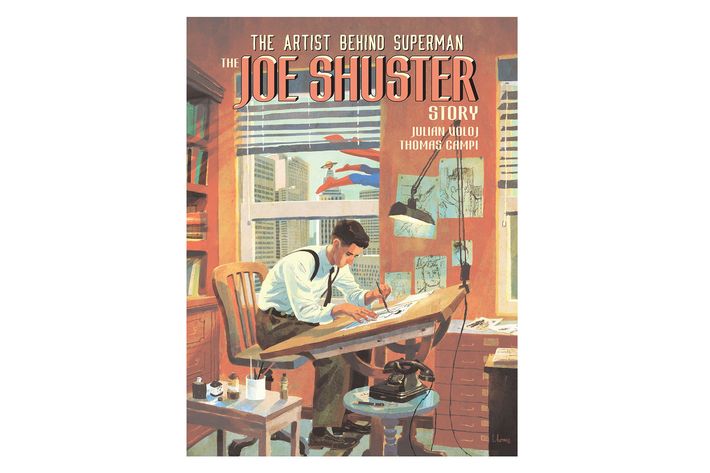 Truth, Justice, and the American Way: The Joe Shuster Story by Julian Voloj and Thomas Campi (Super Genius)
The comics industry has its fair share of cautionary tales, but few have resonated as loudly as that of Joe Shuster. A Jewish kid raised in Toronto and Cleveland, he and his high-school buddy Jerry Siegel co-created Superman in the 1930s and never reaped the benefits they deserved for that history-altering innovation. Shuster died miserable and indebted in 1992, with no ownership whatsoever of the Man of Steel who had generated untold billions for DC Comics and its corporate overlords. His life has served as a warning for comics creators ever since, and now, it's been translated into a tender graphic history with empathic prose from Julian Voloj and sensuous painting from Thomas Campi. The slim (and ironically titled) volume is dense with the triumph of creativity and the tragedy of commerce, and should be required reading for anyone hoping to understand how a medium that changed entertainment history can crush those who gave their lives to it.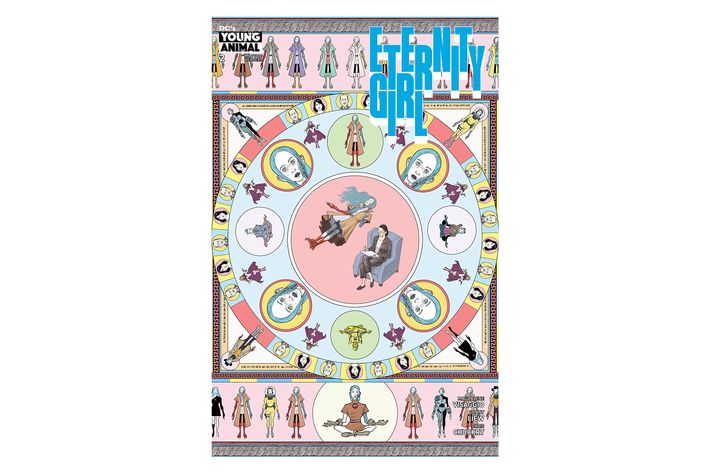 Eternity Girl by Magdalene Visaggio, Sonny Liew, and Chris Chuckry (DC)
The crushing dread of our present reality has given rise to a remarkable development in popular culture: an ever-tightening embrace of innovative stories about depression. We've seen this refreshing (and, y'know, depressing) phenomenon in BoJack Horseman, Rick and Morty, Crazy Ex-Girlfriend, and now in comics form with Magdalene Visaggio and Sonny Liew's Eternity Girl. It's an all-star creative team (Visaggio is the writer behind Black Mask's queer, cosmic bounty-hunter adventure Kim & Kim, and Liew auteured his way to fame with The Art of Charlie Chan Hock Chye), and they've just launched a fascinating story about a suicidal ex-superhero who gets a grim opportunity from an unexpected ally and embarks on a mission you're not sure you should support. It's only one issue in, but it already feels like it'll end up on a lot of best-of lists by year's end.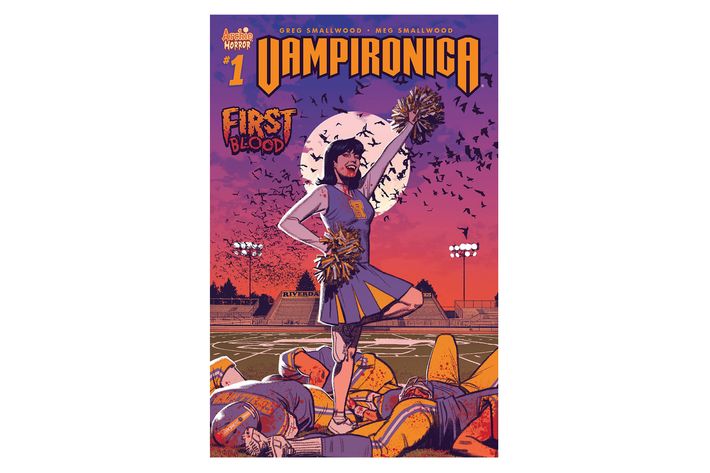 Vampironica by Greg Smallwood, Meg Smallwood, and Jack Morelli (Archie)
Hop in a time machine and tell someone in 2008 that the Archie brand would be primarily known for a hit prime-time camp drama and a series of horror comics and you would've been laughed out of Pop's Chock'lit Shoppe. And yet, here we are, basking in the Riverdale gang's strange new golden age. Following in the footsteps of such outré hits as Afterlife With Archie, Chilling Adventures of Sabrina, and Jughead: The Hunger, Greg and Meg Smallwood and Jack Morelli have produced Vampironica, a story whose premise is more or less described in its title. The graphite-scratch pencils and playfully geometric layouts that made Greg a household name in Marvel's Moon Knight are on full display here, and he and Meg have constructed a crackerjack story that induces chills and giggles in equal measure.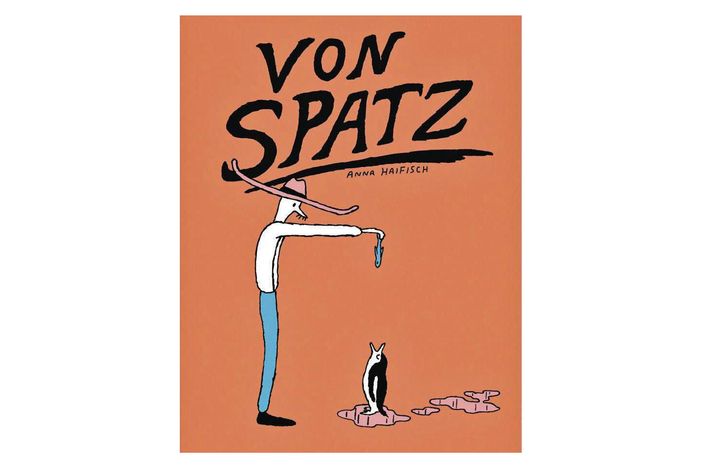 Von Spatz by Anna Haifisch (Drawn + Quarterly)
Von Spatz is not based on a true story. Well, at least not true as in factual. In it, Anna Haifisch imagines Walt Disney undergoing a nervous breakdown and entering a rehabilitation facility to get his groove back. It's miles away from being a work of historical fiction, as time periods blur into one another (marvel at the sight of Disney, who died in 1966, parading around an art gallery opening in an "I'm With Stupid" T-shirt) and circumstances become charmingly surreal (an art therapist at one point prompts the center's patients to "draw a story with three elements. A bucket, a chickadee, and a weasel with a funny hat."). And yet, somehow, the short graphic novella feels true to the life of the mind, which is typically filled with perpetual self-loathing and myriad self-imposed obstacles. The squirmy, straightforward linework and vivid pastels lend the whole endeavor a placid dignity that sticks with you long after you put it down.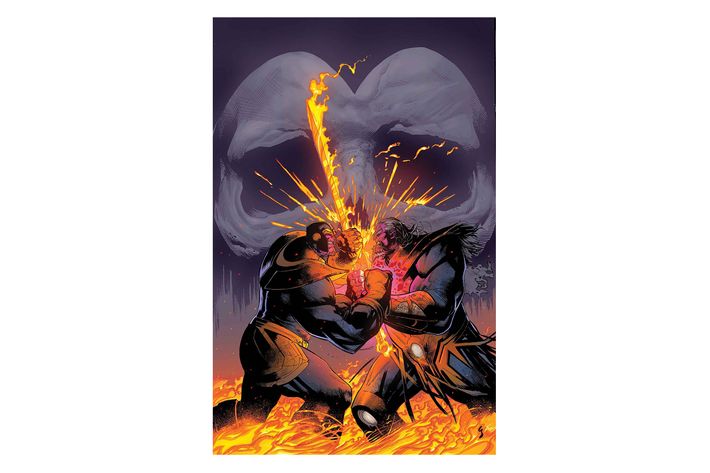 Thanos by Donny Cates, Geoff Shaw, and Antonio Fabela (Marvel)
I tell ya, if the Thanos of Avengers: Infinity War is even one-third as interesting as the one in the current run of Thanos, it'll deserve an Oscar for Best Supervillain. (That's a thing, right?). As of issue No. 13, writer Donny Cates and artists Geoff Shaw and Antonio Fabela have taken over Marvel's comics series about the monomaniacal Mad Titan, and it has been wild. The setup is, as one might expect for the character, quite cosmic: Thanos finds himself transported through time into the distant future, where he encounters an aged version of himself who has finally succeeded in his mission to eradicate life in the universe. Well, almost succeeded. I won't spoil anything, but the reasoning behind present-Thanos's kidnapping is gleefully out-there, as are a pair of truly brilliant twists on classic Marvel characters. I shall say no more, as Cates's mastery of surprise is matched only by Shaw's lysergic vistas and Fabela's cosmic color tones. It's a goddamn shame that the series is getting canceled after April's issue. If there's any justice in the galaxy, this team will get another crack at Marvel sci-fi sooner rather than later.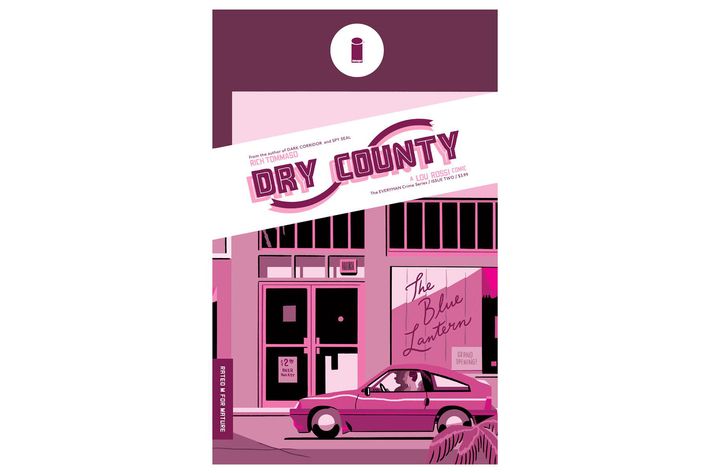 Dry County by Rich Tommaso (Image)
Rich Tommaso remains one of comics' great underappreciated treasures and thankfully for us, he is — as the kids say — back on his bullshit. The writer-artist's latest effort is Dry County, a nascent neo-noir about a pathetic comic-strip artist for the Miami Herald who, in between bouts of binge-drinking, finds his destiny intertwining with that of a mysterious woman who's looking to escape from a toxic relationship. The protagonist's faux-Chandler first-person narration is at once hilarious and unnerving — you laugh at this idiot for being such a lusty screwup, but you can't help feeling like a deeper set of problems has driven him into his squalid predicament. Even if the unlikable protagonist doesn't appeal to you, you should still show up for Tommaso's reliably exciting artwork and layouts, which catapult the reader through a Miami filled with idiots and the people who wind up getting dragged down by them.