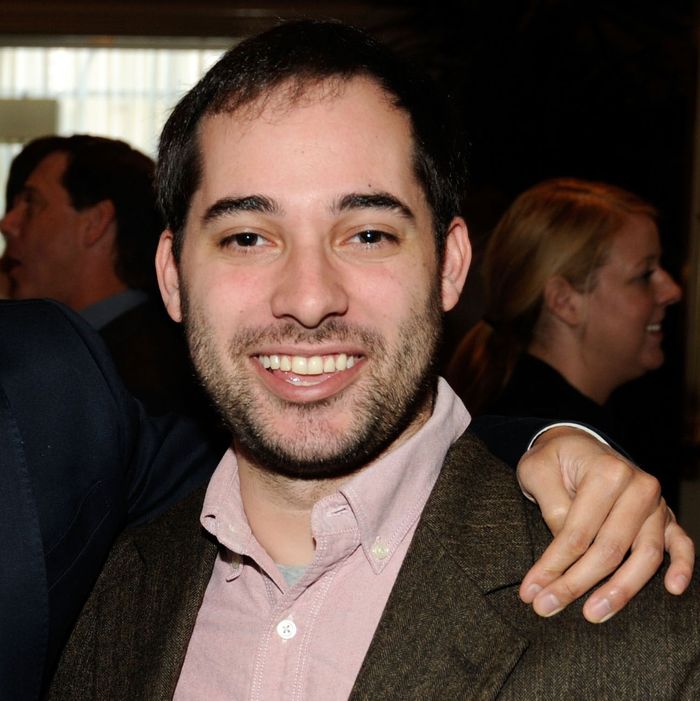 Photo: Frazer Harrison/Getty Images for AFI
Pod-Canon is an ongoing tribute to the greatest individual comedy-related podcast episodes of all time.
Comedian, podcaster, television writer, and gentle comic genius Harris Wittels would have turned 34 this April 20th. The comedy world has never stopped mourning Wittels' premature death or celebrating his quietly remarkable life. For the people who love Harris, up close and from afar, it is a wound that that will never heal. In February, Harris' brilliant writer sister Stephanie Wittels Wachs released a well-received memoir about her relationship with her brother entitled Everything Is Horrible and Wonderful: A Tragicomic Memoir of Genius, Heroin, Love, and Loss and Harris Wittels commemorative t-shirts are available, with proceeds going to a scholarship in Harris' name.
Wittels is particularly mourned in the podcasting world, which counts Wittels as one of its true masters. Harris is best remembered for his guest appearances on Comedy Bang Bang, often in connection with Adam Scott and Chelsea Peretti, where he was one of the podcasting institution's most frequent and reliably hilarious guests as well as his beloved stint as "your tour guide through the cosmos" as the host and soul of Analyze Phish. But Wittels was a brilliant and unforgettable guest on other podcasts as well. As I wrote in this column, Wittels' final appearance on Pete Holmes' You Made It Weird offered a harrowing look into his fragile yet hopeful and deeply vulnerable mind state in the final months of his life in addition to serving as a powerful cautionary warning about the deadly, seductive dangers of drug abuse, particularly prescription pills and heroin.
Harris' 2013 appearance on Marc Maron's WTF is nowhere near as dark, intimate, or confessional. At one point Harris even frets that he's worried that he's too stable, normal, and functional to make for a good WTF interview, confessing, "I was nervous to do the show because I have so little to complain about." Needless to say, Harris didn't have anything to worry about on that front. To an entire generation of standup comedians and funny people, Maron looms large as an intimidating older brother to impress, but the WTF host laughs easily and often at the then-28-year-old comedian and finds common ground with him throughout on drugs, music, Judaism, and the art and craft of standup comedy and television writing.
Maron is one of the many, many people in comedy who just doesn't get Phish or understand the outsized passion it inspired in people like Harris, but he was a Grateful Dead and Jerry Garcia fan so they connect on that level. Drugs are inextricably intertwined with Harris' Phish journey and, as a long-sober former addict, Maron looks back on the world of drugs with the bittersweet nostalgia of someone peeking curiously and cautiously through a door they slammed shut long ago for their own survival but can't help but wonder about sometimes.
As always, Harris' drug stories aren't about drugs so much as they're about growing up, relationships, and family, like when he shares an anecdote about doing cocaine as a teenager and, after the night turned into day, confessing to his doctor father (another commonality with Maron), "Dad, I did a lot of blow and I think I'm dying" and having his father tell him he's not dying and just needed to take Nyquil.
We get insight here into Harris' upbringing as an unlikely athlete-turned-theater kid (he played Nathan Detroit in a school production of Guys and Dolls) and contemporary of classmate and fellow Texan Beyonce as well as his soul-deep immersion into the world of Phish. Harris says that when Phish broke up he was so despondent that he followed the String Cheese Incident for an entire summer despite disliking their music. That speaks volumes about the sense of community and belonging that comes with following a band like Phish and how it transcends music.
Harris is even more idealistic discussing standup. He describes Mitch Hedberg as a philosopher as well as a comedian and is perhaps the only person in history not to sound obnoxious or pretentious doing so.
This is not the deepest podcast with Harris nor the funniest, but it does provide an entertaining and insightful look at a true comedy podcasting icon.
In one of a number of moments in the episode that ring with dark historical irony, Maron begins his introduction by talking about recording on Kol Nidre, the eve of the Jewish holiday of Yom Kippur where Jews all over the world, Jews like Marc Maron and Harris Wittels, pray to be included in the book of life, to win God's favor, and make it at least one more year in this sick, sad, beautiful, horrible world.
When he recorded the intro, Maron could not have imagined how little time his guest had left. He could not have foreseen that the Book of Life would not lovingly contain Harris' sacred name for decades to come. Yet Maron, like everyone else blessed come into Harris' orbit, must have sensed how incredibly valuable what little time Harris had on earth was, and how dearly and deeply he would be missed.
Nathan Rabin is a father, the author of 5 books, a columnist and the proprietor, owner, Editor-in-Chief and sole writer for Nathan Rabin's Happy Place, which can be found at nathanrabin.com.