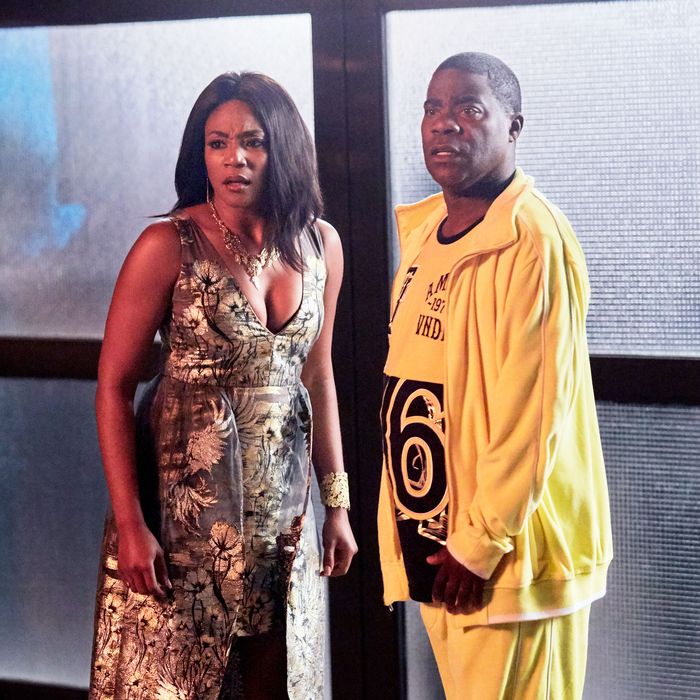 Tiffany Haddish and Tracy Morgan in
The Last O.G.
Photo: Francisco Roman/Turner Entertainment Networks. A Time Warner Company. All Rights Reserved. General
The Last O.G. is essentially a fish-out-of-water comedy in which the fish is an ex-convict played by Tracy Morgan and his non-water environment is gentrified Brooklyn.
When Tray, Morgan's character in the TBS comedy that debuts tonight, returns home after spending 15 years in prison, he steps off a bus into a world he does not recognize. Suddenly, he's surrounded by moms pushing strollers, dudes wearing skinny jeans while walking chihuahuas, and bicyclists taking selfies.
"What the [bleep] happened to Brooklyn?" Tray shouts, shaken by the fact that the gritty environment he remembers has been turned into a haven for the woke and wealthy. This is hardly the first time that television has highlighted and/or mocked the transformation of New York City's most populous borough — see Girls, Search Party, and Younger, among other examples. But The Last O.G. comes at that territory from a different angle.
Tray dealt crack cocaine on those streets more than a decade ago because those streets made him feel like he had no other choice. He lost years of his life because of it. To come back and see that same environment all prettied up and sanitized is jarring, puzzling, and offensive. But it also serves as evidence that all things can be transformed. And that's what Tray is interested in: rebooting his life as a new, free man.
If anyone is suited to play a guy intent on a second chance, it's Tracy Morgan. He's not only returning to regular series television here for the first time since 30 Rock, but also for the first time since a dreadful 2014 car accident that put him in a coma for two weeks and left him with substantial injuries that required extensive rehab. Morgan plays Tray with the same confident yet innocent swagger he brought to 30 Rock's Tracy Jordan, but, perhaps because of his own struggles, there's an added vigor in his performance that gives The Last O.G. a sense of energy and a shot of poignancy. Tray has such an unwavering sense of optimism — his ability to make an on-point dessert log in prison leads him to believe he deserves a job as head chef at a swanky Brooklyn restaurant — that he comes across as a rougher-around-the-edges version of Kimmy Schmidt, another off-kilter character trying to understand the ways of modern New York after years of being locked away. Even though Unbreakable Kimmy Schmidt (and 30 Rock) creators Tina Fey and Robert Carlock have nothing to do with The Last O.G., this engaging comedy could easily serve as a more reality-based, less madcap corollary to their Netflix series.
Some of the people actually involved in making The Last O.G., in addition to Morgan, are co-creator and executive producer Jordan Peele; the Lonely Island's Jorma Taccone, who also produced and directed the first episode; and a strong supporting cast that includes Cedric the Entertainer as Miniard Mullins, the mentor at Tray's halfway house; Black-ish's Allen Maldonado as Tray's best friend, Cousin Bobby; Malik Yoba as Wavy, the drug dealer who let Tray take the fall by going to jail, but tries to compensate by giving him a job at a Brooklyn coffee shop; and Tiffany Haddish as Shay, the love of Tray's life who has since married a wealthy white guy (Ryan Gaul) with whom she is raising two children clearly fathered by Tray.
Haddish has blown up so much in the past few months that she's pretty much become the go-to answer to every pop-culture question one might pose, from "Who do you think should host the Oscars next year?" to "Who should be the first witness called in the trial of Who Bit Beyoncé?" She's as much of a draw at this point as Morgan, but in the first couple of episodes, Haddish dials down her renowned ability to play crazy in service of her character, who is leading a very stable, successful life and trying to keep it that way. In subsequent episodes, though — I've seen the first six — Shay's suppressed fierceness starts to seep out as Tray keeps trying to infiltrate her life. The best moments in The Last O.G. are when Morgan and Haddish hold a scene together and let their characters' frustrations and passions fly. They have great chemistry, and you believe instantly that they have a shared history of getting into all kinds of messes. As funny as Haddish is, she also more than proves that she can hold her own in dramatic scenes, occasionally even outshining her co-star in that regard.
Not everything in The Last O.G. works as well as it could. Some of the jokes don't fly, especially the intentionally pathetic ones that Cedric the Entertainer as Minniard utters in his insistent attempt to prove he's a skilled stand-up comedian. In general, Tray's relationships with Minniard and his fellow roommates at the halfway house are less interesting than his attempts to adjust to the strict rules enforced by his drunk-on-caffeinated-power supervisor Elizabeth (Edi Paterson) at Grundle's Coffee or the relationships he begins to develop with his kids (Dante Hoagland, a dead ringer for Morgan, and Taylor Mosby) and with Shay.
There's also a lack of continuity between certain episodes. After a major blow-up that leads Shay to forbid Tray from ever seeing her or their kids again, Tray rolls up to Shay's mother's funeral just two episodes later and his ex barely chafes at seeing him there. The Last O.G. was originally supposed to be released in the fall, and at times one senses  that, like Tray himself, it's still going through the process of figuring out how best to excel and shine in the public eye.
The Last O.G., like its protagonist, may be a little imperfect. Still, with Morgan and Haddish at its center, you're rooting for it and their characters to succeed. Thanks to Morgan especially, there are weird, mildly profane glimmers of hope in this show. And these days, those are welcome wherever we can find them, even in the most insufferable sections of Brooklyn, New York.