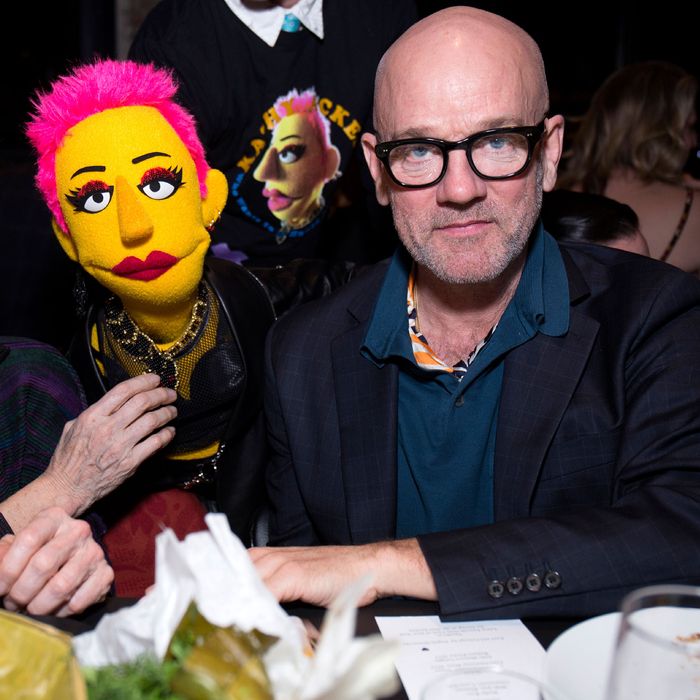 Laurie Anderson, Kathy Acker puppet, and Michael Stipe.
Photo: Santiago Felipe
In certain ways — ways which have made some denizens of the now-mythically archived, formerly-low-rent East Village squeamish, but ought to instead make them hopeful — Performance Space New York is more a successor to than a continuation of the vital avant-garde crock-pot that was, until it reopened after a seven-year-long renovation this year, PS122. Founded in 1980, PS122's full name was Performance Space 122, but everybody called it the name of the old school which once occupied the building, on Ninth Street and First Avenue. It had become a kind of living relic of that vanished, romantically scruffy DIY city, dating from a time when some artists and community activists could take a disused schoolhouse and transform it into a quasi-squatter experimental clubhouse with little more than hey-let's-give-it-a-go derring-do, and nurture the careers of Ron Athey, Ethyl Eichelberger, Karen Finley, Spalding Gray, Ishmael Houston-Jones, Holly Hughes and John Leguizamo. (Today such a derelict building would be converted into "artist-style" condo lofts.) In 2011, PS122 closed for a renovation which wasn't supposed to take anywhere near as long as it did, and by the time it was ready to reopen, its board had hired a new director, Jenny Schlenzka, formerly of MoMA PS1, who rebranded it the deadpan Performance Space New York, much to some of its longtime supporters' chagrin (the theater critic for Time Out tweeted that he was "considering changing my name to Personal Name" in a kind of sarcastic protest).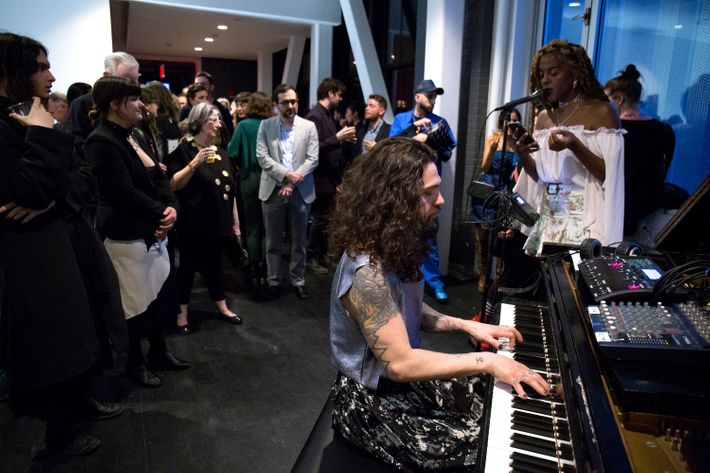 Maybe this was in part to just avoid confusion between her old curatorial gig, also in an ex-schoolhouse decades ago colonized by artists — how many PS art centers do you need anyway? But also because many of the conditions and assumptions implicit in the founding ideals of the PS122 — that the East Village was a neighborhood where artists can afford to live and make art among other artists, and, perhaps more subtly, that whatever went on there which was called "performance" was somehow a distinct endeavor from that more high-toned and perhaps hygienic stuff that went on at, say, the city's leading museums — are no longer the case.
I live in the East Village and have for many years now, but nobody I know really does anymore — and hasn't for years — certainly not anyone particularly interesting, surprising, creative, or young. Or even frankly wants to. The rents are high but maybe more to the point, everybody else cool lives outside of location-specific dating-app range. Whatever's new in New York, and to what extent this gleaming lifestyle machine and global Instagram tableau vivant is able to foster the new, is being cooked up at least four or five stops into Brooklyn.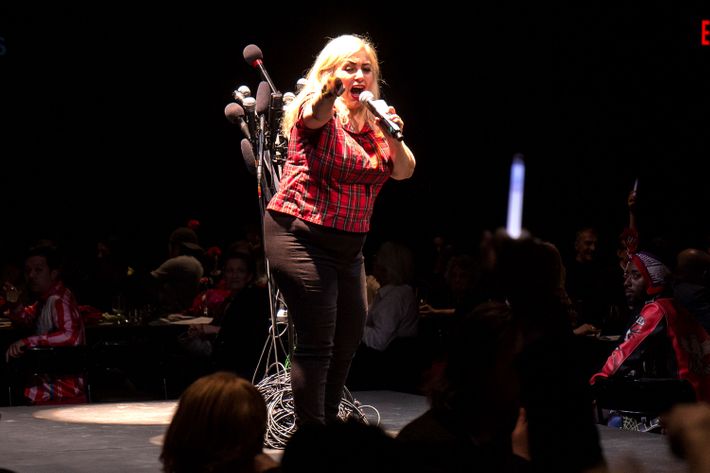 I was thinking about that on Saturday night, when Performance Space hosted its first gala in its new home, in a column-free, convincingly state-of-the-art double-height space which was scooped out of the building's top two floors as part of the $37 million renovation. There's a clear view south to downtown, over the tenement roofs, and it is very much unlike the inflexible, ramshackle, blacked-out rooms with column-obscured sight lines PS122 had used for performances downstairs. The gala honored the elegantly salty poet Eileen Myles, who, tellingly, said her East Village landlord was in the process of trying to evict her after decades, and Anna Deavere Smith, who in a different way tellingly told how, coming up as a young performer, she was "never cool enough or hip enough to do work at PS 122." Each were given a commemorative floorboard, awkwardly long. Also honored: the renovations architect, Deborah Burke, who, in a differently way tellingly, is now the dean of the Yale School of Architecture, and had designed the interiors for the super-tall, super-rich, super-condo 432 Park Avenue.
It was a cozy, optimistic evening, with Juliana Huxtable performing with demure disregard for comprehensibility — and reading off her smartphone — while accompanied by a pianist during the cocktails, and canny stalwarts of the scene like Penny Arcade, John Kelly, and Carmelita Tropicana circulating among the other guests. Many of them, members of the city's prosperous, high-polish art-fashion class, admitted to me they'd never been to the old PS122. Seven years of course is a long time, but it wasn't in some way for them, either.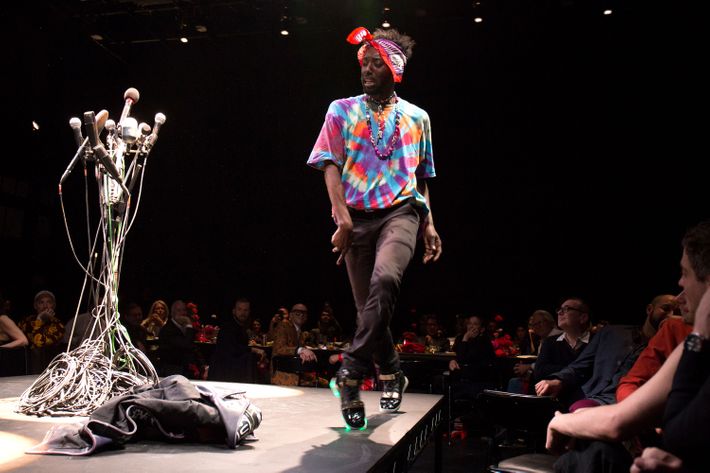 Schlenzka's first season at Performance Space has been conscientiously dedicated to the building's punk provenance — they just did a series of exhibits and events dedicated to the work of Kathy Acker — but for many attendees it might well have been be a brand-new place. Guests included Michael Stipe, Laurie Anderson, Ryan McGinley, Jemima Kirke, Sasha Velour, Bailey Styles, Humberto Leon, Julie Mehretu, Nicole Eisenman, Joan Jonas, Ryan McNamara, and K8 Hardy — along with a muppet version of Acker, created for part of a Bjarne Melgaard tribute of sorts he did to her. Hannah Black performed, and the comedian Casey Jane Ellison was the emcee, though she didn't exactly endear herself to the old-timers doing a riff on how unbelievable it was — to her — that she recently turned 30. "She doesn't know how to read the room," scoffed one vet, twice her age, who, while listening to Ellison, threatened to take the stubby pledge pencil at the table and stab herself, if I recall this correctly, in the eye.
But Arcade, who, again, tellingly, I last last saw at St. Anne's Warehouse in Brooklyn doing her show Longing Lasts Longer, in which she lamented the tidying up and, to her mind, creative decline of New York from the "city that doesn't sleep" to the "city that can't wake up," knew exactly what she was doing when she strutted around onstage, exhorting the audience to spend $1,220 to name a chair. Perhaps, she suggested, after one of the many people who did work there who'd died of AIDS, since all the dead people she knows love publicity. Undoubtedly the case. Or to buy a night with Stipe and Patti Smith. Altogether the gala raised just shy of $300,000 — important since this is a more expensive place to run than PS122 was.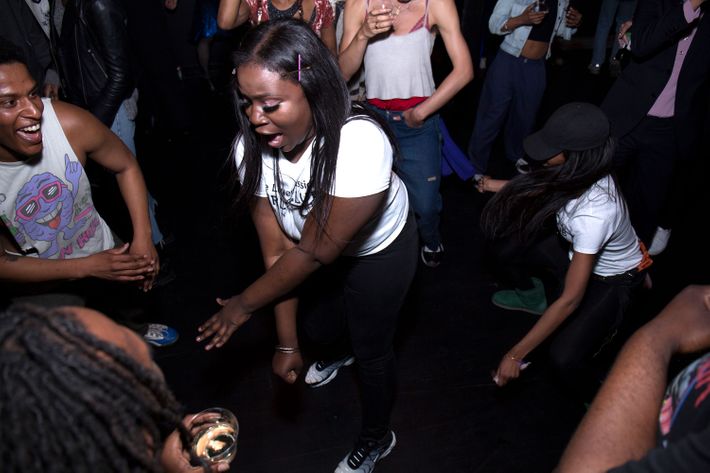 Which is to say, Performance Space New York is adapted to the city's art world as it has become: a high-production-value outpost of a global intellectual-aesthetic marketplace, not a bohemian semi-abandoned escape-from-capitalism hole in the wall. But it's also, as the art world has been in general, striving to be a more self-consciously inclusive place (the Lower East Side Girls Club also did a performance). Not long ago, I complained to Simon Castets, the director of The Swiss Institute, another interesting arts nonprofit which is soon moving nearby, into a former Chase bank on St. Marks Place, that there was nothing much going on in the East Village anymore, and he reproved me: What about the Poetry Project, and Anthology Film Archive, Danspace Project and La MaMa Etc? He's right, of course; they soldier on. Meanwhile, on East Sixth, the Brant Foundation is renovating the former Walter De Maria studio, a former ConEd substation, polishing it up with some public programming in mind. The new Performance Space will only add to that tradition; I'm sure I'll go more than I ever did to PS122 (which wasn't all that often, honestly.) So maybe the East Village can continue to be an important place to show and see new art. Artists just can't afford to actually live here.
Claude Wampler, the artist who happened to be seated next to me (I confess I had to look her up: she once did a show at the Andy Warhol Museum which "was lit with forensic UV light fixtures that allow human semen ejaculate to be visible to the eye" which she'd "curated" and carefully placed throughout the museum; the regular lights were turned out, and visitors could wander around and spot the semen while they listened to dialogues from Andy Warhol's audiotapes) left New York some years back to teach at the University of Virginia. Sometimes she brings her students up to New York, but mostly, she says, they can't imagine living here and trying to make work, and move instead to Detroit, or Nashville.