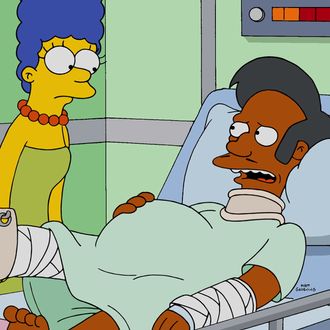 Photo: FOX/FOX via Getty Images
After coming under fire for the episode where they attempted to address all the fire they were coming under, Simpsons showrunner and executive producer Al Jean has taken to Twitter to address the show's critics. The show released an episode last week entitled "No Good Read Goes Unpunished" that seemed to be a response to criticism of the show's depiction of Apu, but it frustrated both critics and longtime fans alike.
Jean's tweet, and his follow up responses to fans, seem to echo the episode's suggestion that the issue might be addressed later. "I truly appreciate all responses pro and con," he wrote. "Will continue to try to find an answer that is popular & more important right."
The showrunner then took the time to reply to several fans' responses directly. In response to one user who wrote, "As long as it's funny since this is a comedy. Matter of fact let's keep funny at the top of the list and reinforce that it's voluntary to watch." Jean appeared to agree, replying with "Didn't fit in 140 characters :)"
It seems like the show may still have a lot of catching up to do, for starters, it's 280 characters now.