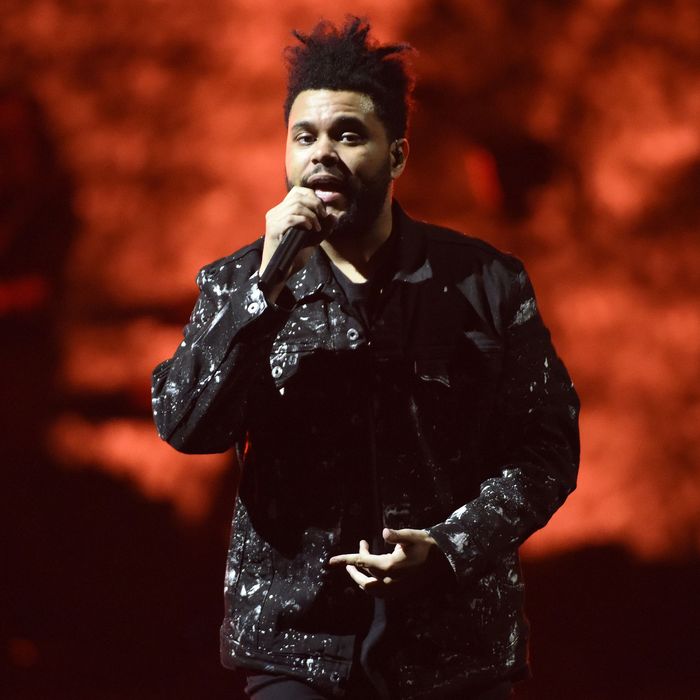 It gives enough unnerving private details that it's not lost on anyone who these songs are about.
Photo: Tim Mosenfelder/Getty Images
For an artist whose entire year-one shtick was darkness and mystery, the Weeknd has taken his music to slicker and more accessible places at every turn since. His 2011 debut mixtape, House of Balloons, was a coup, a jarring reminder that R&B could be dark, sexy, and proggy at the same time. But albums the Weeknd has made after graduating from anonymous maker of excellent mixtapes to mainstream A-list chart-topper have elevated the singer's profile at the expense of the purity of his sound. Like a chef who sells a recipe to a corporation that mass-produces it, using ingredients that are less expensive and easier to preserve than the originals, major-label Weeknd often gestures at the aesthetic of his Trilogy tapes, but the passion that made you want to push off into the night and get your heart broken comes and goes. Cuts like "Tell Your Friends" and "The Hills" went there, but "I Can't Feel My Face" and "Reminder" were every bit as numbing as the downers the singer munches in his lyrics.
Sometimes the price of getting your music piping out of clothing-store PA systems and in movie trailers is padding the sharp edges and embracing a little sweetness. So 2016's Starboy went all-in on juicy synth textures, calling up the dance-music authorities Benny Blanco, Cashmere Cat, Daft Punk, and Diplo to work alongside rap guys like Jake One, Frank Dukes, Metro Boomin, and Ali Shaheed Muhammad. The result was a collection of lush, cinematic songs marred by a whiff of party-boy boilerplate. Abel Tesfaye (his real name) sounded happy in his excess, when his songs used to carry a relatable hint of self-destructive displeasure. The difference was subtle but inescapable, like the moment your favorite reality show gets wind of how many people are watching. One minute they're acting out for the people in the room, and the next, they're playing to an audience, concocting catchphrases for the fans quoting them on Twitter and mugging for the people using their faces as reaction GIFs. The shtick became self-aware and lost a little luster.
Since Starboy's release, the Weeknd has been involved in two high-profile celebrity breakups: He'd been dating model Bella Hadid since 2015, but the union ended, as far as the public could tell, in early 2017, when the singer was caught by TMZ making out with pop star Selena Gomez. Tesfaye and Gomez appeared to spend most of 2017 together, but by October, she was back to spending time with her ex, Justin Bieber. The news was catnip for the kind of fan who jumps at the sound of their favorite singer's emotional distress. It's a chilling thought process that thirsts for drama in an artist's personal life so that they have more to write and sing about. But at the root of the thinking is people yearning for their own needs to be spoken for. When the Weeknd sings about a Star Trek roof in his Wraith, it doesn't grip us like when he confronts a cheating partner with a blood-curdling "I know everything."
The new surprise Weeknd project My Dear Melancholy is the Toronto singer's slight return to the guts and grit that built him. The set starts with a ballad (instead of the usual dramatic, scene-setting mid-tempo banger), and it's a brute. "Call Out My Name" arrives on just two measures of spectral piano notes and a dollop of hurt: "We found each other, I helped you out of a broken place / You gave me comfort, but falling for you was my mistake." He's tracing the erosion of a tight bond, and begging for a chance to settle down and fix things in the chorus. It's jarring. Imagine walking in on Timothée Chalamet crying despondently by the fireplace in the closing credits to Call Me by Your Name and trying to piece together how he got there. Melancholy is a breakup album, the kind that doesn't name names but gives enough unnerving private details that it's not lost on anyone who these songs are about.
What sets Melancholy apart from the Weeknd's last three studio albums is size and scope. It only runs six songs and 21 minutes, roughly a third of the size of the XO studio albums and half the size of his mixtapes. This simplicity is structural, too; the exposition in each track is limited to a verse or two. The singer emotes in the back end in lieu of a third verse or a repeat chorus. This allows Abel to get to the point with surgical precision. "Wasted Times" kicks off with the singer trashed in bed with a hookup he seems bored of and snaps back to the memory of an ex, how things ended badly, but he always knew what her intentions were and where he stood with her. Melancholy is really just a blur of reminiscences like these, a mess of come-ons and put-downs as contradictory as a history of texts with anyone you hate that you miss. One minute it's "you put my life thru hell," and the next, "this dick is still an option."
With enough repeat listens, the truth of the record shows face: Pain is purifying. An ache that won't go away commands your attention in full. Melancholy has tunnel vision because heartbreak is enveloping. The candor is chilling. There's a lyric in "Call Out My Name" that seems to suggest that the Weeknd considered donating a kidney when Gomez needed a transplant due to complications from lupus. Like the Netflix adaptation of YA author Jay Asher's 13 Reasons Why, the Weeknd has a habit of mistaking gauche oversharing for hard realism. Songs like "Hurt You," where the singer says he wants to be "between your legs but not between your heart," make listening to Melancholy feel like eavesdropping on a gross couples' squabble teetering between high drama and base chauvinism. For every sad, yearning word like the "I Was Never There" refrain of "What makes a grown man wanna cry?" there's filth and schmaltz like the "Wasted Times" clunker: "You were equestrian, so I rode it like a champion."
The Weeknd's taste for expensive-sounding beats washes his bitterness down sweetly. As on the last few albums, he calls on a group of rap and EDM luminaries to make something that can appeal to both communities. (Big-tent dance-music guys Skrillex and Daft Punk's Guy-Manuel de Homem-Christo work alongside the hip-hop producers Frank Dukes and Mike WiLL Made It, Weeknd regulars Cirkut and DaHeala, and the OWSLA affiliate and Yeezus co-producer Gesaffelstein.) The mix keeps the music multidimensional. "Try Me" sounds like Dr. Dre's "Keep Their Heads Ringin'" got a makeover for the Xanax trap era. The pairing of Frank Dukes and Skrillex on "Wasted Times" awards the song the gauzy, shimmering sound of Drake deep cuts like "No Tellin'" and a touch of the fleet-drum programming of U.K. two-step. Dukes and Gesaffelstein's collaboration on "I Was Never There" sounds like the platonic ideal of a Weeknd beat, equal parts smoldering sex and incoming danger, until midway through, when the beat switches, and a bed of static and video-game synths gives the impression of an aircraft carrier capsizing at sea, or Jeff Bridges getting violently digitized and sucked into his own computer program in Tron.
My Dear Melancholy shoots quickly and directly, and anyone who has been dumped or ghosted or otherwise hung out to dry by someone they trusted will likely find a stinging quotable. The music could use a little more variety; the blend of late-night desperation, jarring changes, and warbling codas at work in every song here feels like several different takes on the already-perfect House of Balloons highlight "The Party and the After Party." But the mini-album represents a welcome return to the spark and the infectious mood that made the best Weeknd songs feel like stolen diary pages, and it succeeds without overstaying its welcome. You can be insightful in under 20 tracks; you can make a dance floor jump with less than a dozen producers. Like GZA said on Wu-Tang Forever: "Make it brief, son, half short and twice strong."