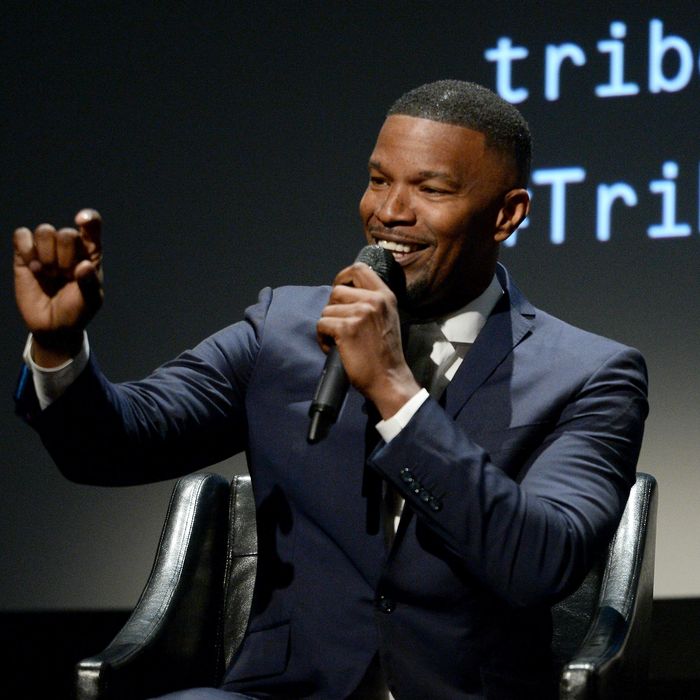 Jamie Foxx.
Photo: Andrew Toth/Getty Images for Tribeca Film Festival
Whenever Jamie Foxx says, "So what had happened was …" you're in for a treat. That's how the comedian/actor/rapper/consummate showman started all of the rambling, discursive, and wildly entertaining stories that he trotted out for a talk at the Tribeca Film Festival Monday night with Brooklyn-based writer and cultural critic Jacques Morel. After the sprightly 50-year-old burst onstage screaming "JACQUES! JACQUES! JACQUES!" to the tune of LMFAO's party anthem "Shots," he held the audience spellbound for a solid hour and a half as he recounted his days coming up and navigating the colorful world of celebrity. For the general public's benefit, Vulture has boiled the evening down to a handful of essential highlights showing a dynamo of charisma in his element.
He's grown, but Jamie Foxx loves his grandma.
Foxx credits his early success and his continued perseverance in the cutthroat business of show to the values his grandmother Esther Talley taught him. She'd often watch Johnny Carson on the TV in his childhood bedroom, and a young Foxx would memorize the jokes so that he could regale his friends at school the next day. He reminisced on one particularly affecting experience with her, when their preacher was speaking out against homosexuality during the Sunday sermon and she scolded him with a well-intended, "You stop that. God made sissies too." Per Foxx: "She was really a revolutionary."
To get started in comedy, you've got to be wily.
Starting out as Eric Bishop, the man who would be Jamie Foxx crushed it in his first stand-up appearance, but garnered so much resentment that he couldn't land a second gig. He landed with the moniker "Jamie Foxx" when trying to pull a fast one on a club booker by feeding gender-neutral bogus names and sneaking in as one of the non-acts. At parties, he'd make sure to invite only the finest ladies and instruct them all to tell the door guy that they only came through because they heard Jamie Foxx would be there. On his audition for In Living Color, he was scheduled first and knew that he was the only comedian going up against proper actors, so he deliberately showed up late to contrast his laughs with the dryness that came before. Since day one, a true hustler.
A gig's a gig, even the tough ones.
The key to keeping it real is remaining connected to your roots, and Foxx has seen it all. He recalled one of his earliest stand-up slots in Los Angeles, where he'd play to the room of Bloods by mocking rival Cripps with celebrity spoofs — Cripp Ronald Reagan, Cripp Mike Tyson, what have you. The Tyson material would eventually get him in trouble, however; the notoriously short-tempered boxer was in the house when Foxx went through his lisping routine, which Foxx only realized once it was too late to stop. "The punch he gave me after the show damn near caved my stomach in."
He's got one deep roster of impressions.
Anyone who's seen an episode of In Living Color knows full well that Foxx has strong comedy chops, but it's another matter to see how easily he can slip into an alternate persona. In the 90 minutes he spent at the Tribeca Performing Arts Center, Foxx busted out dead-on impersonations of: Wesley Snipes, Puff Daddy, Dr. Ruth, Jim Carrey, Jay-Z, Pharrell, Kanye West, Quincy Jones, Denzel Washington, Oprah Winfrey, the award-winning Ray Charles, and a lethal Sidney Poitier.
He's got the music in him, too.
Foxx is liable to burst into song at any moment, whether it's a quick line of "Wanna Be Startin' Somethin'" in full Michael Jackson falsetto, or a few lines of his first No. 1 hit, the Kanye West production "Slow Jamz." Foxx remembers his R&B style not quite meshing with Kanye's hip-hop mind-set during their impromptu recording session at a house party: "Kanye gave me the line, and I sang it with all this beautiful riffing, it was perfect. Then Kanye turned to me, and he just mumbles [flawless Kanye impression], 'Uh, yeah, man. That wasn't good.'"
An Oscar doesn't come without hard work and a little humility.
His saintly grandmother insisted that Foxx learn piano from a young age, confident that this skill would help him "get to the other side of the tracks," a colloquialism that more literally defined his small Southern hometown of Terrell, Texas. When casting for the Ray Charles role began, Foxx's preexisting prowess on the keys and his undeniable talent for impersonation made him uniquely suited for the gig. Still, he put the hours in; he recalled getting a beat-up tape from Quincy Jones and rushing to an Enterprise Rent-a-Car just to find a working cassette player. The recording came from one of Charles's earliest appearances, an interview on The Dinah Shore Show in which he uncomfortably hesitates to discuss using drugs. Foxx claimed that his performance came together in that moment, finally seeing the nervous vulnerability behind the paragon of ease when behind the ivories.
Once Ray picked up critical traction and Foxx began racking up nominations, he enjoyed acting a fool and clowning around on red carpets. He put on a straighter face after Oprah talked a bit of sense into him, but it was a kind word from Sidney Poitier that really set Foxx right: "I give you one thing: responsibility."
He's good at making new friends, so his parties have varied guest lists.
As a kid trying to make a name for himself, Foxx would often put on massive blowouts to ingratiate himself with the people who made things happen. By his own confession, Foxx was a "Wesley Snipes stalker," wrangling the New Jack City star for a clutch cameo at a Halloween house party he was throwing that year. He dished about a more recent bash, in which both David Blaine and the Olympic basketball team were in attendance. But what has to take the cake was a soirée Foxx threw to impress Puff Daddy — Ashton and Demi were on the scene back when they were still a complete phrase, the late Heavy D was in the mix, Foxx described himself as feeling like a "black Forrest Gump" standing near all the famous faces. As Foxx tells it, at that very rager, Puffy played the strutting horn sample that would later become "Crazy in Love."