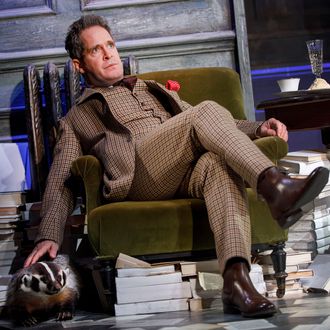 From
Travesties,
at the American Airlines Theatre.
Photo: Joan Marcus
Tom Stoppard provokes strong opinions. Even among the theatery-est of theater folk, there are those who adore his plays and others who argue that they're intellectually show-offy, cerebral at the expense of feeling, full of barriers to entry — that he's (and I've actually heard this leveled as a kind of begrudging accusation) just really, really smart.
He is. And his dazzling 1974 play Travesties—now at Roundabout in a knock-the-wind-out-of-you magnificent revival from London's Menier Chocolate Factory—is indeed a whirlwind of highbrow showmanship. But what keeps it from being pretentious is the sincere explosive joy with which it's constructed. Real pretentiousness invites no one in, but Stoppard's writing is generous in its virtuosity, and the best productions of his work hit you like the intellectual equivalent of that adrenaline shot Uma Thurman gets in Pulp Fiction. They make you feel a little drunk, a little manic — they light up your brain and, just as you're wildly swinging from their mental monkey-bars, they zap you in the heart as well.
Director Patrick Marber (a playwright himself, best known for his Olivier-winning 1997 play Closer) first encountered Travesties as a 14-year-old. I was 15. It was a little production at a scrappy community theater in Virginia, and if I'm honest, I've been waiting to see it again ever since. I was hoping for a fun time — what I didn't necessarily expect was the startling degree to which Marber's rambunctious, pinprick-sharp production would feel eerily relevant. Travesties is rife with questions about art's place, and the artist's place, in the world. Under its fizzy surface, it interrogates ideas of artistic genius and artistic responsibility, and in the guise of a Wildean farce, it casts a serious shadow on the currently fashionable notion that—so says the play's own excited Leninist librarian—"Art is a critique of society or it is nothing!"
The play takes place largely in the wandering, somewhat self-aggrandizing memory of Henry Wilfred Carr, a minor official in the British Consulate in Zurich during WWI, now an old man in a grubby dressing-gown and a tattered straw boater. Tim Hatley's paper-strewn set creates an effectively messy memory palace for Carr, its heavy wood walls with their many maze-like entrances and exits and hiding places creating a visual juxtaposition of the play's seemingly weighty historical subject matter and the dexterous playfulness of its tone. (Hatley also did the charming costumes.)
Like many of the figures who people Stoppard's play, Carr's a real guy, though unlike them, he's little more than a footnote in history. What he was, though, was in the right place at the right time. Neutral Zurich, Switzerland in 1917 was a sophisticated safe haven for artists, writers, and philosophers. James Joyce was there, and Vladimir Lenin. So was Tristan Tzara, widely known as the father of Dada. All these luminaries flit through Old Carr's not-exactly-reliable reminiscences, which frequently rattle off the tracks as Travesties stops and starts and repeats and reshuffles. Marber's production makes ingenious use of a boxing ring-style bell to orchestrate these shifts, and in the play's repetitions, underneath its glittering verbal gymnastics, melancholy echoes of Beckett resound. "I digress," Old Carr admits wistfully at the play's beginning, sounding like Winnie buried in her mound of dirt, "No apologies required, constant digression being the saving grace of senile reminiscence."
As Old Carr attempts to recount—and, hilariously, to title—his memoirs ("James Joyce As I Knew Him … The Lenin I Knew … Memories of Dada by a Consular Friend of the Famous in Old Zurich: A Sketch."), his digressions acquire a dramatic structure. Turns out that the real Carr starred as Algernon in an amateur Zurich production of Oscar Wilde's The Importance of Being Earnest, directed by none other than James Joyce. (He even sued Joyce for the cost of trousers he bought for the production, and Stoppard's play makes hysterical hay out of this episode of pants-based litigation.) Now, in his dotage, Old Carr can't unravel the story he lived from the one he acted in, and in the theater of his mind, Travesties becomes an exuberant riff on Earnest, peopled by artists and revolutionaries, socialist librarians, Joycean disciples, and subversive butlers. (If you haven't read The Importance of Being Earnest, or haven't read it in a while, revisiting it before Travesties will make Stoppard's play much more fun.)
Among the triumphs of Marber's production is the stellar comedy of its eight-person ensemble who unanimously understand the combination of precision and animation called for by their material. (One of Stoppard's comedies, the 1972 Jumpers, actually involves acrobats, but the truth is that all his work requires a gymnast's ability: Land the vault and sparkle while you do it.) Patrick Kerr is a wonderfully droll Bennett, Carr's possibly Communist manservant. Dan Butler—who's a dead ringer for Lenin—and Opal Alladin make an amusing pair as the self-serious revolutionary and his sturdy wife. Peter McDonald is a tart, effective Joyce, who gets to let loose in a glorious tirade at the disdainful deconstructionist, Tzara: "Yes, by God, there's a corpse that will dance for some time yet," Joyce says of the Homeric influence for his own great work, Ulysses; "And if you hope to shame it into the grave with your fashionable magic, I would strongly advise you to try and acquire some genius and if possible some subtlety before the season is quite over." It's one of the play's constant, thrilling little tips of the hat to Wilde, not to mention its own epic burn at the contemptuous irony of what we'd now call postmodernism.
As Tzara—the artistic gadabout who was post- before there was even modernism—Seth Numrich is a devil-may-care delight. He's physically and facially elastic, and he infuses so much impish, exultant life into the father of Dada that we can fully understand why Stoppard, whose plays are so tightly structured, still honors this sometimes obnoxious champion of randomness and anti-art. After all, Tzara opened a door where there wasn't a house, which, according to a character in another of Stoppard's plays, is exactly what genius is.
Scarlett Strallen and Sara Topham—Carr's Joyce-acolyte sister, Gwendolyn, and the Lenin-loving librarian, Cecily, respectively—are likewise excellent. They've got an unfailing sense both for the winking, mannered upper-crust satire of Wilde, and for the tipsy flights of surrealism on which Travesties periodically takes off. In a dizzying parody of Wilde's scene in which the original Cecily and Gwendolyn meet—and wage viciously polite war over which of them is in fact engaged to the mysterious Earnest—Topham and Strallen even get to break into song. Sound designer Adam Cork also wrote the production's terrific original music, and more than once, as the witticisms zinging across the stage get particularly wild and whirling, the company breaks out in breathless numbers that range from peppy Charleston to silly-sexy burlesque (Polly Bennett did the clever movement work). It seems that the hazes of Carr's memory are prone not only to digression but to dance breaks.
As Henry Carr, the infirm center of Travesties' mental merry-go-round, Tom Hollander is a marvel. He's got to bounce between drifting, garrulous old man and the insouciant Wildean dandy version of his younger self that his mind has constructed, and Hollander hops back and forth with balletic grace and vitality, matched with a flawless comic instinct. For my money, Hollander is one of the most underappreciated actors out there: He can be deliciously shameless (check out his mock-edgy Scottish auteur in the 2000 British comedy Maybe Baby), and he can be quietly heartbreaking (if you can get hold of the 2001 indie flick Lawless Heart, do it). He's also a master of dry uncertainty (see his Hulu series Rev.), of characters that are a little frayed around the edges, who sense their own smallness in the face of things and are, in their own baffled and brave ways, just muddling through.
Carr is all three of these and, in Hollander's hands, still more. He's a bon vivant and a fop (when Joyce offers him the lead role in Earnest, his coquettish reply is, "How many changes of costume?"); he's a genuinely passionate believer in art for the sake of delight ("Do you know Gilbert and Sullivan??!" he bellows at Cecily when she advocates for aggressively political art "or nothing"); he's an irreverent jokester (watch him place a handkerchief on the head of the taxidermy woodchuck in his cluttered apartment and, grinning at us, announce, "Dada!"); and he's a small man who spent a fleeting season amongst giants, a man who can feel his mind dimming, who's reaching out to us a little vainly, a little ridiculously, and very tenderly, asking us to grant him his immortality.
Without giving away too much of Marber's beautifully scored ending, I'll only say that after two and a half hours of laughter that leaves you facially sore, Hollander's Carr manages to pull the emotional rug out from under you in the play's last three minutes. His physical embodiment of senility is suddenly and deliberately truer, more devastating than it was at the play's beginning. We see the vibrant figures from his past receding into darkness. We realize for the first time just how much of what we've witnessed was most likely wishful fantasy. And even as his vulnerability pierces us, Hollander still makes us hear the double resonance in his final lines: Like the play as a whole, Carr's farewell is both a mischievous bon mot and a serious theory of art. Hiding in all the fun is a defiant middle-finger to the humorless philosophical descendants of Lenin, those that would hook art like an oxen up to the plough of their era's social movements. Art, argues Travesties, is never simply a blunt tool. It's a celebration, an exaltation, a spell, a dance, a feast, and a farce. And, like life, it's far too important to be taken seriously.
Travesties is at the American Airlines Theatre.