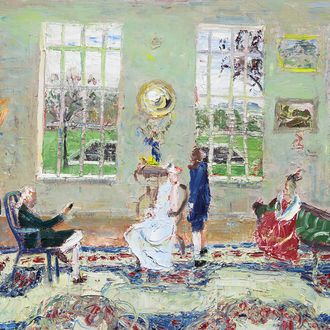 John Bradford's
David Hume Reading an Inquiry Concerning the Principles of Morals to His Friends
(2017).
Photo: JOHN BRADFORD/JSP Art Photography
Oliver Laric
Metro Pictures
519 West 24th Street
Hot off the international biennial circuit — including Liverpool, São Paulo, the New Museum's 2015 Triennial, and a batch of other museum projects — comes the 37-year-old, Austrian-born, Berlin-based Oliver Laric and his gallery-filling black-and-white animated "Year of the Dog." The film is a simplistic series of drawings of animals morphing into other animals, humanoids, and in-between beings, all set to a dramatic soundtrack of music meant to give weight and texture to this soporific banality. It's basically a giant, high-end screen saver or background for a TED Talk, intended to suggest probing and (says the artist) reflect an interest "in moving towards uncertainty," when the only things Laric is moving toward, as underscored by three generic resin dog-hybrid sculptures in the rear gallery, is goes-down-easy bathos and things that are called art because they look like other things that now look like art.
Ghada Amer
Cheim & Read
547 West 25th Street / Through May 12
For an artist as out of gas when it comes to ideas about "critiquing whiteness" and "recasting the role of women as subject versus objects," and all the other boilerplate things artists have been "critiquing" in many of the exact same ways for the last 25 years — since the 1993 Whitney Biennial — Ghada Amer certainly produces a lot of work, most of which looks more or less the same. Which means paintings that might depict multiple overlapping naked women (boringly sourced from magazines, photographs, and websites), rendered in thread, often with difficult-to-read text as background. To say this work is "political" or that it's "critiquing" anything other than itself as a worn-out trope is to demean art and to take away from the one big move in this otherwise monotonous show — Amer's impressive foray into large, twisted ceramics adorned with Rita Ackerman–ish images of young girls.
Barnaby Furnas
Marianne Boesky Gallery
509 West 24th Street
For his seventh show at this gallery since 2002, 44-year-old Barnaby Furnas returns to his longtime love of the mythology of American identity, explorers, heroes, masculinity, and history — all rendered in fragmented forms and high-key color with splashes, gouges, and nervous brushstrokes, lately with the not-too-annoying aid of robots. Furnas is making necessarily more ambitious painterly moves, is unafraid of large scale or allowing just one form to fill a canvas — most effectively in The Wrangler, which gives us a buffalo soldier swinging a lasso while riding a big bison, or (best in the show) a dead figure on a battleground, abstracting Furnas's subject to excellent effect. The other work comes on strong, which is a plus, and he's fighting with every painting in the best sense of the term, but too often the work settles in easily, becoming merely loud color at big scale with snazzy subject matter that doesn't transform enough in the mind or eye as you look at it longer.
John Bradford
Anna Zorina Gallery
533 West 23rd Street / Through May 5
Much more witchy, weird, epic, and radically conservative than Furnas's work are the luscious, thick, unbridled, out-of-focus oil paintings of 69-year old John Bradford, all of which at first look like big, smudgy almost-abstractions. The title of his show is "Hamilton, History, Lincoln, and Paint," and includes scenes of the Declaration of Independence being read to crowds on July 5, 1776; Lincoln delivering the Gettysburg Address; and "David Hume Reading an Inquiry Concerning the Principles of Morals to His Friends." Imagine the caked-on canvases of Frank Auerbach or Milton Resnick crossed with old daguerreotypes of historic events or illustrations taken from history books, and let Bradford's work veer between being just nuts and becoming absolutely electric.
David Hockney
Pace Gallery
510 West 25th Street / Through May 12
Fresh from his massive Met retrospective comes a gallery-filling show of 17 large new works, all done in the past two years, from the 81-year-old British master of almost everything bright, graphic, fun, and brain-teasing. Here, pick apart Hockney's polygonal-shaped canvases and notice that their outlines are angled and painted in ways that flip Western and Eastern perspective. Hockney loves making close objects look like they're angling back into space and far ones that thrust forward until you just give in and dig it, at least while you're in the gallery; the magic of it all wears off almost instantly on leaving.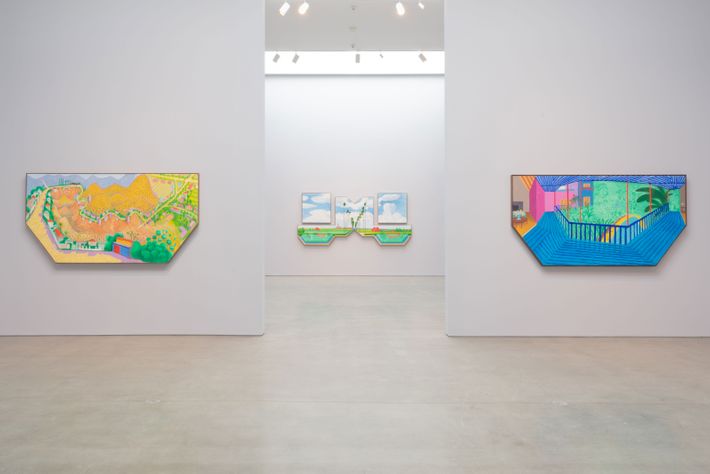 Gedi Sibony
Greene Naftali
508 West 26th Street / Through May 5
I'm an unreliable reviewer of Gedi Sibony's fabulous, gallery-filling, stripped-down, stark white, rejiggered façade of what was once one of my favorite restaurants in the world, White Castle. Growing up, I used to go order a couple of dozen mini-burgers with their five holes smothered in onions, and scarf a bunch of them down in the car on the way back to distribute the rest to stoned friends. Here, every second spent walking around and inside this empty shell produced in me not only reminiscences of cube sculptures, white-on-white art, Minimalist and monochrome concerns, ideas of sterility and architecture, but I found myself weirdly loving the warmth of one of the forgotten madeleines of my early life.
Keltie Ferris
At Mitchell-Innes & Nash
534 West 26th Street / Through May 19
I've been a fan of Keltie Ferris's hot Day-Glo spray-painted, structured, multi-matrixed large paintings since she emerged fresh out of Yale's MFA program in the mid-aughts. Always to be counted on for pushing the perimeters of her intensely optical abstract paintings, this show finds Ferris, now 41, experimenting, rethinking, slowing down, mixing marble dust into her oil paint, laying down stenciled polygonal shapes, wiping out areas of canvas, leaving severe spray-painted black lines as structure. The results are less lively, even, and visually arresting than her previous work, and they fit more into a tradition that might include Fiona Rae, David Story, and Guy Goodwin — artists more dependent on visible structure, clearer geometry, and deploying a menu of marks and configurations on canvas, all to lesser effect than Ferris has already reached — but I will not stop paying attention to this live wire.
Bill Viola
James Cohan Gallery
533 West 26th Street
With rare exceptions, I've always found the big video projections and installations of Bill Viola obviously ponderous, one-dimensionally philosophic, and geared to wow the crowds while making art-world pooh-bahs talk about metaphysics. These last two things he does well as one of the biggest video stars out there, one who has even represented the United States at a Venice Biennale — not that this should ever be a real measure of greatness (remember Allora & Calzadilla's witless upside-down tank?). Here, we get a movie of Mount Rainier projected into a large shallow pool of water and reflected on a hanging screen, and in the rear gallery an even more dubious series of water-filled barrels with a black-and-white TV monitor inside that depicts people sleeping.
Lucy Dodd
David Lewis Gallery
88 Eldridge Street / Through May 20
If you want mad stuff, metaphysics, psychedelic color, magic potions, and old idols conjured by an artist who regularly talks about a "journey across the eternal feminine towards the vision of a new world" and "mud-sprouting crystal diamonds," and the painterly equivalent of a Jimi Hendrix guitar solo, behold Lucy Dodd's third solo show in this gallery since her preternatural debut in 2013. Dodd, known for caramelized swirling spills of paint spiced and spiked with yew berries, flower essence, and other liquids seeming to create their own visual photosynthesis, here brightens her color, flirts more with rosy reds, sky-blues, and warm ochers, while refining her touch — articulating eyes, facial patterns, animal forms, and giving her huge canvases more space, while moving away from her previously more predominant organized chaos. In the middle of the gallery, 15 usable, shamanic chairs simultaneously evoke an ancient council place and the sort of magical seat any artist might want to occupy in his or her studio.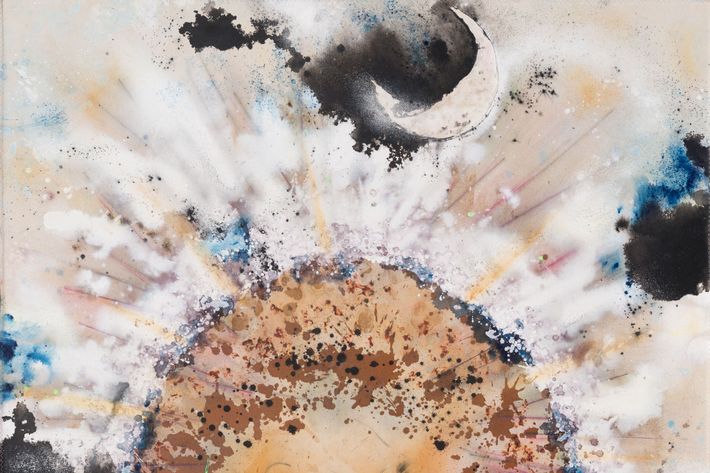 Cary Leibowitz
Invisible-Exports
89 Eldridge Street / Through May 13
Here is our era's master of psychologically fraught self-torture, the spirits of worry and revenge, and fantastic voyaging into the inner life not only of a great artist but all of our collective insecurities, secret thoughts, and paranoid fantasies, all cultivated in the brightly colored incubation chamber of Cary Leibowitz, 55, a.k.a. Candy Ass. This small gallery is jam-packed like a flea market, filled with ceramics made by the artist and adorned with sayings and thoughts like "11th place. Fucking loser award," "I sneeze and u don't bless me, So I don't bless u back"; brightly colored monochrome paintings with text that might say "Respect for the United States constitution is a turn on!" and "You and your French polyester"; not to mention found photos of Milton Berle or a ballerina with the words "Welcome today Marcel Proust." Indeed, seen though a very strange psychologically skewed lens, this excellent under-known artist is a fellow explorer of Proust's infinitely and unsparingly explored inner kingdoms of pain.
Nadia Haji Omar
Kristen Lorello / Through May 25
Kristen Lorello, one of the better shoebox-sized galleries in town, is showing six small abstract paintings of this 33-year old, born in Australia and now in Rhode Island, whose first exhibition at this gallery impressed me. Omar is adept at dotting surfaces with glimmering photons of paint, forming patterns, creating atmospheres and fields that weave together then break apart, on surfaces that visually buzz like a hummingbird. There is a sameness to the work — as most of the marks seem made by the same size brush in the same type of motion and are all under similar physical control — but even with these problems that need solving, Omar is already an artist to be intermittently enamored by and bear attentive witness to.
Steve DiBenedetto
Derek Eller Gallery
300 Broome Street
Steve DiBenedetto's show of large-scale paintings with their heavily worked glowing surfaces depicting begrimed biomorphic yurt shapes, larval configurations, one-eyed beings, bladders metamorphosing into tubular appendages, and crystal forms all amount to a breakthrough for this 60-year-old. Especially for those of us who've always followed and admired his painterly topologies but often felt confined by and subject to a narrow index of repeating subjects, like helicopters and octopi. Here, DiBenedetto goes full William Baziotes — channeling the great under-sung Abstract Expressionist who specialized in fuzzy fields and mythological-like beings contained in fields of flushed color — and gives us great fiery paintings colonized by creatures and forms with effluvia, faces, feet, head dresses, and resemble oxidizing coral reefs of original vision, with little hints of curving helicopter blades and mollusk-like octopus legs.
White Columns
91 Horatio Street
This isn't a review of the latest great exhibitions at the incubation chamber for art that is the 48-year alternative space White Columns so much as it's a massive exhalation and offering of hosanna in this terrible terrible time of galleries and artists being more and more pressured by soaring costs and rents. Somehow, some way, the gods must have smiled on all the accumulated hard work and good karma and allowed this all-important outlet for creativity to relocate into a just-ample-enough new ground-floor space only two blocks from its old home in the West Village. All of our marginal and smaller spaces are more important than ever, as we move through this difficult transition and art reckoning, and few more so than White Columns; as the director of the Whitney said when the museum moved downtown, "We're lucky enough to be moving into White Columns' neighborhood."