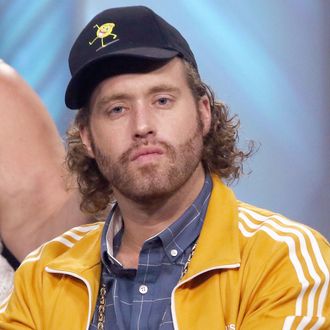 T.J. Miller.
Photo: Jim Spellman/WireImage
The U.S. Attorney for the District of Connecticut has brought a federal criminal complaint against ex–Silicon Valley actor and Emoji Movie star T.J. Miller for calling in a fake bomb threat on an Amtrak train. According to the complaint, on March 18 Miller called a 911 dispatcher to report that a female passenger on his Amtrak train had a bomb with her. After investigations on two different Amtrak trains, no explosives were found, and Miller was arrested at LaGuardia Airport. He was later released on bond.
According to the U.S. Attorney's Office, Miller reported that a woman on his train had a bomb in her bag. After the train was searched and no explosives were found, an investigator followed up with Miller, who was reportedly slurring his words. Per the office's release, "The officer detected slurring in Miller's voice and asked if he had consumed alcohol that day. Miller replied that he had consumed 'one glass of red wine.' Asked if he suffered from mental illness, Miller replied 'no, absolutely not. This is the first time I've ever made a call like this before. I am worried for everyone on that train. Someone has to check that lady out.'" However, according to the complaint, Miller initially gave investigators the wrong train number, and after inspection, neither train was found to have explosives onboard. During the inspection, however, a first-class car attendant told investigators that Miller was removed from the train for drunkenness, and had also argued with another woman in the train car.
On Tuesday, Miller appeared before U.S. District Judge Jeffrey A. Meyer in New Haven. He was released on a $100,000 bond. According to the DOJ, intentionally conveying to law enforcement false information about an explosive device carries a maximum term of imprisonment of five years. In December, allegations that Miller sexually assaulted a woman while he was in college resurfaced.