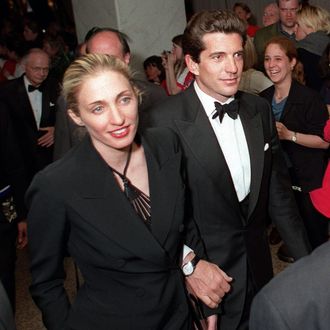 John F. Kennedy Jr. and Carolyn Bissette leaving the White House Correspondents' Dinner in Washington, D.C., May 1, 1999.
Photo: MANNY CENETA/AFP/Getty Images
Nearly 20 years after John F. Kennedy Jr. and his wife Carolyn Bessette died in a plane crash, TLC is planning on releasing a movie about their private wedding ceremony, reports Deadline. After regularly denying to reporters that they were engaged, the two wed on September 21, 1996, at Brack Chapel on Cumberland Island, Georgia. The intimate ceremony was reportedly attended by close friends and family members. TLC's two-hour movie, currently titled JFK Jr. & Carolyn Bessette: A Camelot Wedding, features never-before-seen footage from the rehearsal dinner, wedding, and reception. Considering the efforts JFK Jr. and Bessette underwent to keep the media away from their ceremony, this might be another movie the Kennedys won't like.