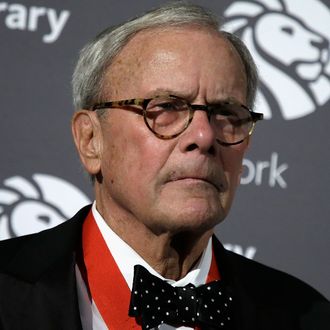 Tom Brokaw.
Photo: John Lamparski/Getty Images
A story in the Washington Post published on Thursday offers up new details about the firing of Matt Lauer, and sheds light on new accusations against another of NBC's household names: Tom Brokaw. Brokaw has been accused by two former NBC employees of making unwanted and inappropriate advances toward them in the 1990s.
Linda Vester, a former NBC reporter, recounted an incident that allegedly took place in New York in 1994 when Brokaw showed up to her hotel room uninvited and attempted to kiss her. The second accuser has preferred to remain anonymous for fear of retaliation. She says she was working as a production assistant when Brokaw allegedly beckoned her into an enclave at NBC and pressed her hands against his chest, asking her to meet him in his office after the show later that night. She did not go. Both of the women were in their 20s at the time of the incidents, while Brokaw was in his 50s. Neither woman reported their encounters to NBC. Brokaw has denied both accusations.
The Post story also includes new allegations against Matt Lauer, including one woman who claims he exposed himself to her in his office and asked her to touch him. The paper interviewed 35 current and former NBC employees, 12 of whom are women who say they were sexually harassed while working at the network but did not report it.