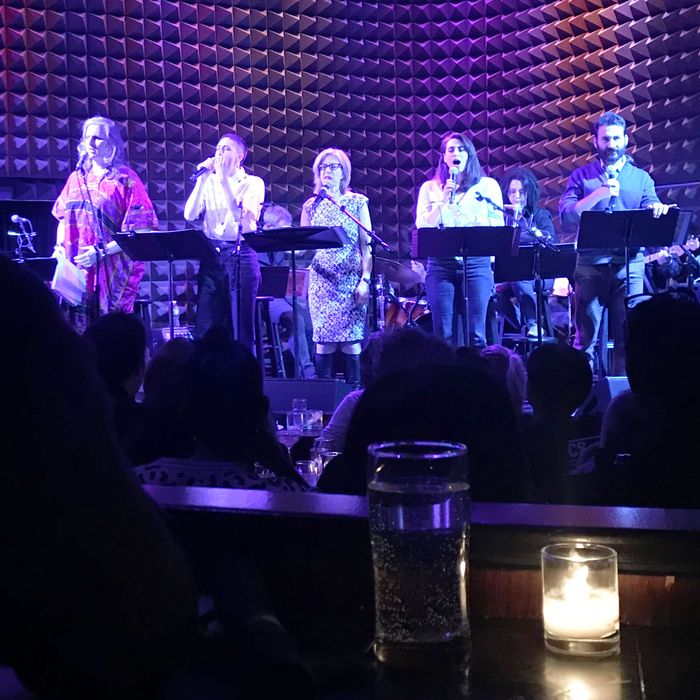 "It's been a rough year," said Faith Soloway, whose sister is Jill Soloway, the creator of the Amazon series Transparent — Faith also writes for the show — last night at Joe's Pub, when she came onstage in jeans, a tux jacket, and an I [heart] NY T-shirt. "It's been a lot…" But she's of the opinion that "music is healing," and since "music is [her] thing," she's written a musical based on the series that she wanted us to hear.
This is its second run-through, in fact. Last summer, also at Joe's Pub, she debuted a one-night-only cabaret act titled "Faith Soloway & Friends: Should 'Transparent' Become a Musical?" This iteration, now titled "Songs From a Hopeful Musical," added what the program called "some brand-new, brightly colored, oh so queer songs." But it's not just a sing-along version of the show: In notable contrast to the series, it centers on the neuroses of the mother, Shelly — played by Judith Light on TV — and not the identity tribulations of her ex-husband, the trans parent herself, Maura.
Of course, a lot has changed since last summer. Jeffrey Tambor, who plays Maura, was kicked off the show for allegedly creepy and abusive behavior, forcing the series to change its focus — a creative shift just possibly hinted at by the way this musical sought to move the spotlight onto Shelly's story. Or not: The show had to delay production to find its post-Maura direction, and season five won't appear until at least 2019.
And so at Joe's Pub, the Maura character, played by the transgender actor Shakina Nayfack — not a cis actor, as on TV — was not center stage: that was for Jackie Hoffman's Shelly (though, possibly because of Amazon's copyrights, nobody's character was actually named in the run-through). It was her musical about herself — all about her — and she passive-aggressively commanded the spotlight in a sensible sleeveless sheath dress. The conceit is that she has a story to tell — to sing, really — as a Jewish woman of a certain age: the kind of person who, as she points out, supports the theater but never sees herself or her story on the stage. "It's hashtag us too!" she quips (there's really no other word for it).
But then her familiar-to-anyone-with–Amazon Prime, privileged, crazy children come onstage — the well-married daughter who used to be a lesbian and now feels trapped by her decision to go straight, the wayward daughter who lately decides she might be a lesbian, and the heterosexual son who is lost in his own way. And then her ex-husband, now in a hippie-matron muumuu.
And so, yet again — after all she's done for them! — she's eclipsed by someone else's thirst for self-expression. The mother's-angst showstopper is probably her dueling duet with the formerly lesbian daughter, here played by Lesli Margherita, "Your Boundary Is My Trigger." But the well-meaning lunacy of Hoffman's finale, titled "Joyocaust," wherein she envisions getting 6 million people to experience joy for the same amount of time that the Holocaust took place — "Joyocaust! For all the lives lost!" — is the one you can't get out of your head.
It's worth noting that, long before their streaming fame, the Soloway sisters started out as a team, making a parody musical, The Real Live Brady Bunch, in 1990 together. And so to answer the question raised last summer, yes, Transparent makes a great musical. Maybe turning it into a light opera is the way forward for season five too?