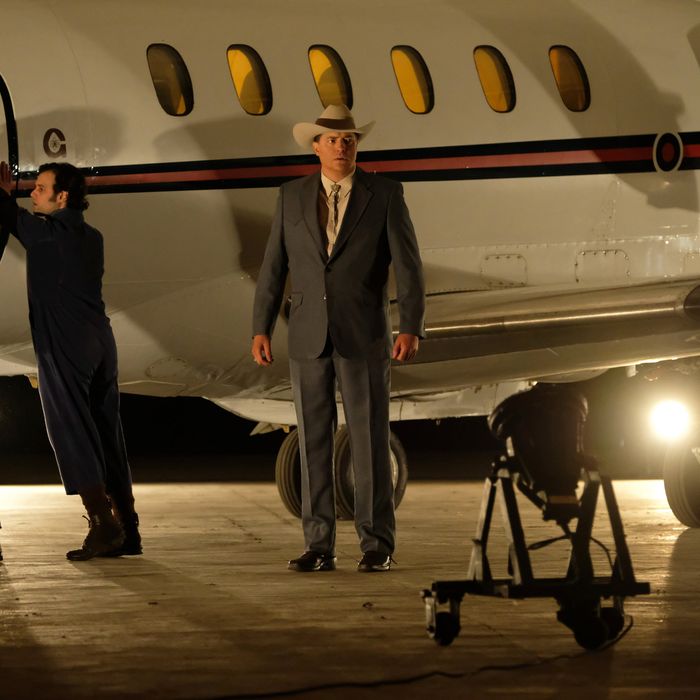 Photo: Oliver Upton/FX/Copyright 2018, FX Networks. All rights reserved.
This week's episode of Trust is a bit of a trick, since anyone with even a passing knowledge of John Paul Getty III's kidnapping knows that his captors didn't shoot him with a shotgun and burn his body on a beach. But the people around Paul, at least in this version of the story, thought their loved one was dead. The news of Paul's demise shatters his mother, Gail, his father, John Paul Jr., and even his cynical grandfather. How each of these characters deals with their grief defines the first half of this episode, and how they deal with the news that he's still alive defines the second.
"John, Chapter 11" opens with a man finding a burned body on the beach, which the police think is John Paul Getty III. Gail is informed and she goes to see the body. The burned corpse — who we know was Angelo — is wearing Paul's shoes. She passes out when she sees the footwear. The news of Paul's death gets back to the elder Getty as he's being fitted for a bust (and, not coincidentally, talking about other celebrities, including Paul McCartney, who was once falsely rumored to be dead) and he's surprisingly emotional. "This is not how you negotiate!" he yells, but Penelope is heartbroken that he can't see that this was more than a negotiation and Paul was more than a product. Later, John Paul breaks down when he speaks of his dead sister and his fearless grandson. "He made me laugh," he says. He's vulnerable but also selfish — it's always about what other people do for him.
The apparent death of his son sends John Paul Jr. spiraling into addiction as Gail Getty retreats into her own memories. She speaks to Chase about how one should never have a favorite child, but she couldn't help but favor Paul. Meanwhile, Paul's father completely slides off the wagon. He tells a story about a half-brother who was dying of congenital heart failure, but John Paul Sr. did nothing to comfort him or even come to his funeral. He claims that the death of Paul is murder and he's gonna tell the old man what he actually thinks, destroying him with the truth.
Gail flashes back to a memory of Paul and Gail's asshole boyfriend fighting. Even our memories can be tainted by drama, but this one has purpose: She suddenly remembers that Paul never ties his laces, and that he had an ankle scar. She goes to look at the body again, realizing that it's not Paul after all. On her way to the movie theater that seems to be the place for negotiations, a cabdriver tells her that the paparazzi are fascinated by the fact that she doesn't cry in public. How very American of her. As Chase gets picked up at a bar, Gail orders her contact to tell Primo to stop playing games.
At around the halfway point of "John, Chapter 11," we finally cut back to the end of last week's episode. Angelo is dead and Paul has a shotgun pointed at his face, but Primo kills the old man instead. Cut to Paul, chained and shackled, but very much still alive.
The news gets back to England and John Paul, who happens to be inundated with news about his family tree on the same day. First, Junior comes in and berates his father, who listens to his every word before telling him that his son is still alive. Then, John Paul hears that one of his girlfriends is pregnant, telling her to get rid of it or go. She's in breach of contract. Once again, a life is a product, merely part of a contract, and not a three-dimensional thing to him.
There's also an interesting subplot this week as Bullimore reveals more and more of himself to his new gardener friend. He tells him that his real name is Jahangir Khan, which his new potential love interest tells him was also the name of a famous cricketer who killed a sparrow. He dances the night away with him, perhaps channeling some of his grief about Paul into something that makes him feel good. However, he pulls away at the suggestion of intimacy, unable to completely come out of the closet.
In the episode's final scene, John Paul finally goes to Italy, ready to meet with Primo, Don Salvatore, and their muscle himself. The two power players — the Don and Getty — finally meet face-to-face. At first, it seems like Getty and Chase arrived relatively low on firepower, but they reveal that a helicopter with a machine gun is just over the horizon, waiting for a radio click from Chase. There's some negotiating and discussion of leadership between John Paul and Salvatore while the other Mafia members wonder why he didn't just pay the ransom. "The rich are not like us," Chase tells him. On cue, John Paul says he won't pay $17 million. Paul has "sentimental value," but not that much. They negotiate to $5 million and then John Paul drops the hammer on his way on to his private plane: His son is the one who will actually have to get the money together.
Other Notes
• Music cues this week include "Puttin' on the Ritz" and "Cheek to Cheek" by the great Fred Astaire, in Getty's mansion; "Solar Fire" by Manfred Mann's Earth Band, as John Paul Jr. spirals out of control; and "Citta Vuota" by Mina, in the episode's closing moments.
• The episode title is multi-faceted. Of course, the three key Getty men are all named John. "Chapter 11" is a well-known financial term referencing bankruptcy, and money is the key to all of the action on this show. And, as Chase notes, the Biblical chapter refers to the story of Lazarus, who rose from the dead.
• For a show that sometimes bends the truth, this week's episode stretches the story of the Getty kidnapping further than ever. I couldn't find any evidence that Gail and Paul Getty thought their son was dead because a body was found on a beach. We also don't know if John Paul actually went to Italy to negotiate with a mobster. Perhaps writer Simon Beaufoy found more information than was previously reported, but it seems more likely that he made it up for dramatic purpose. Either way, it's solid TV.