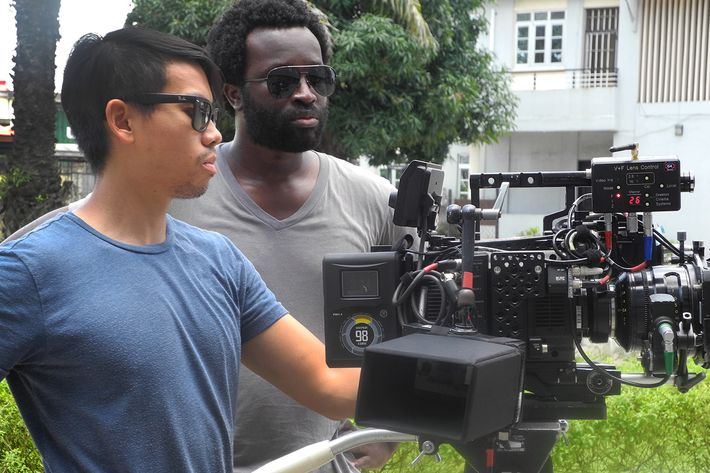 Film is more than just entertainment — it's also a catalyst for social change. In recent years within the industry, conversations about inclusivity and diversity have come under the heat of the spotlight. This year, AT&T and Tribeca Film Festival are celebrating diversity with the Untold Stories competition, an initiative that highlights filmmakers of color and other underrepresented talent. Five films were selected as 2018 finalists: Emmett, Lucky Grandma, The Beautiful Ones, The Year Between, and You and Me Both. The visionaries behind one of these unique projects will win full funding for their feature.
We spoke with several of this year's Untold Stories entrants and 2017 winner Faraday Okoro to get their take on filmmaking as an art form, where they find inspiration, and the future of the industry.
Director of Nigerian Prince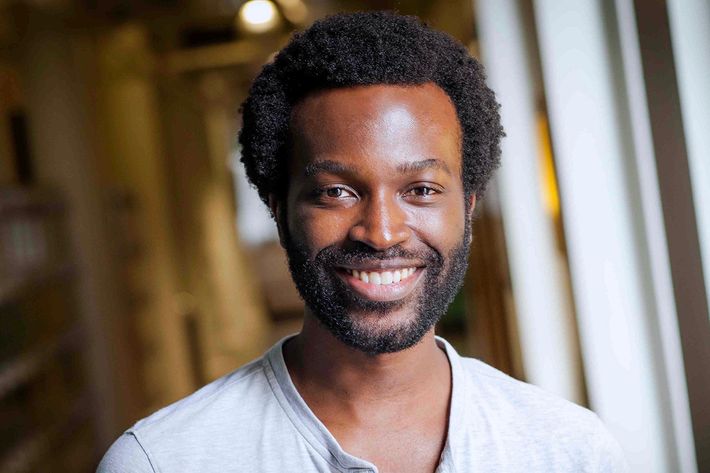 Faraday Okoro won the inaugural Untold Stories competition — and the corresponding million-dollar grant — with his film Nigerian Prince. The winning film is about a Nigerian-American teenager who travels back to Africa and becomes caught up in the world of email scamming. Nigerian Prince will screen at this year's Tribeca Film Festival.
How has your cultural background shaped your creative process?
I'm first-generation Nigerian-American. For the first two years of high school, my parents sent me to Nigeria to soak up the culture. There wasn't 24-hour electricity, so when it would come on I'd run to the TV.
[Regarding my creative process], I like to dive head-in and spend as much time writing and researching the project as I can. In order to be authentic, you have to go where the characters go, talk to the people they talk to. In the case of Nigerian Prince, I made the decision to go back to Nigeria and research everything I could. I talked to a scammer, I talked to scam victims, I talked to law enforcement to really get an understanding of the story I was telling.
What made you decide to tell that particular story?
In all the films I've done, I've managed to make them personal. In this case, I actually had the idea when I was a senior in college. [The topic] is something the mainstream culture knows about, but on a very superficial level. And I thought, what a great idea for an independent feature, to give people information they didn't know about this scam. And I used my [personal] experience as an entry point for my audience.
Do you think film can be an educational tool that can open doors for important conversations?
Yes, 100 percent. The world knows America through its movies. They know American actors and their stories; [so film is] very much an influential medium. Obviously, the people who are not on screen — the directors, the writers, the VPs, the people in the office — dictate what goes on it. I think that's why this program, the Untold Stories initiative, is so great. It gives the filmmakers a tool and financing, and most importantly, it gives them autonomy. They don't have to worry about having too many cooks in the kitchen, or someone trying to cut their project shorter than it needs to be. They just have to worry about making the film they want to make.
Sasie Sealy and Angela Cheng
Filmmakers of Lucky Grandma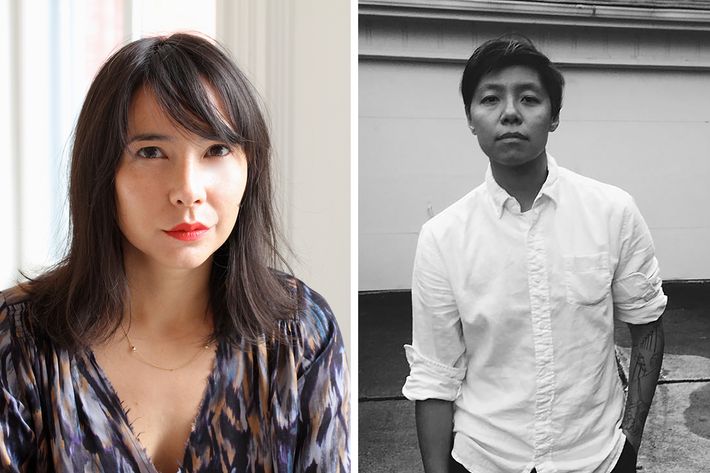 Lucky Grandma, an independent film created by writer/director Sasie Sealy and writer Angela Cheng, is the story of an ornery Chinese grandmother with a small-time gambling habit — and what happens when her luck goes south. Lucky Grandma is one of the five projects competing in this year's Untold Stories competition.
How did you first became interested in film as an art form?
Sealy: My dad was a cinephile, so I grew up watching movies. We used to go to the dollar cinema all the time: Five movies. Five dollars. Five days.
What's the source of your creative inspiration?
Sealy: In general, beautiful photographs and great movies. For Lucky Grandma, we took an overnight trip to the Mohegan Sun casino, and just being there put us in Grandma's shoes — plus we took home $80.
Cheng: [While making] this movie, we basically did anything to foster "creative burstiness": took a lot of naps, went running together to work out story beats, talked for hours about our moms and grandmas, and watched some of our favorite movies together.
What does the movement to see more diversity in film mean to you on a personal level?
Sealy: Just like every art form, film is a mirror for human experience. And if there's truth in the story, people will respond to it. Hopefully we'll get to a point one day when we won't need inclusion riders. Many of the cultural touchstones these days are from "diverse" voices.
One thing we find particularly effective is the #femalefilmmakerfriday meme that's going around. Often when we think of a promising and rising indie filmmaker, the image is of a man. So it's a great opportunity to rewrite that image and to get rid of the archetype of the male director or director of photography.
Alex Heller and Eugene Sun Park
Filmmakers of The Year Between
Alex Heller and Eugene Sun Park tell the story of one girl's struggle with bipolar disorder — and the journey to leave her parents' basement, once and for all — in the dry comedy The Year Between. The Year Between is in the running for this year's Untold Stories million-dollar prize.
How do you bring your stories to life?
Heller: Life experience usually comes first. The Year Between combines my personal experience with bipolar disorder with my best friend's experience with depression … after collecting stories from myself and from others, I write for days. The first 98-page draft of The Year Between was written in two days. Then, I step away from the work before reading it over again. When I have fresh eyes, I can see what isn't working.
As a director, I love finding intriguing non-actors to play roles that match their personalities. I meet these people through friends, at shows, online, on the street, wherever. I'm always on the lookout for people who seem to be already living the lives of my characters.
What's challenging about basing your stories on personal experiences?
Heller: When writing from your own life experiences, you have to distance yourself from what happened to you, and ask yourself what actually helps the story. It can be hard to realize that something that impacted you in a certain way might not affect your audience that way. This is one of the reasons I've valued the huge amount of feedback I've gotten on The Year Between — it has freed the story from the restrictions of my history and helped form a stronger narrative.
Additionally, when writing about sensitive topics like mental illness (or really, anything),  it's very important to do your research. You should not only read extensively, but talk to other people and [learn their] stories. Responsible and informed representation is necessary, and in my opinion, especially when you are tackling untold stories.
How do you think film as an art form fosters empathy and understanding — even change?
Heller: Film has the unique ability of allowing you to walk a mile in someone else's shoes. Narrative film in particular can help us understand and even temporarily occupy a set of values different from our own. All of this "empathic learning" carries beyond the screening room, as we converse with friends, neighbors, and people who are seemingly completely unlike us.
Park: My nonprofit, Full Spectrum Features, is founded on the belief that film is a powerful agent for cultural change. Its mission is to increase diversity in film, so it's been exciting to see increasing signs that there's a large cultural shift happening. There's a feeling that "it's different this time," and that the change we're seeing is going to be meaningful, lasting, and impactful. But there's still a long ways to go before [the industry] truly represents a broad range of stories and people. We're just getting started.
*The interviews have been edited and condensed.
This is paid content produced for an advertiser by New York Brand Studio. The editorial staff of Vulture did not play a role in its creation.