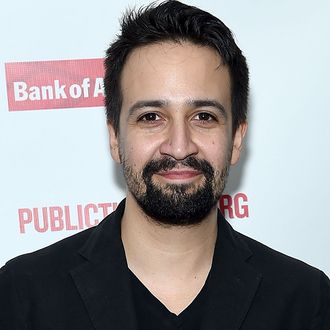 Lin-Manuel Miranda.
Photo: Jamie McCarthy/Getty Images
Sometimes, good things do still happen. As Deadline reports, we won't have to live in a world with an In the Heights movie made by the Weinstein Company. The former production company of Harvey Weinstein has lost the movie rights to the hit Broadway show, and they're now back in the hands of creators Lin-Manuel Miranda and Quiara Alegría Hudes. Back in October, Hudes released a statement on Twitter asking the company to release the movie rights in light of the multiple accusations of sexual harassment and assault against Harvey Weinstein. In the statement she wrote that "I hope the Weinstein Company has enough grace, in the wake of these revelations, to respect my stand as a woman, and to allow us to extricate In the Heights from them." They didn't. The rights actually reverted back to Miranda and Hudes when the Weinstein Company failed to go into production before the end of 2017. They later declared bankruptcy.
There's plenty of hope for the project though. The musical that catapulted Lin-Manuel Miranda to Broadway fame already has Jon M. Chu attached to direct. And Hudes, who wrote the original musical's book, also authored the script. Deadline speculates that both Disney and Warner Brothers may be interested in the film.