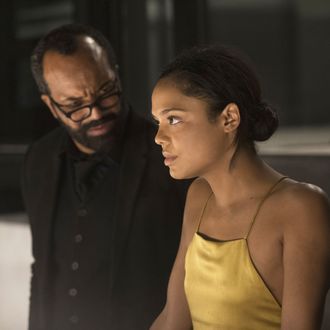 Depending on whom you ask, trying to figure out what will happen next on Westworld is either the most or least fun aspect of the show. So the show's creators, Jonah Nolan and Lisa Joy, have (maybe jokingly) announced that they're planning to offer to spoil the show for a few diehards in order to make it so the slightly-less-die-hard fans can enjoy the twists and turns in peace. As part of an AMA on Reddit, Nolan and Joy said that, because of the way people tend to report on online guesswork and anticipate twists, they'll just share a video explaining what happens in season two — "Everything. The whole sordid thing. Up front." — and task fans to "help to distinguish between what's 'theory' and what's spoiler" for the rest of the population. The idea is apparently inspired by the way readers of the Song of Fire and Ice books protected viewers of Game of Thrones from whatever lay ahead on the TV series. The creators promised to share said spoilerific Westworld video if the comment gets over 1,000 upvotes. We're not saying this is all a marketing ploy (and we've reached out to HBO for confirmation), but if it is, it's a pretty smart one.
Update: A new "Westworld Season 2 - A Primer" video posted Monday night reveals pretty much everything you need to know about the second season of Westworld. That Nolan and Joy. They know the game, and they're gonna play it. [Spoilers for the spoiler video below.]
Did they just miss the date on April Fool's Day? Unless Westworld Season 2 features Evan Rachel Wood in plain clothes singing Rick Astley's "Never Gonna Give You Up" followed by 22 minutes of a dog sitting at a piano (yes, we watched it! That's our job!), your spoilers are safe and sound. Well, there is a tiny spoiler at the end of the video, but it's seemingly about the dog and honestly, it's a real bummer.