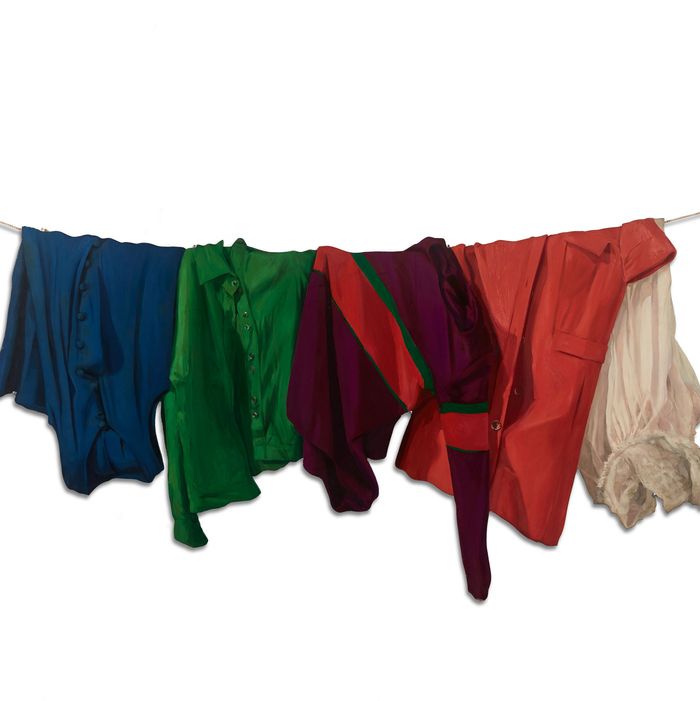 Stephen Posen, 
Cut out
, 1968
Photo: Stephen Posen/Courtesy of artist
Nearly 200 galleries from around the world have docked at Randall's Island to peddle their blue-chip merch at the Frieze New York art fair this week, taking place May 2–6 in a big bespoke tent (one that has its own pretty funny Twitter). Tickets, ferry ride, and a copy of Frieze magazine (all this started out as a print publication) are $74.50. See a talk, take in the parade, gobble up some Roberta's pizza. But the art doesn't stop at the ferry dock. Here's a guide to what's going on back in Manhattan, as well.
Stephen Posen, "Threads: Paintings From the 1960s and '70s"
Opening: 6–8 p.m., Vito Schnabel Projects, 43 Clarkson Street, 1A
What you should know: It's the first New York solo in five years for an artist who counts among his fellow 1964 Yale MFAs Chuck Close, Nancy Graves, and Richard Serra, but who never found the same household-name status, though his works reside in museums including MoMA and the Guggenheim. In his heyday in the '70s, he received critical plaudits, was shown by Leo Castelli apostle and doula of Pop Art Ivan Karp at his OK Harris Gallery, and was featured at the Whitney and in Documenta.
What will you see? Photo-realist, shaped canvas works whose draped forms echo the Old Masters he studied in Europe after Yale. The works have never been shown, so enter this in your calendar for sure.
(Some of the same works, and others, will appear at Schnabel's St. Moritz gallery, should you find yourself in Switzerland between July 28 and September 2.)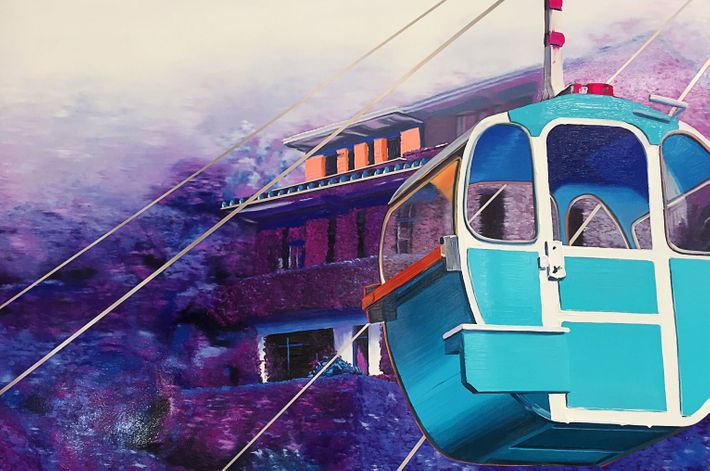 Dirk Skreber, "days before"
Opening: 6–8 p.m, Petzel, 35 East 67th Street
What you should know: Thirty-two years ago, on April 26, a catastrophic accident at the nuclear reactor in Chernobyl took place. In nearby Pripyat, an amusement park had planned to open its gates on May 1, and, chillingly, the park reportedly opened as a diversion for a few hours on April 27. It has languished in the exclusion zone ever since.
Cue East German–born painter Dirk Skreber, for whom the abandoned park recalls his childhood stomping grounds, like the death strip between the two barriers that made up the Berlin Wall, near where he grew up. His eerie, pastel-hued paintings similarly bring together childhood play and deadly conduct by the supposed adults.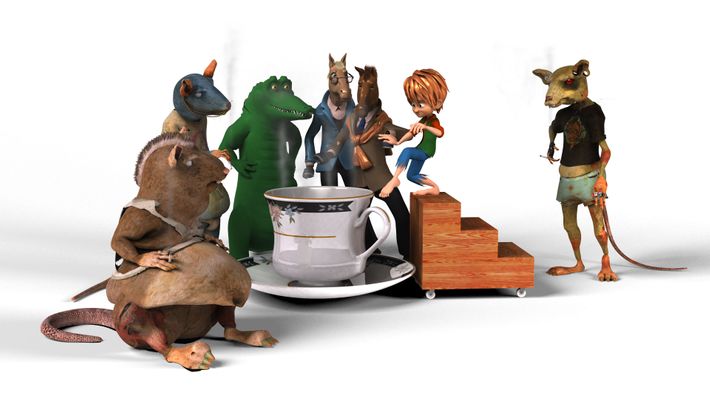 Jordan Wolfson, "Riverboat song"
Opening: 6–8 p.m., David Zwirner, 533 West 19th Street
What you should know: What has Jordan Wolfson — still possibly best-known for his decidedly pre-#MeToo 2014 robot dancer — been up to since creating Real Violence, the disturbing VR piece he debuted at the latest Whitney Biennial to widespread condemnation? An expansive, sure-to-offend multiscreen new video dubbed Riverboat song.
Expect to be reunited with a figure who merges Huckleberry Finn and Alfred E. Neuman, an animatronic version of which Wolfson subjected to torture in Colored Sculpture at Zwirner a couple of years back. In Riverboat song, the little guy does a sexy dance to Iggy Azalea and, with echoes of a certain rumored presidential escapade in Moscow, romps in a pool of his own piss.
The show also delivers on the violence you may be counting on, and in what might seem like Wolfson's own middle finger to his critics, no less: A YouTube clip in Riverboat song includes a savage beating — a white man beating a black youth! — that inspired Real Violence itself, so strap yourself in for a disturbing and maybe offensive ride.
(For a more subtle non-bad-boy experience, go see the show of South African painter Marlene Dumas, also on view at Zwirner, which may provide a breather after the Wolfson brawl.)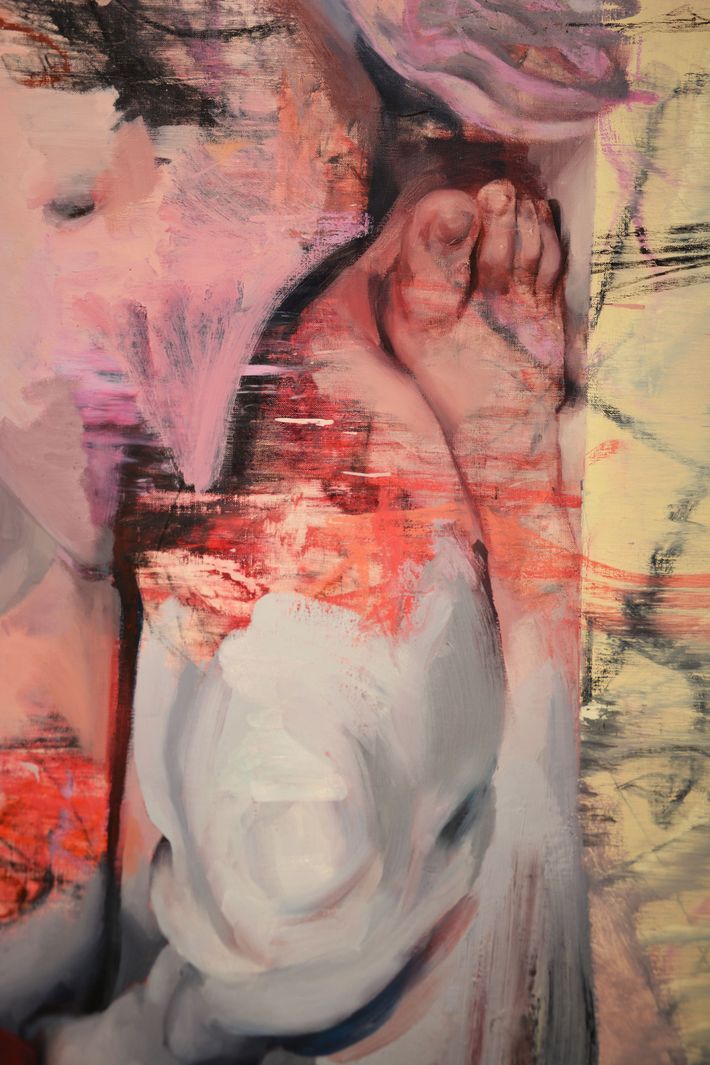 Jenny Saville, "Ancestors"
Opening: 6–8 p.m., Gagosian, 522 West 21st Street
What you should know: YBA painter Jenny Saville hasn't had a New York solo in some seven years, so your appetite should by now be whetted for her grotesque depictions of bodies under duress, pressed against the canvas as a pane of glass, or grotesquely overweight, all recalling her countryman Lucian Freud's hungry paintings of abject flesh.
Here, Saville takes a crack at representing the human body, this time testing whether the flat surface of a canvas can achieve the effect of sculpture. So let's see if this notorious Young British Artist can lend new dimensions (sorry!) to the aggressive physicality of her earlier work.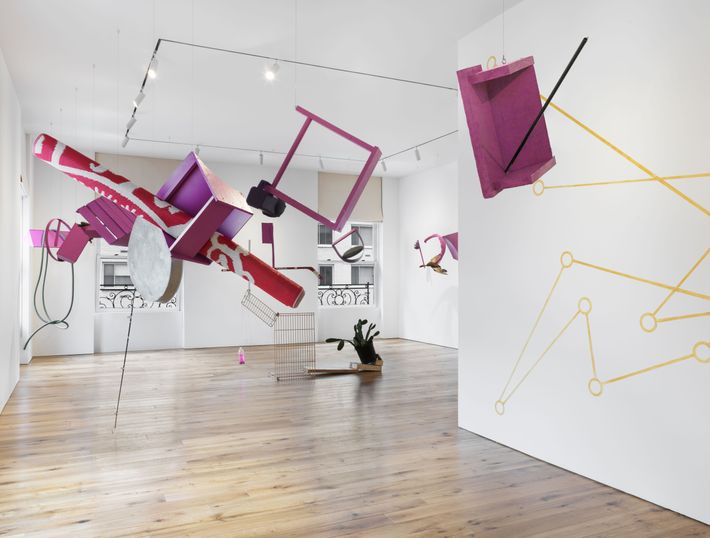 Abraham Cruzvillegas, "Autocontusión"
Opening: 12–8 p.m., Kurimanzutto, 22 East 65th Street
What you should know: If there can be such a thing as itinerant roots, major Mexico City gallery Kurimanzutto — launched 20 years ago as a nomadic project and partly known for mounting shows in places like an open-air market, a bar, or on billboards — is returning to that foundation by launching a Manhattan project space.
Cruzvillegas offers a show with his trademark discarded materials, his use of which is inspired by improvised structures like shantytowns. Here, an installation, consisting of objects like refrigerator shelves and snowshoes, cascades dramatically through the space.
Bonus: Kurimanzutto's new jam is located just steps from the Park Avenue Armory, so you can also head there to hit the second edition of the tony TEFAF fair, a Maastricht import.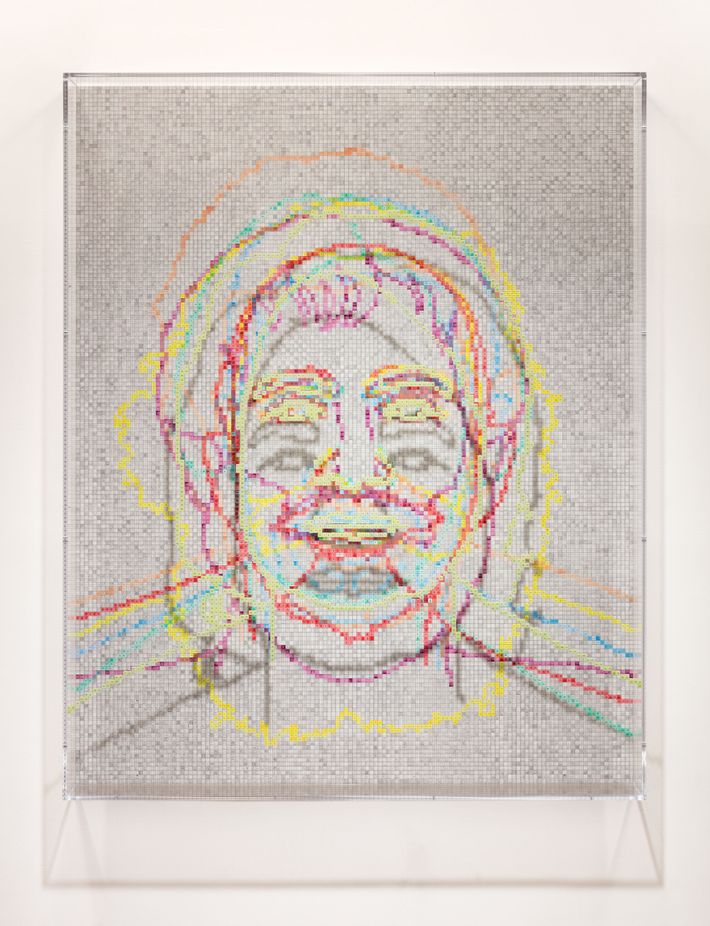 Charles Gaines, "Faces 1: Identity Politics"
Opens: 6–8 p.m., Paula Cooper, 521 West 21st Street
What you should know: The African-American conceptual artist presents a series of portraits of some of the great philosophers of identity, from Aristotle to bell hooks, with each new thinker's face layered on their predecessors, an elegant metaphor for the faulty notion of a clearly delineated self, and for the way we're all partly determined by those who came before.
Other works employ his trademark musical scores, translating speeches by James Baldwin and Martin Luther King Jr. into musical notation by assigning notes to the letters of the alphabet; they'll appear in transcription as well as in a video where the scores are performed. So if the spectacle of Fair week leaves you wanting art that's put at the service of the mind, as Duchamp put it, this is one Chelsea show that will deliver some brain food.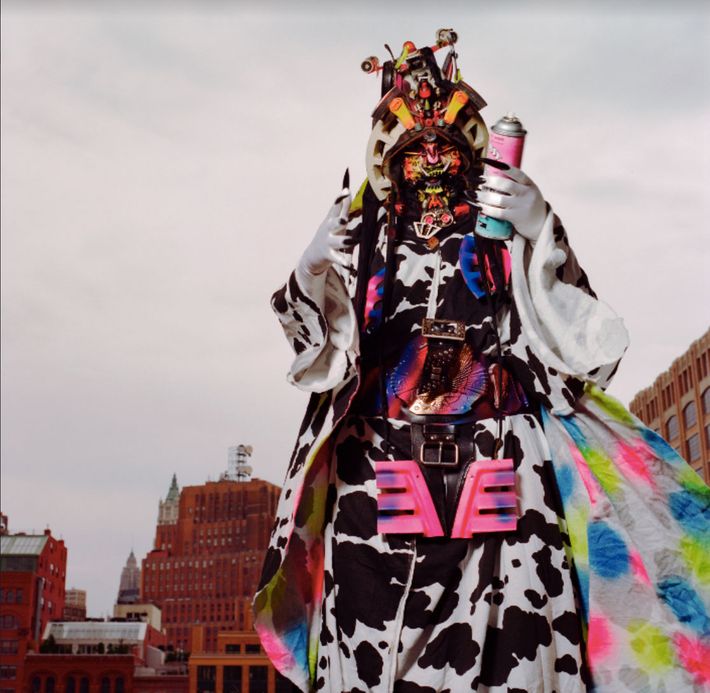 RAMMΣLLZΣΣ: "Racing for Thunder"
Opening 12–7 p.m., Red Bull Arts New York, 218 West 18th Street
What you should know: If you don't know about hip-hop pioneer, graffiti artist, rapper, musician, Basquiat compatriot, and Afrofuturist pioneer RAMMΣLLZΣΣ, well, you better ask somebody. The New York artist's "Garbage Gods," cybernetic samurai reunited for the first time, will loom large at this Red Bull show, along with oral history stations featuring recollections of the artist by luminaries like fellow artist and filmmaker Charlie Ahearn and director Jim Jarmusch, who gave him a cameo in his cult classic Stranger Than Paradise.
The next day, by the way, sees the launch of the Red Bull Music Festival, with programming inspired by RAMMΣLLZΣΣ and including Wiki, Coati Mundi, Sporting Life, and Show Me the Body.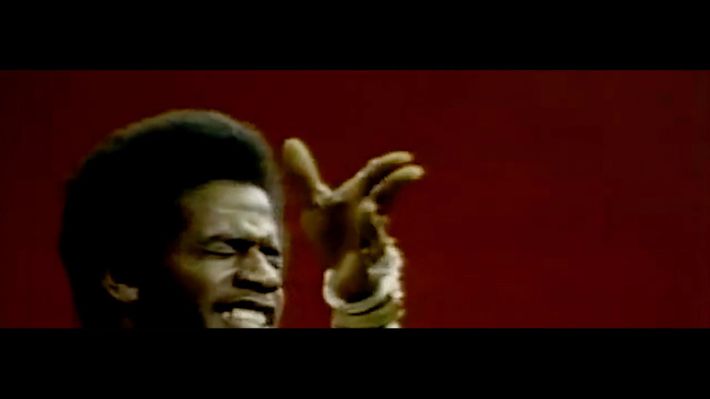 Arthur Jafa: "Air Above Mountains, Unknown Pleasures"
Opening: 6–8 p.m., Gavin Brown's enterprise, 439 West 127th Street
What you should know: Jafa's stunning and shocking 2017 video Love Is the Message, The Message Is Death is a celebration of blackness (or Blacknuss, as Jafa calls it, per composer and orator Rahsaan Roland Kirk) and a lament over its systemic oppression, set to the gospel incantations of Kanye West's "Ultralight Beam." (We know, we know, don't @us — Kanye is bad now.) Jafa hasn't had a New York solo in an appalling 18 years, so you'll want to get your ass to Harlem for this epic event.
The works on view here highlight subjects as disparate as black Christian worship ceremonies; demolition derbies and monster-truck stadium shows; and the life of Mary Jones, born Peter Sewally, a black sex worker and pickpocket in 19th-century New York. Expect a thundering experience.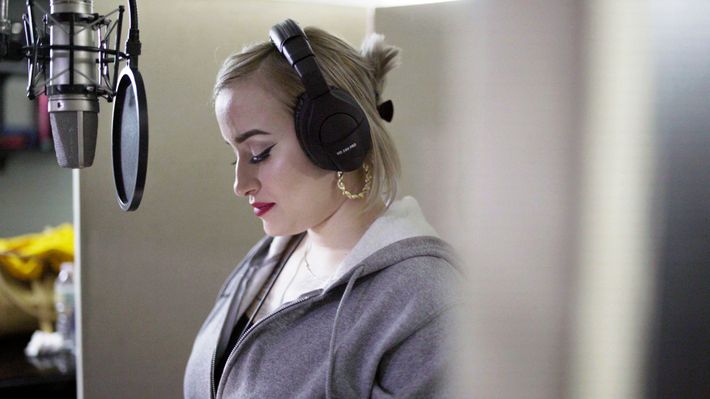 Creative Time's "Bring Down the Walls"
Open: 2 p.m. Saturday – 6 a.m. Sunday, and all following Saturdays through May 26, Engine Company 31 Firehouse, 87 Lafayette St.
What you should know: The art world has taken notice of the growing movement against mass incarceration, for example with New York grande dame Agnes Gund shelling out $100 million from the sale of a Roy Lichtenstein to support the prison-reform movement.
But (and stay with me now) can house music possibly have anything to say about the big house? New York public art nonprofit Creative Time says yes, pointing out that the early-'80s explosion in the prison population coincided with the birth of this liberating musical genre. Creative Time has teamed up with New York's Fortune Society, which advocates for the incarcerated; artist Phil Collins, who spent some time with men incarcerated at upstate New York's Sing Sing Correctional Facility; and more than a hundred others, like TV on the Radio's Kyp Malone.
School for radical thought by day, nightclub into the wee hours, this multifarious undertaking will offer classes with the likes of the Rikers Island Debate Project, one-on-one counseling for those affected by incarceration, and a dance club, with Creative Time turning over the keys to nightlife stalwarts like House of Vogue.