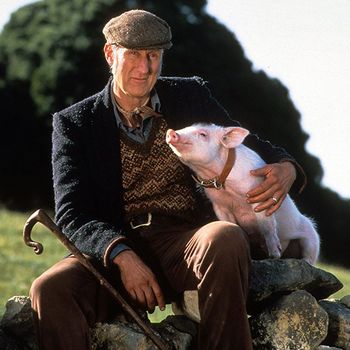 Photo: Universal Pictures
Each month, several films leave Showtime's library. We provide a list of departing titles and recommend a few standouts so you can watch them before they're gone forever (or are just available on a different site). For more coverage of the best titles available on HBO and elsewhere, check out Vulture's What to Stream Now hub, which is updated throughout the month.
Leaving May 18
If Mad Max: Fury Road is one of your favorite movies: Babe
The last 20-odd years of George Miller's filmmaking career have been one of the most charming and surprising turns in Hollywood, as the director who knocked everyone on their ass in 1979 with Mad Max suddenly pivoted to delightful family movies. Babe — which was in development for seven years — was co-written by Miller with director Chris Noonan. The story of a pig who doesn't feel quite right being a pig, Babe is a massive helping of cheer from a more innocent time. Miller would go on to delight the world again three years later when he took over the director's chair for the sequel, Babe: Pig in the City, which is also leaving on the same day as Babe. You know, maybe a marathon is in order. Leaving May 18.
Leaving May 31
If you're super into Fortnite right now: Battle Royale
It's wild how much Battle Royale has influenced pop culture since its 2000 premiere. A Japanese cult classic about students forced to hunt each other for sport on an island, the movie took on new relevance a decade later with The Hunger Games, and now, nearly a decade after that, it's the inspiration for the hottest genre in video games. But for everything it inspired, few projects with similar trappings have displayed such a full understanding of the cynical meanness and utter nihilism of its premise. Battle Royale crafts a hell of a thriller that's also unsettling, bleak, and tremendously sad. Leaving May 31.
Noteworthy selections in bold.
Leaving May 5
• Bangkok Dangerous
Leaving May 18
• Babe
• Babe: Pig in the City
Leaving May 21
• The Mist
Leaving May 25
• Bulletproof
Leaving May 26
• Madea's Family Reunion
Leaving May 27
• Open Water
Leaving May 31
• Amigo Undead
• Assassination Games
• Battle Royale
• Ben Gleib: Neurotic Gangster
• The Boondock Saints
• Cold Comes the Night
• Dreamscape
• I Survived a Zombie Holocaust
• In a Perfect World…
• Last Action Hero
• Miracle
• Punch-Drunk Love
• Return to Me
• Unknown Caller
• Vampire in Brooklyn
• Wristcutters: A Love Story (2006)