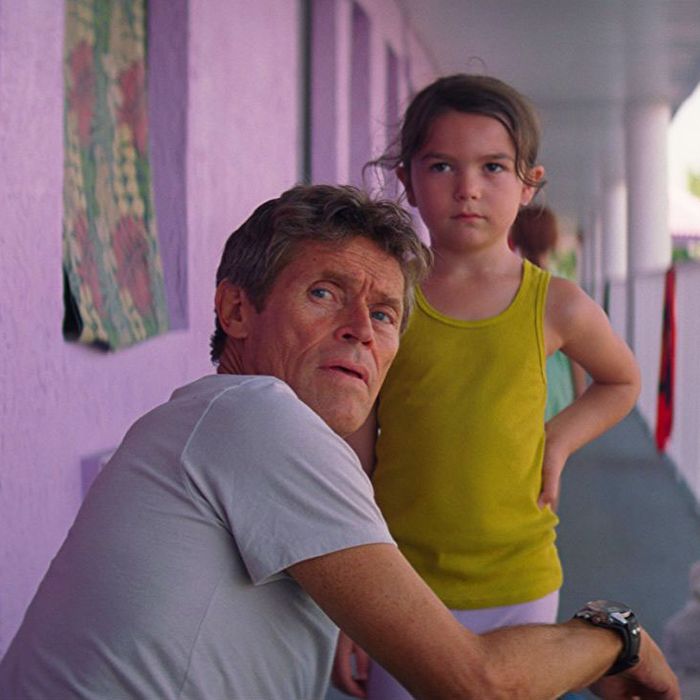 At the beginning of (and during) every month, Amazon Prime adds new movies and TV shows to its library. Below, you'll find our recommendations for April 2018. For more comprehensive coverage of the best titles available on

Amazon Prime and elsewhere, check out Vulture's What to Stream Now hub, which is updated throughout the month.
Available April 6
Because it was one of 2017's best movies: The Florida Project
When it comes to major award shows like the Oscars, snubs are par for the course. Countless revelatory films are ignored over the years, or not given the level of recognition they deserve. But every once in a while, a snub hurts more than others. This year, that snub was The Florida Project, a movie which only nabbed a single nomination for Willem Dafoe's supporting performance. The Florida Project chronicles the life of six-year-old Moonee (Brooklynn Prince), a raucous six-year-old girl who lives a barely-supervised life in a Kissimmee motel with her young mother, Hailee (Bria Vinaite), who's desperately trying to keep her head above water, a forgotten woman living among forgotten people that exist as a backdrop to moneyed tourists on their way to Disney World. The Florida Project is a beautiful exercise in cinema as empathy from Sean Baker, a director who's proven himself tremendous at it. Available April 6.
Available April 1
Because wow, it still bangs: Escape From New York
It's wild how well Escape From New York holds up. It's a tightly constricted, deliciously performed, terrifically shot action film rich in atmosphere and character. Watch it on a big screen today and it would play just as well as it did in 1981. It might even play particularly well in 2018: John Carpenter wrote the film in response to Watergate, which inspired the film's cynical plot in which a gruff hero is sent to retrieve a president hardly worth saving from a mess he helped create. And Snake Plissken! What an action hero. Kurt Russell brought the goods. Available April 1.
Available April 5
Because it's a singularly weird film: The Killing of a Sacred Deer
Director Yorgos Lanthimos' follow-up to The Lobster is just as difficult to describe as his previous film and best experienced cold — with a brief disclaimer that things are going to be strange, of course. Trading black comedy for psychological horror, The Killing of a Sacred Deer is about a surgeon (Colin Farrell) who befriends a strange boy. Upon introducing the boy to his family, they begin to fall ill with sudden and inexplicable paralysis. Saying more would ruin it. Available April 5.
TV Shows
Available April 1
• Hitler's Bodyguard Season 1
• Merlin Seasons 1-5
• Storage Wars Northern Treasures Season 1
• World's Craziest Foods Season 1
Available April 2
• The Missing Season 2
Available April 6
• All or Nothing: The Michigan Wolverines Season 1 (Prime Original)
Available April 13
• Bosch Season 4 (Prime Original)
Available April 23
• Red Rock Season 3
Available April 24
• Vikings Season 5
Available April 27
• All or Nothing: Dallas Cowboys Season 3 (Prime Original)
• Little Big Awesome Season 1A (Prime Original)
Movies
Available April 1
• 30 Beats
• 52 Pick-Up
• A Simple Plan
• A Suitable Girl
• Basic Instinct
• Brooklyn's Finest
• Carrie
• Danny Roane: First Time Director
• Desperately Seeking Susan
• Drugstore Cowboy
• Escape from New York
• Eye for An Eye
• Flashback
• For a Few Dollars More
• Fred 3: Camp Fred
• Fred: Night of the Living Fred
• Fred: The Movie
• Friday the 13th
• Funny About Love
• Gamer
• Hellbenders 3D
• Ice Mother
• Internal Affairs
• Kickboxer
• Ladybugs
• Life Stinks
• Man in the Moon
• Marathon Man
• Married to the Mob
• Meatballs
• Miami Blues
• My Art
• Mystery Team
• Mystic River
• Paranormal Activity
• Philadelphia
• Prancer
• Project Nim
• Quigley Down Under
• Red State
• Salsa
• Shanghai Surprise
• She's Having a Baby
• Sleepers
• Small Soldiers
• Snake Eyes
• Spaceballs
• Stand Up Guys
• Standing in the Shadows of Motown
• Steel Magnolias
• Superstar
• Tenderness
• Texas Chainsaw Massacre II
• The Big Wedding
• The Conspirator
• The Departure
• The Dogs of War
• The Foot Fist Way
• The Karate Kid
• The King of Comedy
• The Marc Pease Experience
• The Phantom
• The Rage: Carrie 2
• The Replacements
• The Thomas Crown Affair (2000)
• The Winning Season
• Thirst Street
• Throw Momma from the Train
• Trading Mom
• Troy
• Up in Smoke
• Uptown Girls
• Warpath
• Wayne's World 2
• Wishmaster
• Wishmaster 2: Evil Never Dies
• Wishmaster 3: Beyond the Gates of Hell
• Wishmaster 4: The Prophecy Fulfilled
• Chavela
Available April 2
• Psychopaths
Available April 5
• The Killing of a Sacred Deer
Available April 6
• Blame
• The Florida Project
Available April 10
• Hours
Available April 12
• I Can Do Bad All by Myself
• Saturday Church
Available April 15
• Fame
Available April 18
• Aida's Secrets
Available April 20
• Pass Over (Prime Original)
Available April 21
• Hangman
Available April 25
• The Vanishing of Sidney Hall