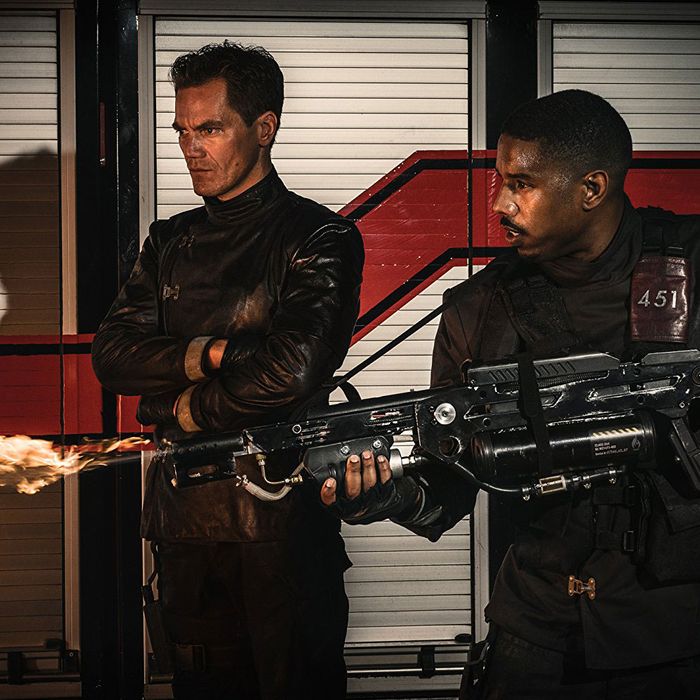 Fahrenheit 451.
Photo: HBO
At the beginning of (and during) every month, HBO adds new movies and TV shows to its library. Below, you'll find our recommendations for May 2018. For more comprehensive coverage of the best titles available on HBO and elsewhere, check out Vulture's What to Stream Now hub, which is updated throughout the month.
Available May 19
Because Michael B. Jordan is in a new movie: Fahrenheit 451
HBO's latest original film is an adaptation of Ray Bradbury's classic novel about firemen who don't fight fires but start them, burning books as state censors. Directed with flair by Ramin Bahrani, who also wrote the screenplay, this take on Bradbury's eerily prescient novel is anchored by a cast that's impossible not to love: Michael B. Jordan leads as protagonist Guy Montag, a fireman who begins to question his motives. Opposite him is Michael Shannon as Montag's superior, Captain Beatty, and Sofia Boutella as Clarisse McClellan, the woman who opens his eyes to the fact that he might be one of the bad guys. Available May 19.
Available May 5
For all your horny costume drama needs: Lady Macbeth
Set in 1865, Lady Macbeth follows a woman named Katherine (Florence Pugh) who is married off to a much older man, in an arrangement that is tacitly acknowledged to be little more than business. Left alone for an extended period of time, she begins an affair with a workman on the estate, and Katherine's suffocating existence suddenly becomes an unbearably tense one as the affair is discovered. It's Wuthering Heights as a tense-as-hell thriller, anchored by Pugh's tremendous performance. Available May 5.
Available May 12
For another dose of Tom Hardy's eyes: Dunkirk
Tom Hardy has straight-up made a career out of eye-acting, obscuring most of his face and natural voice with masks and accents, and Dunkirk is his crowning achievement, the most subtle performance those eyes have delivered yet. (He plays a pilot who's very good at concentrating.) What's more, Dunkirk is tremendously satisfying, a movie that has many of Christopher Nolan's distinctive tics and stylistic techniques but applied with great restraint. Although Nolan refuses to tell anything straight, it's hard to want anything different, especially when the result is such intricate clockwork that expertly ratchets up tension to a cathartic release. Available May 12.
Noteworthy selections in bold.
Available May 1
• A Sound of Thunder
• Avatar
• Cleopatra
• Dead Calm
• Dude, Where's My Car?
• Eurotrip (Unrated Version)
• Garden State
• In the Cut (Director's Cut)
• Kill the Messenger
• Maps to the Stars
• The Newton Boys
• Seabiscuit
• Secretary
• Star Trek: Nemesis
• You've Got Mail
• Wolves at the Door
• Hijo por Hijo (a.k.a Child for Child)
Available May 3
• Lady Macbeth
Available May 4
• La cordillera (a.k.a The Summit)
Available May 5
• 2018 Rock and Roll Hall of Fame Induction Ceremony
• The Lego Ninjago Movie
Available May 7
• A Dangerous Son
• Asian Pacific American Visionaries Short Film Competition Finalists: Jiejie, June, and Remittance
Available May 11
• La educación del Rey (a.k.a. Rey's Education)
Available May 12
• Dunkirk
Available May 19
• Fahrenheit 451
Available May 21
• The Final Year
Available May 26
• The Tale
• Patti Cake$
Available May 27
• Fist Fight