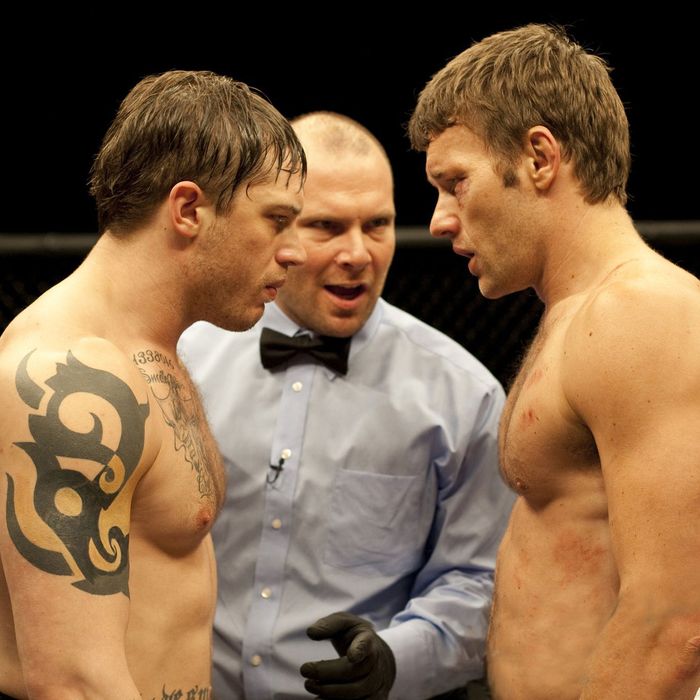 At the beginning of (and during) every month, Hulu adds new movies and TV shows to its library. Below, you'll find our recommendations for May 2018. For more comprehensive coverage of the best titles available on Hulu and elsewhere, check out Vulture's What to Stream Now hub, which is updated throughout the month.
Available May 1
Because it's one of the most underrated movies of the decade: Warrior
It's been seven years since Warrior came out and I'm still not over how thoroughly it blew me away. Perhaps the finest fight movie since Rocky, Warrior is an honest-to-goodness incredible film, satisfying everything you want to see in a classic fight movie effortlessly grafted onto a compelling, well-acted, impeccably directed and written family drama. Warrior works because, yes, it's about two estranged brothers (played by Tom Hardy and Joel Edgerton) on a collision course that ends in a highly publicized MMA fight, but it's also deeply invested in every aspect of their lives – especially with regard to their father, played by Nick Nolte – and how their conflict spills out into the lives of those around them. Available May 1.
Available May 1
Because everybody loves Benicio Del Toro: Traffic
A quietly sprawling examination of the drug trade, Steven Soderbergh's 2000 drama takes a nearly documentary-esque approach in its depiction of the forces at play in America's relationship to controlled substances. Each of its separate stories, which never fully overlap but directly affect one another, takes a frank, dispassionate look at the war on drugs and the myriad people forever trapped in it, from the cartels of Central America and the police who chase them to the politicians in Washington, D.C. and their privileged, drug-using children. While not every story in its tapestry is a resounding success, Traffic as a whole is a remarkable study of an endless war ginned up at the behest of the powerful, as haunting as its famous, final scene that runs through its end credits. Available May 1.
Available May 1
Because it's a very different kind of superhero movie: The Crow
The Crow is a project steeped in tragedy. Based on a comic by James O'Barr, who crafted the story in part to cope with the loss of his fiancé after she was killed by a drunk driver, The Crow's dark and brooding supernatural revenge tale became an indie comics sensation at the onset of the industry's big indie boom. Alex Proyas' 1994 film adaptation would take on its own air of loss, as star Brandon Lee was killed during one of his final days on set due to a prop gun malfunction. These tragedies understandably mean The Crow itself is widely under-discussed, which is a shame because it's a fascinating film that feels like a relic from another time. Lee plays Eric Draven, a man who is murdered alongside his fiancé on the eve of their wedding, only to find himself raised from the dead one year later, indestructible and free to take his revenge. A haunting, melancholic nightmare of a film, The Crow isn't for everyone by any means (the scene in which the central couple is killed – and Shelly, Draven's fiancé, is raped – is particularly difficult to watch) but it's a unique supernatural tragedy with an emotional core that transcends its goth aesthetic. Available May 1.
Noteworthy selections in bold.
TV Shows
Available May 5
• Drunk History: Season 5A (Comedy Central)
• Mobile Suit Gundam The Origin: Season 1 (Sunrise)
Available May 6
• I'm Dying Up Here: Season 2 Premiere (Showtime)
Available May 7
• Star vs. The Forces of Evil: Season 3 (Disney XD)
Available May 8
• Running Wild with Bear Grylls: Season 4 Premiere (NBC)
Available May 9
• T@gged: Season 2 (AwesomenessTV)
Available May 11
• All Night: Season 1 (Hulu Original)
• Claws: Season 1 (TNT)
Available May 12
• Patrick Melrose: Series Premiere (Showtime)
Available May 16
• 12 Monkeys: Season 3 (Syfy)
• The Strain: Season 4 (FX)
Available May 25
• Hollywood Game Night: Red Nose Day Special (NBC)
Available May 30
• America's Got Talent: Season 13 Premiere (NBC)
• World of Dance: Season 2 Premiere (NBC)
Available May 31
• American Ninja Warrior: Season 10 Premiere (NBC)
Movies
Available May 1
• 3 Ways to Get a Husband
• A Nightmare on Elm Street (1984)
• A Nightmare on Elm Street 2: Freddy's Revenge
• A Nightmare on Elm Street 3: The Dream Warriors
• A Nightmare on Elm Street 4: The Dream Master
• A Nightmare on Elm Street 5: The Dream Child
• The Brady Bunch Movie
• A Very Brady Sequel
• Baby Boom
• Back to School
• Barefoot
• The Beatles: Made on Merseyside
• The Box
• Booty Call
• Breakable You
• Bride and Prejudice
• Bull Durham
• The Counterfeit Traitor
• The Crow
• The Crow II: City of Angels
• The Crow III: Salvation
• The Crow IV: Wicked Prayer
• Demolition Man
• Dirty Pretty Things
• Eight Men Out
• Elizabethtown
• Emperor
• Executive Decision
• Foxfire
• Gator
• Godzilla (1998)
• The Hangman
• Here to be Heard: The Story of the Slits
• Hot Boyz
• The House I Live In
• Immigration Tango
• Iron Eagle IV: On the Attack
• Kalifornia
• Lost in Vagueness
• Love Is a Gun
• Malena
• Man of the House
• Manhunter
• Mansfield Park
• The Matrix
• The Matrix Reloaded
• The Matrix Revolutions
• Men in Black II
• Men with Brooms
• Never Back Down
• New Guy
• New Rose Hotel
• Ninja Masters
• No Greater Love
• The Pallbearer
• Pink Panther 2 (2009)
• Pret-A-Porter
• Priest
• Race for Your Life, Charlie Brown
• Rocky
• Rocky II
• Rocky III
• Rocky IV
• Rocky V
• School Ties
• Set Up
• She's All That
• Starting Out the Evening
• Strategic Air Command
• The Swan Princess Christmas
• The Swan Princess: The Mystery of the Enchanted Treasure
• Thief
• To Rome with Love
• Traffic
• Untamed Heart
• Valkyrie
• Wes Craven's New Nightmare
Available May 5
• The Longest Week
• Warrior
Available May 11
• Bleeding Heart
• In the Fade
Available May 12
• Baywatch
• Frank Serpico
• Jane
• Still Mine
• Talladega Nights: The Ballad of Ricky Bobby
Available May 13
• Tonight She Comes
Available May 15
• Animals
• How to Be a Latin Lover
• It's A Disaster
• Periods.
• Soul of a Banquet
• Take Every Wave
• The Other F Word
• The Snapper
• The Strange Ones
Available May 16
• Knights of the Damned
• The Mummy: Tomb of the Dragon Emperor
Available May 19
• Beatriz at Dinner
• Shooters
Available May 21
• American Folk
• Neat
Available May 23
• Half Magic
Available May 24
• Curvature
Available May 25
• Mad to Be Normal
Available May 27
• The Wedding Plan
Available May 31
• I, Tonya
• Please Stand By
• Rain Man