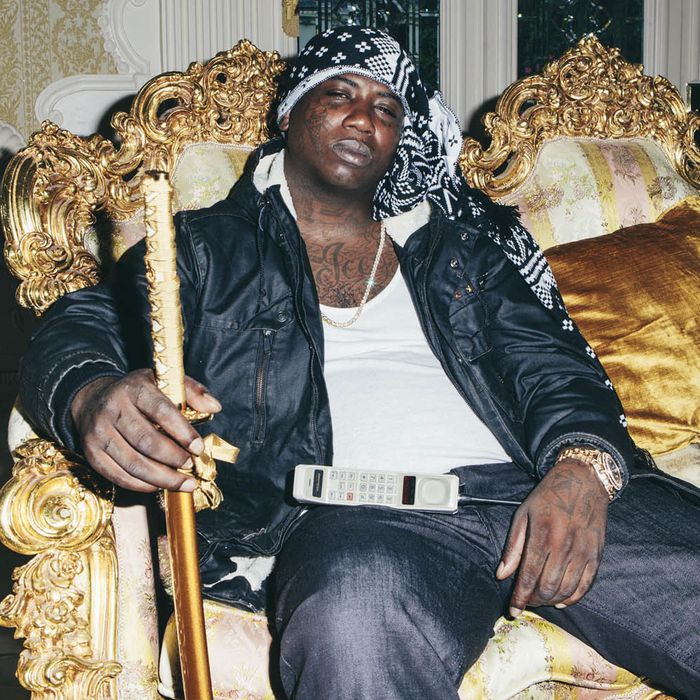 Gucci Mane.
Photo: Quang Le/Courtesy of the artist
Last summer, when entertainment journalist turned screenwriter Anna Klassen set out to write a new script, she laid down specific guidelines. She knew she wanted the project to be a true story. And about a woman. A woman of considerable accomplishment — but not a historical figure. She seized upon the idea of writing about J.K. Rowling in her early to late 20s, penning When Lightning Strikes about the best-selling author's "first loves, unexpected pregnancies, lost jobs, and depression on her journey to create Harry Potter," as the film's log line goes. Last year, that project wound up on both the Black List, an annual rundown of Hollywood's most popular unproduced screenplays, and the Hit List, an annual compendium of the year's best spec scripts.
"I wanted it to feel relevant and fresh, something that there would be a built-in audience for," says Klassen. "A lot of the people that I would want to tell stories about have already had their story told. Obviously, J.K. Rowling has this huge Harry Potter fan base behind her. And I feel like people who currently have a stake in pop culture are very relevant to our lives today. So we're interested in hearing their stories, and where they came from, and how they created these things that we hold dear."
In past decades, the movie biopic stood as perhaps the ultimate victory lap for a public figure: a big-screen slow clap gloriously depicting the accomplishments and weathered storms of an individual who was, almost without fail, either old or dead and already culturally enshrined, or who had faded from consciousness due to the passage of time. Think Lawrence of Arabia and Gandhi, Frida and Lady Sings the Blues, Malcolm X and The Elephant Man.
But in recent years, that process of selecting lives worthy of cinematic lionization has been dramatically reconfigured. And rather than continuing to focus on faded, fabled, or forgotten heroes, people whose glory days are in the past and great works decidedly behind them, there's been a sharp increase in projects plotted around people who are not only still alive, but who are relatively young and still vital — and continue to impact the popular culture into which the movies about them will soon submerge.
The Daily Show host Trevor Noah's 2016 memoir Born a Crime: Stories From a South African Childhood is being made into a movie co-starring and produced by Lupita Nyong'o (under a content deal the comedian recently struck with Viacom). Prolific producer Brian Grazer is moving forward at Paramount with a movie adaptation of The Autobiography of Gucci Mane, the New York Times best-selling literary debut of the platinum-anointed Alabama-born trap-rap pioneer also known as Radric Davis. And Michaela DePrince, who grew up an orphan in Sierra Leone during the country's decade-long civil war and went on to become a prima ballerina, will receive the biographical-drama treatment in a film called Taking Flight to be directed by Madonna and released by MGM. "Michaela's journey resonated with me deeply as both an artist and an activist who understands adversity," Madonna said in a statement.
The Black List has been a launching pad for no small number of Academy Award–winning fact-based films — Argo, The King's Speech, and Spotlight among them. But over the last few years, the list's founder Franklin Leonard has observed a dramatic uptick in contemporaneous biopics. "There was one year when there were two Steven Spielberg scripts about the making of Jaws," Leonard says. "There was a script about Ruth Bader Ginsburg two or three years ago. The Hillary Rodham Clinton biopic. One about Madonna."
"If you have an emotional relationship with those public figures to begin with, you're bringing that emotional response to the material — you're basically standing on the shoulders of the emotional relationship the person already has with the subject matter," he continues. "But the Trevor Noah, the Gucci Mane biopic, that seems like a new phenomenon. The process of making a biopic to better understand a public figure's role in pop culture has accelerated rapidly. It would've been insane five years ago to say, 'Let's make a Jon Stewart biopic, about The Daily Show guy!'
To be sure, a number of celebrated bio-dramas chronicling the lives of still-living, still-productive public figures predate this phenomenon. Erin Brockovich was a crusading environmental activist when Steven Soderbergh cast Julia Roberts in the titular role of his Oscar-nominated 2000 dramatization of her efforts against toxic pollution by the Pacific Gas and Electric Company. Facebook's Mark Zuckerberg has said he found his portrayal in director David Fincher's 2010 Best Picture nominee The Social Network "hurtful." But while those films were outliers for their times, the sheer volume of people-of-the-here-and-now biopics, currently in various stages of development, represents a clear shift in the kinds of people Hollywood considers subjects of interest.
According to awards-campaign strategist Lea Yardum, whose efforts this past prestige-movie season helped propel the biographical film I, Tonya to three Oscar nominations (including Best Actress for Margot Robbie) and one win in the Best Supporting Actress category for Allison Janney, these new biopics aim, in part, to satiate the requirements of modern fandom. They peel back the onion on popular performers while also recontextualizing the stars with surprising back stories that casual observers and super fans alike may have never known. "Modern audiences are used to knowing everything about their favorite celebrities," Yardum explains. "Everything is so accessible through social media and modern publicity outlets. It's a logical next step to want to go even deeper."
She adds: "But on a broader scale, perhaps it's as simple as a compelling life makes a compelling film. Looking at I, Tonya for a moment, that movie showed a different side to her life. Everyone knew the headlines and had their opinions, but the film took audiences deeper and shows you the life behind the headlines."
To hear it from a prominent film executive who asked not to be identified out of sensitivity to ongoing business relationships, it's not a coincidence that three prominent projects on this front are being plotted around African-American performers. Noah's comedic Born a Crime will depict his hardscrabble upbringing in postapartheid South Africa. The Gucci Mane film's narrative is set to trace the rapper's up-from-the-bottom career trajectory: from teenage drug dealing to hip-hop stardom to serious drug addiction; he beat a murder charge and was hospitalized with mental-health issues before turning his life around after a prison stint. And Madonna's DePrince movie will depict the dancer's path out of a Sierra Leone orphanage, her adoption by an American family that nurtured her love for ballet, and her attendance at the American Ballet Theatre, where DePrince (who, famously, can be seen performing in Beyoncé's 2016 "visual album" Lemonade) worked to overcome stereotypes of conventional beauty and racial stereotypes in the dance world.
"Trevor, Gucci, and this ballerina, all three are black," the executive notes. "One, that's the industry's recognition of the power of the black box office. But two, there's a history of black biopics that are only about slavery and civil rights. And I think the black community is tired of those. People are like, 'How do I do a black biopic that's an inspirational story that isn't a slavery or civil-rights story?"
While it's unlikely that contemporaneous biopics will overtake traditional bio-dramas about the old and the dead anytime soon, as an aside — almost under his breath — Leonard half-jokingly offers a competing explanation for why Hollywood is moving so many projects about modern-day famous faces into development these days. "It may just be that we're out of ideas," he says.