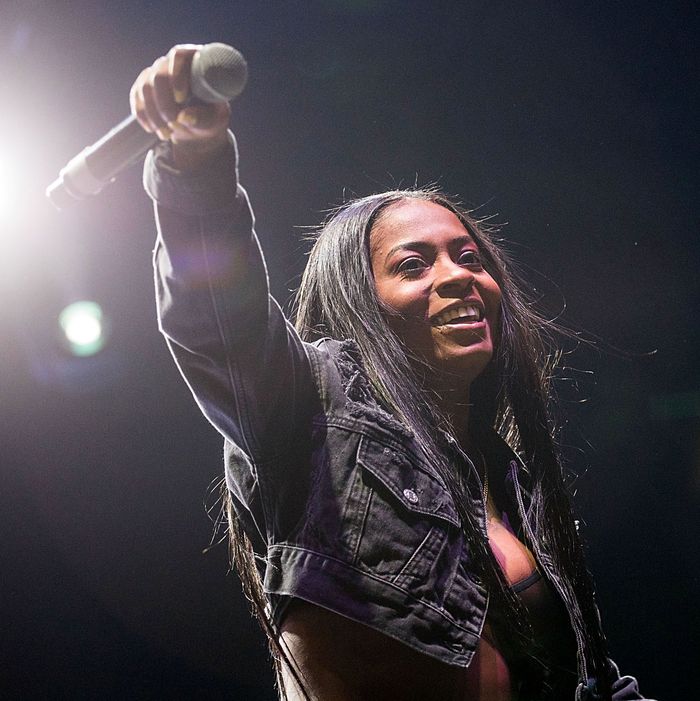 HoodCelebrityy
Photo: Rick Kern/WireImage
In the cultural spaces from which dancehall music gets its name, women are usually the center of attention. The Jamaican genre's digital rhythms are calibrated to inspire female bodies to wine, as the vigorous gyration of the waist is known across the Caribbean, and the lyrics to gyal tunes like Tony Matterhorn's "Dutty Wine" and Mr. Vegas's "Bruk It Down" echo this connection, calling out ladies-only instructions. The living embodiment of this culture, as seen through the years in music videos from Chaka Demus & Pliers' "Murder She Wrote" to Rihanna's "Work," are the so-called dancehall queens: acrobatic dancers in go-go boots, fishnets, and "batty rider" shorts who run the floor at Kingston street parties and diaspora nightclubs with splits, head-top plants, and other feats of flexibility. Yet dancehall, the music genre, has long minimized female voices, relegating women artists to a peripheral role.
This, finally, is changing. In Jamaica, where the current generation of male dancehall acts have struggled to replicate the crossover appeal of aughts icon Sean Paul, or the cult status of the currently jailed but still hugely popular and influential Vybz Kartel, women like Spice, Shenseea and Ishawna are keeping the genre fresh, provocative and relatable.
"Females are definitely taking over this male-dominated business," says Grace Hamilton, better known as Spice, the brash, blue-wigged diva behind bashment party essentials like 2014's "So Mi Like It" and a new addition to the cast of VH1's Love & Hip-Hop: Atlanta. (She's recently taken up part-time residence in Georgia, while maintaining her home, and presence, in Jamaica). "Back in the days, you only had one female that was reigning. But it's not like that now. If you called Jamaica and [asked] who are the top artists right now, I'm sure my name has to come up. And a lot of other females, who are doing extremely well."
Kingston isn't the only venue where this shift is being registered. The most pervasive dancehall single in New York City right now is "Walking Trophy" by the Jamaican-born, Bronx-raised HoodCelebrityy, an infectious motivational anthem charting a course for 2018 summer-jam status. One of the most talked-about artists at last month's South by Southwest conference was Bad Gyal, a blonde 21-year-old from Barcelona's suburbs who's amassed a broad international following with recontextualized Jamaican sounds. British-Jamaican rapper Stefflon Don reliably, and adeptly, dabbles in dancehall-inspired patois flows. Collectively, yet in notably different ways, this diverse group of female artists are challenging a vibrant, globally influential and often frustratingly misogynist music genre to reckon with long-held taboos and prejudices, and expand its traditionally limiting view of femininity.
"There are more women coming with more topics that don't involve the fact that their vagina helped them keep a man or get some money," says Jamaican media personality Nikki Z, morning host with the island's Energy FM radio station, citing commonly heard themes in dancehall lyrics. "They are finding their way, and pushing themselves out of the boxes that they were told to stay in. There's way more variety being heard now than there was even one year ago."
During the late 1970s, as dancehall began to evolve out of reggae into a distinct genre with its own particular codes and rhythms, there were no female DJs, as MCs are known within Jamaica. In those days, dancehall revolved entirely around sound systems — mobile DJ crews — which ran marathon sessions where local youths jostled for a chance to chat, or "toast," live over the day's popular records. The first to significantly break through this gender barrier was Sister Nancy, who began recording for producer Winston Riley in 1979, after DJ-ing with "sounds" like Black Star and Stereophonic. While she certainly maximized the opportunity — 1982's oft-sampled "Bam Bam" ranks among dancehall's most timeless tracks — Nancy has noted that the chance to prove herself within the macho culture of sound-system sessions came as a privilege of being the younger sister to respected dancehall pioneer, Brigadier Jerry.
As more female DJs entered the dancehall arena, they were typically branded in relation to established male acts. Macka Diamond, a staple of the Jamaican music stage for over 25 years, was first "Lady Mackerel," after the popular '80s DJ Major Mackerel. Patra, an icon of dancehall style whose box-braids hairstyle inspired Janet Jackson's look in Poetic Justice, was billed by Jamaican promoters and her U.S. label, Epic Records, as a female version of Shabba Ranks.
Lady Saw — whose own stage name referenced Tenor Saw, another popular dancehall star of the '80s — flipped dancehall's chauvinist sexual politics in the early '90s, proving she could be as raunchy as the male acts working in a style and era so X-rated it took on the Jamaican term for all things vulgar: slackness. Songs like "Stab Out the Meat" and "Hardcore" not only changed the game for dancehall, carving a mold Jamaica's female DJs have followed ever since, it filtered directly into the explicit (and often island-inflected) rap unleashed by Foxy Brown and Lil Kim several years later. Her legacy courses through today's pop music, too, in the form of Nicki Minaj, Rihanna, and Cardi B, cocksure Caribbean women raised on dancehall. But while Saw maintained her status as Jamaica's top-ranking woman for much of two decades, she never attained the same exalted position as male contemporaries like Beenie Man or Bounty Killer.
By the time Lady Saw renounced slackness in 2015 to minister and release gospel music under her birth name, Marion Hall, dancehall had found its new queen bee in Spice. A flamboyant, bodysuit-loving associate of Vybz Kartel, with whom she collaborated on 2009's "Ramping Shop," (which enjoyed considerable airplay on U.S. radio, even after being banned from Jamaican airwaves) Spice has distinguished herself as one of Jamaica's most engaging celebrity entertainers, regularly staging drama on her Instagram (one theatrical arc recently featured Missy Elliott, whom she's in talks to collaborate with). "I am the first artist out of Jamaica to have a million followers on Instagram," Spice boasts, adding: "Above even the Marleys."
Spice's verve for self-promotion isn't a crutch. She sings as well as she DJs, and her scandalous live performances — equal parts burlesque and endurance workout — have earned her the self-perpetuated but well-earned moniker, "Queen of Stage." Salacious sex romps like "So Mi Like It" and 2010's "Jim Screechie" are her calling card, but on 2015's "Like a Man" she took a more overtly feminist approach, questioning prejudices against women in dancehall: You think dem woulda rate me more / If me was a man and did a drop it hardcore? In the video she dons a three-piece suit, fedora, and mustache look reminiscent of '90s dancehall icon Super Cat.
Among the latest wave of Jamaican talent, Shenseea has quickly emerged as a standout. A 21-year-old single mother, she'd been working as a bottle server at Jamaican beach parties when "Loodi," an impressive collaboration with Vybz Kartel, made her an instant star across the Caribbean a year ago. Since then, she's flexed her versatility on rap and soca tracks, and held her own alongside another icon, Sean Paul, on "Rolling," which sounds like dancehall by way of the Renaissance Fair. Jada Kingdom, a singer whose sound bridges dancehall and neo-soul, recently inked a deal with Universal Latin subsidiary Aftercluv on the strength of her debut single, "Love Situation." And the island's reggae scene, reinvigorated in the last few years by neo-roots soldiers Chronixx and Protoje, has some promising young voices, too, in their respective woman prodigies, Koffee and Lila Ike.
Jamaica is always engaged in a vigorous internal dialogue about its music. But few recent songs have sparked more debate on the island than Ishawna's "Equal Rights," a controversial call for sexual reciprocity which, in an ingenious stroke of musical decolonization, co-opted the dancehall-lite rhythm from Ed Sheeran's ubiquitous "Shape of You."
Dancehall's great paradox is that, as much as it celebrates promiscuity and a generally hedonistic lifestyle, it has traditionally condemned oral sex, equating the act with sexual inadequacy and, in a reflection of Jamaica's deeply entrenched Christian fundamentalist thinking, perversion. Staples from Shabba Ranks's "Dem Bow" to Lady Saw's "Sycamore Tree," are, essentially, invectives against giving head. When Mr. Vegas sings, "Heads highhhhh, kill dem wid di no!" on 1997's "Heads High," one of the genre's most durable party-starters, he's instructing women listeners not to give into pressure to "bow," Jamaican slang for going down.
After Vybz Kartel celebrated fellatio on 2010's "Freaky Gyal," blow jobs became fair game in dancehall lyrics. But cunnilingus remains taboo. Accordingly, "Equal Rights," which celebrates the act with vivid, cheeky lyrics ("Mi wanna look inna your dreamy eyes / When you chew pon mi pum pum like french fries"), met with backlash, including "counteractions" from male artists expressing their disapproval. That the song became a hit anyway is a testament to the growing clout women have in dancehall, both in front of and behind the scenes, Nikki Z says.
"When Ishawna came out [with 'Equal Rights'], as much as [many male DJs] said they weren't playing it, there were enough women DJs and other men who said, 'Nah, we are going to support it,'" she says. She contrasts that response to the one granted Ce'Cile's "Do It to Me," which took a similar, pro-cunnilingus stance in 2004: "[Ce'cile] was chastised for doing it. The male DJs were not playing it, and there were no female DJs [then] to support her, or to speak out against it. You didn't hear the song. There was no social media or streaming, so it wasn't accessible."
Isis Semaj-Hall, a professor who lectures on Caribbean literature and popular culture at the University of the West Indies-Mona in Kingston, suggests that movements addressing rising sexual assault in Jamaica last year contributed to the fervent reception for "Equal Rights" and other feminist-leaning dancehall.
"Women were being abducted from taxis, and there was an anxiety that rape and abduction was coming," Semaj-Hall says. "You started to see Jamaican women and girls using their voices to call out and name names, and it became a part of the national discourse. This preceded #MeToo." One group, the Tambourine Army, got its name after a protester rapped the head of Jamaica's Moravian Church with a tambourine as he protected a pastor accused of raping two teenage girls. "When 'Equal Rights' came out [last April], it followed this moment of speaking up," Semaj-Hall says. "It's not just saying she wants a certain bedroom practice to take place."
HoodCelebrityy's "Walking Trophy" is a different sort of anthem, offering up body-positive affirmations for the social-media age, in easily translated patois: Dem gyal dem nuh pretty inna real life / You pretty pon di 'Gram / An yuh pretty inna real life.
"'Walking Trophy' is about women's empowerment," says HoodCelebrityy, a.k.a. 26-year-old Tina Pinnock. "It's to let women know that you are beautiful, even though we all have flaws. We need to be more confident in ourselves."
In heavy rotation on New York radio since the holidays, it's been a sunny break from a seemingly endless winter, delivering a quick dose of summer each time its steelpan textures pop from a speaker. It feels like it's a big-name remix and some warmer weather away from enjoying the sort of cultural presence that up-from-the-streets dancehall anthems like Gyptian's "Hold You" and Serani's "No Games" attained in years past.
HoodCelebrityy is well-positioned for wider success. Her support system includes her close friend, Cardi B, who instigated Pinnock's career as HoodCelebrityy when she shared a video of her freestyling on Instagram three years ago (she's now managed by the same company, KSR, that helped guide Cardi's meteoric rise), and Hot 97, which has three songs featuring the artist in current rotation, and recently announced her as a featured performer at this year's Summer Jam.
Befitting her dual upbringing, HoodCelebrityy is no dancehall purist. On her debut mixtape, last summer's accurately titled Trap vs. Reggae, she moves easily between ebullient bashment jams ("Bubble," "Vybez") and swaggering, patois-inflected rap ("Run Dat"), 50 Cent–inspired thug talk ("The Takeover") and romantic vulnerability ("Something Special"). On French Montana's "Famous (Remix)" and "On & On," a collaboration with rapper Tory Lanez and Hot 97 DJ Megan Ryte, she demonstrates her value as a role player, providing a mix of emotional resonance and island authenticity.
The video for "Walking Trophy" echoes the song's motivational lyrics, depicting a fashion show with models of highly varied body types. At one point, a chubby, bearded man in a platinum wig and skirt (an Instagram personality who goes by Chrissy DHK) appears, dropping into a split in the fashion of Jamaica's dancehall queens. It's not the sort of inclusion we're used to seeing in dancehall, for decades associated with the anti-gay fervor of songs like Buju Banton's "Boom Bye Bye." But dancehall has a gay and lesbian following. For practically the first time, someone with a voice in the genre is acknowledging their presence.
Like HoodCelebrityy, Spain's Bad Gyal isn't concerned with dancehall's rules, filtering it and other genres into a fresh, global sound. On Worldwide Angel, a nine-track EP released in February, her heavily auto-tuned vocals float coolly over rhythms that span trap, reggaeton, and dark strains of U.K. bass music. Rihanna's "Work," the gold standard for dancehall-inspired pop, is an ever-present touchstone. But, even as she sings mostly in Spanish and Catalan, Jamaica's influence comes through in the lyrics to songs like "Nicest Cocky." Her name, a common Caribbean term embraced by Rihanna, is unambiguous in its intent. She recently filmed the video for her single "Candela" in Jamaica, where she enlisted local dance crews to teach her popular steps like the Shoulder Fling. At her London debut last summer, she performed in a pair of assless chaps, a bold style choice that recalled vintage Lady Saw.
Bad Gyal, whose real name is Alba Farelo, might not be making dancehall, exactly, but that's not stopping tastemakers from positioning her as the genre's future. "Bad Gyal is a Rihanna-Loving Dancehall Badass From Barcelona," reads the headline of a November profile in Pitchfork, one of her loudest supporters. Farelo might not want that mantle ("I've never said that I make dancehall or that I'm a dancehall singer — because I'm not!" she told Dazed), but she's quickly reached a level of media saturation few, if any, of her Jamaican inspirations have. For many of her young, international fans, she is the gateway to an awareness that the genre exists.
Much of the dancehall-sounding music that has reached international airwaves in recent years has come from well outside Jamaica. With many of the genre's top draws sidelined from touring due to ongoing jail terms (Vybz Kartel, Buju Banton) and other legal issues (Popcaan and Beenie Man are among those currently unable to secure U.S. visas), and major labels and other corporate patrons reluctant to invest marketing dollars, the demand for the sultry island escapism provided by dancehall is being met by pop-world dabblers like Drake and related "tropical" genres like reggaeton and afrobeats.
In Jamaica, where music has long been an export of considerable economic significance, there is a growing sense that the island is losing its grip on one of its most visible cultural properties. It's a deficit that its current generation of female artists, lacking the baggage of their controversial and less marketable male predecessors, are perhaps best positioned to resist. "All of the females are able to travel," Spice says. "So we have have a better chance of taking the music out there."
Improbably, the dancehall act with the widest presence in today's international music landscape might just be the original female DJ, Sister Nancy. Each year seems to bring new resonance for "Bam Bam," an afterthought when it appeared on her lone album, One Two, in 1982. (It was never a hit in Jamaica, where Nancy is better known for the album's title track.) First sampled by New York rap acts like Main Source in the early '90s, it's weaved its way into mainstream consciousness since appearing in Hype Williams's 1998 movie Belly, in a brilliant scene introducing the murderous dancehall queen, Chiquita. (Disclosure: My company, LargeUp, has worked with Nancy on various events and projects.)
Last summer, Jay-Z sampled "Bam Bam" on "Bam," a single with Damian Marley from 4:44. It was a curious choice, given that Kanye West had just used a chunk of "Bam Bam" on "Famous," from The Life of Pablo. (Beyoncé also sang "Bam Bam" nightly on her Formation tour.) But Jay also gave Nancy an appearance in the song's video, shot largely at Jamaica's Tuff Gong studio. It was the first time many people had seen the artist, who had been working at a bank in New Jersey and performing only occasionally between the early '90s and 2014, when she secured the rights to her publishing. She's now retired from the bank, and performing regularly, in places like Singapore and Tel Aviv. Amara La Negra, the Dominican-American breakout star from this season's Love and Hip Hop: Miami, recently issued a take on Nancy's classic, "What a Bam Bam," as her first single through a newly inked deal with BMG.
"She is like the ghost in the machine," Semaj-Hall said of Sister Nancy. "It's her sample that everyone across the world has been pulling on, when they want to inject this kind of reggae, dancehall energy and excitement into their songs."
Adapted from Toots and the Maytals' original "Bam Bam," a reggae precursor from 1966, the lyrics to Nancy's now far more famous version documented her experience as a dancehall underdog: Dis woman! Neva trouble no one / I'm a lady, I'm not a man / MC is my ambition / I come fi nice up Jamaica…
Three decades after Sister Nancy sang of being the lone woman in a man's world, parity is finally arriving for the women who have followed her path. As dancehall, and by extension Jamaica, grapples for its position in the global music landscape, they are in position to lead the way forward.
Vybz Kartel is currently serving a 35-year sentence for a 2014 murder conviction. He continues to regularly release new music from jail.
Initially a term to describe the more upbeat style of reggae popular in Jamaica's dancehalls, dancehall began to hive itself off in the mid 1980s with the arrival in Jamaica of digital keyboards and drum machines, starting with Wayne Smith's game-changing "Under Mi Sleng Teng."
In the parlance of reggae and dancehall, the person operating the turntables — what most of the world would call a DJ — is known as a selector.
From its inception as a recorded form, dancehall has been a producer-driven genre, with only a small handful of artists fully controlling their own artistic presentation through ownership of studios, labels and distribution channels.