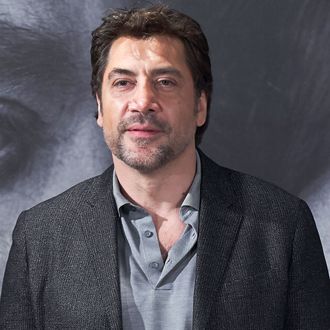 Javier Bardem.
Photo: Carlos Alvarez/Getty Images
Diane Keaton and Alec Baldwin aren't the only Hollywood-dwellers firmly voicing support for Woody Allen anymore. Javier Bardem, who earned a Golden Globe nomination for his leading role in Allen's Vicky Cristina Barcelona, is now also defending the auteur, explaining in a new interview with Paris Match how he's "absolutely not" ashamed to have worked with the director a decade ago. "If there was evidence that Woody Allen was guilty, then yes, I would have stopped working with him, but I have doubts," he said. "I am very shocked by this sudden treatment. Judgments in the states of New York and Connecticut found him innocent. The legal situation today is the same as in 2007."
Allen's daughter, Dylan Farrow, has accused him of sexually assaulting her when she was a child, detailing the alleged assault in a recent interview with CBS Sunday Morning. As a result of Farrow's accusations, numerous actors in the Allen canon — such as Michael Caine, Peter Sarsgaard, Colin Firth, and Rebecca Hall — have sworn to never work with him in any capacity again.