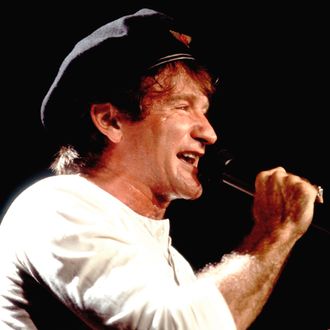 Robin Williams.
Photo: Paul Natkin/Getty Images
After a long career as a kinetic, childlike stand-up, TV personality, and film star, Robin Williams hung himself in 2014 after struggles with depression, addiction, a Parkinson's diagnosis and an undiagnosed case of Lewy body dementia. This month, Williams gets a well-deserved biography with the help of New York Times culture reporter Dave Itzkoff, who got to know Williams during his final stand-up tour, Weapons of Self Destruction. The book covers the span of Williams manic, playful existence — from his well-off beginnings in suburban Chicago to his A-list acting career replete with doubts he could never shake. Itzkoff maintains a brisk pace and wonderfully breezy tone as he balances the larger-than-life comedic icon with the flawed man. Here are ten things we learned while reading Robin.
A key aspect in the development of Williams's imagination: Toy soldiers. 
Though his parents had money, and raised him in a mansion called Stonycroft in Bloomfield Hills, Michigan, he still spent many hours playing alone in the attic. While there, he imagined fantastical battles between his battalions of toy soldiers. For years, he dazzled friends by showing them the big board he used as a battlefield, on which he'd create entire, crystalline worlds and all of the characters in them. As Itzkoff has it, this attic was a "playground of his mind" that Williams never left entirely.
If his parents weren't nomadic, Williams might have become a middle manager in Michigan somewhere. In 1968, long before he adopted Hawaiian shirts, Williams attended Detroit Country Day School in a blazer, with briefcase in tow. He felt at home, and was succeeding in school. He was on the honor roll, something called the prefect board and was voted class president for his upcoming, senior year. "I was looking forward to a very straight existence and was planning to attend either a small college in the Midwest or, if I was lucky, an Ivy League school," he said. But his father got a job in San Fransisco, the family uprooted, and Williams's eyes were opened.
For a long time, Williams was not quite an improviser but not exactly a stand-up, either. Williams idolized Jonathan Winters and improvised at school in San Francisco with the Committee and with the Comedy Store Players in L.A.; many of those performers remember Williams as someone who was not a team player. "The rules of improvisation were sacrosanct: Give and take —it's the scene that's important," said former teammate Jim Staahl. "And then Robin came in and was a bull in a China shop." While he found more freedom flying solo, it took a lot of learning before Williams codified his "riffing style" of stand-up into a careful and meticulous number of bits that could be mixed and matched together. If everything felt completely improvised, well, good.
There was a good amount of groping on the Mork & Mindy set that wouldn't fly today.
Williams was a little handsy during the early days on the set of his first runaway success, a Happy Days spinoff sitcom called Mork & Mindy— but, to hear the cast and crew tell of it, it was all in good fun. Williams and co-star Pam Dawber had a brother-sister relationship; he was devoted to her, constantly doing his best to protect her, seek her approval or, sure, pinch her butt or hang around in the wings naked while she was acting. "I never took offense," said Dawber. "I mean, I was flashed, humped, bumped, grabbed … He'd look at you, really playful, like a puppy, all of a sudden. And then he'd grab your tits and then run away. And somehow he could get away with it. It was the '70s, after all."
Williams starred in Waiting for Godot with Steve Martin. Wait, what? It was directed by Mike Nichols and featured Bill Irwin and F. Murray Abraham? Wow, really?! When? 1988, huh? Oh, it's public record? The show bombed? Only we didn't know that? Okay, sorry.
Robin Williams broke Robert De Niro's nose — and made him more handsome in the process. Fans familiar with Williams movie trivia will know that, during a particularly physical take on the set of Awakenings, Williams's elbow broke De Niro's nose. "It made a sound like a chicken bone breaking," said Williams. While cast and crew were a little concerned about De Niro's state of mind following the accident, there were no outbursts or threats of violent retaliation. De Niro took it in stride, and went even further during an interview with the Sydney Morning Herald: "The thing is, my nose was broken once before, and he knocked it back in the other direction —straightened it out. It looks better than it did before."
The pigeon is one of the few creatures ever to render Williams speechless. Jeff Bridges told Itzkoff a story about being on set with Williams during the filming of The Fisher King, in which the actors had finished a long night of shooting in Central Park. At about four in the morning, Bridges indicated some crates waiting under a bridge, and the tired pair took a seat. "As soon as our asses hit the crates, a whole bevy of pigeons — there must have been about twenty of 'em up there on the bridge — decide to just unload on us," said Bridges. "They shit all over us." As exhausted as they were, neither of them smiled or laughed. Bridges said it was "the only time that I remember Robin being at a loss for words."
Williams helped save Christopher Reeves's life and "took the curse" off of his wheelchair, too. The days following Reeves's equestrian accident — which broke the actor's neck and would put him in a wheelchair for the rest of his days — were fraught, to say the least. In a true Patch Adams moment, Williams showed up at the hospital before the operation dressed as a doctor claiming to be his friend's proctologist. (Williams's version is a little different than Reeves's remembrance, but it's something along those lines.) Reeves laughed for the first time since his accident, and knew he'd be okay. Five months after the accident, when Williams teased his old Juilliard colleague about the new wheelchair, Reeves said that Williams "took the curse" off of it.
Friends and colleagues count small, private performances among their favorite moments with Williams. A long, backstage conversation with a baton; an intricate back-and-forth with a glowing Coke machine in a hallway; a monologue about murder from a gentle southern madman at an intimate dinner. These are just a few of the one-of-a-kind, never-to-be-repeated shows that Williams provided to his fellow performers and closest associates. The southerner was a character Williams created for director Terry Gilliam during the filming of The Adventures of Baron Munchausen, and the character lived for one night only. Though Williams's character insisted he was a loving person, "he was, in fact, a total, psychotic, probably serial killer," Gilliam said. "But he was the most sweet, charming, voluble character you'd ever want to talk to. I was just in tears, it was so funny." When Gilliam asked Williams to re-create the guy several days later, it wasn't the same.
Accusations about joke-stealing haunted Williams to the end. There are essentially two perspectives on Williams's penchant for picking up other comics' material and running with it: He was a sponge or he was a thief. Either way, he paid a lot of comics for using their jokes — at one point joking that he was the "bank of comedy." In the end, it seems that the approval and the companionship of comedians was more important to Williams than almost anything else. Near the end of his life, he'd hang out often at the Throckmorton Theatre in Mill Valley, California, chat up comics and occasionally do sets. One night, he ran into Dana Carvey and tried to apologize to Carvey for using the term "Mr. Happy" for his penis. "I go, 'Robin, I don't believe that was mine,'" said Carvey. "And I don't think he ever believed me. So we had kind of an awkward exchange. I said, 'I kind of accept that, but I tried to be you for four years.' I realized later, this was not the way it was supposed to go. You're supposed to say, 'Thank you.'"