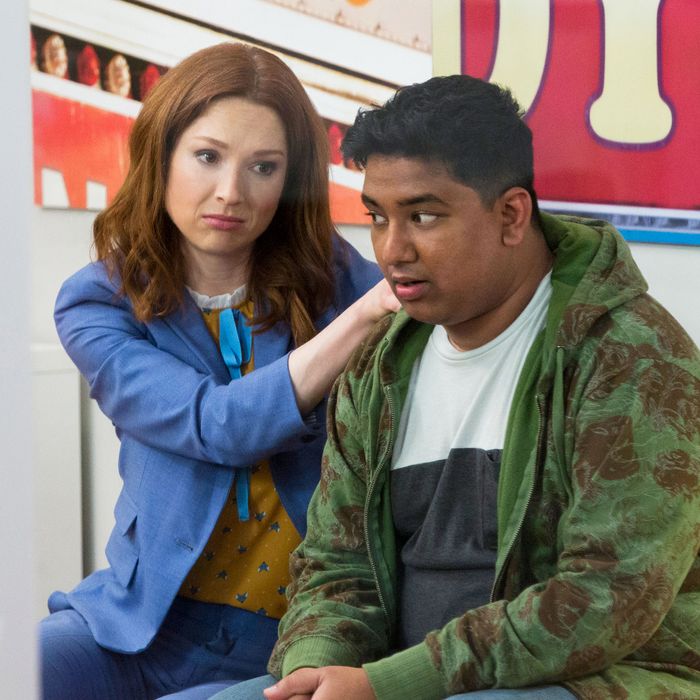 Kimmy Schmidt (Ellie Kemper), demonstrating how not to behave in the office on
Unbreakable Kimmy Schmidt
.
Photo: Eric Liebowitz/Netflix
In recent months, the #MeToo movement has played a prominent role in a handful of TV shows.
Due to a brilliantly timed coincidence, the since canceled Great News took a gender-flipped look at the notion of office harassment mere days after the Harvey Weinstein scandal first broke. The attorneys of The Good Fight contended with a Hollywood sexual-harassment-related lawsuit in an episode that aired in April. Silicon Valley shone a light on start-up-culture horndogs in season five via a story line about the robot Fiona — obviously inspired by the very real Sophia — who realizes she's been abused by the man who created her. Even the second season of 13 Reasons Why, which deals extensively with rape and assault, highlights the fact that most women have their own #MeToo stories to share.
But in the coming weeks, even more scripted series will tackle misogyny and the impact that inappropriate and/or abusive behavior has on women, so much so that it feels accurate to refer to the upcoming season as the summer of #MeToo TV.
The trend begins most blatantly with Unbreakable Kimmy Schmidt, which returns May 30 for the first part of its fourth and final season on Netflix. This series has always wrestled — albeit lightly and comedically — with female trauma. It is a show, after all, about a woman trying to acclimate herself to society after being kidnapped, brainwashed, and controlled by a twisted man for more than a decade. But in the first episode of this fourth season, Kimmy (Ellie Kemper) — now working at a startup called Giztoob — gets caught up in her own #MeToo situation when she inadvertently harasses a fellow employee. The joke: Because Kimmy was isolated in a bunker for 15 years, she doesn't realize that her lack of boundaries actually constitute grounds for the filing of a formal complaint. ("It's not like I'm a Weinstein, or a Spacey, or a the President," Kimmy says in her own defense while also making it clear that, yes, the show is very aware of Time's Up.)
Sam Means, who co-wrote that previously mentioned Great News episode with Tina Fey, also wrote this episode of Kimmy Schmidt, once again using a gender flip to make a point about how clueless a person must be to not realize he or she is harassing someone. That's not the only #MeToo or #MeToo-adjacent moment of the season, either. A separate story line focuses on a documentary that humanizes Kimmy's former abuser, the Reverend Richard Wayne Gary Wayne (Jon Hamm), and underlines — again, with a lot of jokes! — the way that society minimizes victims' pain. (For more on this, please read the New York Times interview with the cast of Arrested Development.)
Several shows debuting in June travel a similar thematic road. The fifth season of Younger hits the ground mad-dashing with an episode called "#LizaToo" in which author Edward L.L. Moore (Richard Masur) faces public allegations of groping and mistreating women just as the comedy's publishing company, Empirical Press, is preparing to release his latest Game of Thrones-esque tome. Dietland, the new AMC series based on the Sarai Walker novel that Kirkus Review described as "a feminist manifesto," follows a ghost columnist (Joy Nash) for a women's magazine editor (Julianna Margulies) who gets drawn into a vigilante group that targets — and eliminates — misogynists.
Impulse, another new series for YouTube Red, portrays a teenage girl named Henrietta, or Henry (Maddie Hasson), who unleashes her power to teleport for the first time, at the precise moment that a classmate tries to rape her. Like Dietland, Impulse inflicts punishment on men who force themselves on or otherwise take advantage of women — in the series, the rapist becomes a paraplegic because of the damage caused by Henry's teleportation.
Attempts to assert power within an admittedly odd workplace — an all-female wrestling show — are a central focus of the forthcoming second season of GLOW. The half-hour dramedy is set in the 1980s and can't explicitly reference #MeToo in the same way that Kimmy Schmidt and Younger do. But the spirit of current events is clearly reflected, especially in one plot development that involves a network executive putting a woman in a compromising position.
That's a lot of #MeToo shows for one month, and I haven't even mentioned the episodes of Ruth McGowan's reality series, Citizen Ruth, that are currently rolling out on E!, or the retro female empowerment undercurrents in American Woman, the new Paramount series starring Alicia Silverstone as a '70s-era Beverly Hills mom reinventing herself after discovering her husband's affair, or Picnic at Hanging Rock, the Amazon series based on the 1967 novel by Joan Lindsay that explores the disappearance of a group of female student and their head mistress and has a patriarchy-disrupting bent to it. Naturally, writers in the industry that, so far, has been most publicly rocked by harassment allegations are going to have the #MeToo conversation on their minds and use it in their work. As is always the case, it has just taken some time — in this case, not all that much — for pop culture to catch up to current events.
Having that sort of bent gives a show currency, something that's all the more valuable in a landscape where, even during the summer, most will get lost in the deep sea of viewing options. A show that can rightfully claim to be relevant or of the moment has a much better chance of generating the kind of social-media attention and think pieces that make sure a series gets noticed. But that doesn't mean that all these TV writers are leaning on #MeToo as a marketing tool. For many of these shows that have delved into similar subject matter in the past, it makes sense to address harassment even more head-on in their narratives now that society at large is doing the same thing.
"Last year we dealt with the idea of truth and post-truth," Younger creator Darren Star said during a panel at last weekend's Vulture Festival. " This year with everything going on with the whole #MeToo movement … we looked back and we thought, wow, we were living that in the writers room, having a lot of fun with a character like Edward L.L. Moore and really played that for laughs. And now [we're] realizing, Wow. We wouldn't find that funny anymore. That's sort of what our jumping-off point was [for season five] in the room."
Another reason we're seeing a lot of #MeToo story lines: Much of television this summer happens to center around female protagonists. Some of it is largely driven behind the scenes by women, many of whom know what it's like to be harassed and have experienced the consequences that come from trying to speak out about it.
"We have so many women in the writers room, and we're all telling stories because that's what we draw from to put in the show," GLOW co-creator Carly Mensch said, after I asked about Time's Up during a Vulture Festival panel I moderated last weekend. "Those stories are just out there: like, before Time's Up, during Time's Up — we have things to draw from. But I think just being surrounded by so many women, we've been aware of this for a while and it's very exciting that the times are exposing all these stories."
The times are. So is television, and not just this summer, either. Season two of Roseanne reportedly may deal with #MeToo this fall, and Ryan Murphy has said he wants to develop an anthology series called Consent that will take a Black Mirror-style approach to Harvey Weinstein, Kevin Spacey, and other stories that involve sexual predators. In other words, #MeToo TV is here, and it isn't going anywhere anytime soon.