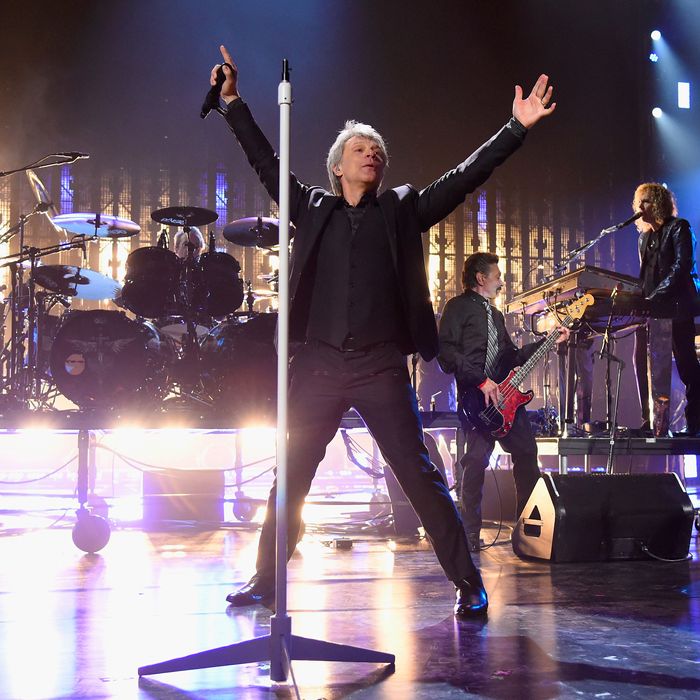 Bon Jovi.
Photo: Kevin Mazur/HBO
Last month, 2018's Rock and Roll Hall of Fame induction ceremony rocked out in Cleveland — and we mean really rocked out; it was nearly five hours long — with the event finally being broadcast on HBO this weekend for everyone to experience. Since Vulture was in the room where it happened, we decided to compile the highest of highs, the lowest of lows, and the just plain whoas! from this year's ceremony, which saw Bon Jovi, Dire Straits, the Moody Blues, Nina Simone, the Cars, and Sister Rosetta Tharpe get the induction honors.
HIGH: Howard Stern's raunchy speech.
When David Letterman subbed in to present for Pearl Jam as a means of eleventh-hour necessity at last year's Rock Hall induction — the original presenter, Neil Young, became too ill to attend — the musician-adjacent-comedian era of the Hall was officially born. Howard Stern continued the new tradition this year by presenting for his good pals Bon Jovi, so please feign shock when we tell you that his no-holds-barred speech equally delighted and disturbed the ceremony's attendees, where he waxed poetic about everything from having a threesome with Richie Sambora to how much of an ass he thinks Jann Wenner is. To give you a taste:
Now, on the other side of the zombie apocalypse, Jann Wenner finally let Bon Jovi into the Rock and Roll Hall of Fame. Way to go Jan, Jonny, John, Jann, whatever the fuck your name is. Anyway, Jann, you did it. You finally gave this fantastic band their due. Now, for those of you who don't know, Jann is the man in charge, but I'm not sure why. This guy doesn't play a musical instrument, he doesn't have a band, but he did start a great magazine, Rolling Stone. Yeah. And now it's the size of a pamphlet — what a business plan; way to go. I read it in about 30 seconds backstage. Now, Jann required years of pondering to decide if this glorious band that sold over 130 million albums could be inducted. What a tough decision! Gee, I don't know if I should let Bon Jovi in? 130 million albums, that's not such a big deal.
He also told Bob Dylan to "eat shit" and gave the audience a vivid mental image of Leonard Cohen masturbating. He was the very first speech of the night.
LOW: Dire Straits' entire induction.
It was, to sum it up in one word, disappointing. A weirdly beautiful mess, if you will. If you're a newbie to this whole drama, all you need to know is that the band's front man, Mark Knopfler, refused to attend the ceremony for unknown reasons, with only half of the band ultimately choosing to make the trek to Cleveland. Which led to this spiral into the sonic abyss: Musicians refused to induct the band since Knopfler wasn't in attendance, leading to the first lack of presenter in the Rock Hall's history. (The band's bassist, John Illsley, technically did the honors.) There also wasn't a standard post-speech performance, owing to, yup, that whole "50 percent of the band isn't coming" situation. Ten minutes of decent enough speeches, a short video, and that's all we got. Not even HBO knows how to spin this.
HIGH: Lauryn Hill's tribute performance to Nina Simone.
This is the textbook definition of a tribute. Lauryn Hill served as a surprise guest by being one of the performers for Nina Simone's induction, weaving a gorgeous sonic tapestry (with some added modern flair) of the songs "Ne Me Quitte Pas," "Black Is the Color of My True Love's Hair," and "Feeling Good."
WHOA: The Moody Blues' fantastic hair.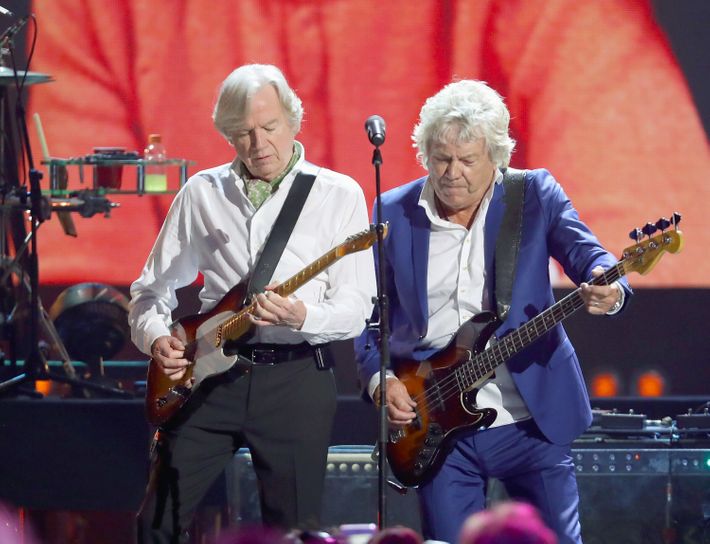 Lord, bless us with the follicles of John Lodge and Justin Hayward when we, too, become septuagenarians.
LOW: The lack of an "all-star jam."
As what has pretty much been the tradition for Rock Hall inductions since its inception in 1986, an "all-star" jam session closes the ceremony, where most of the inductees — and sometimes, the presenters, too — perform an iconic song together and have a blast doing it. (For instance, Neil Young's "Rockin' in the Free World" was performed by Pearl Jam, Geddy Lee, Neal Schon, and Trevor Rabin last year. Their smiles were infectious, truly!) Likely owing to that Dire Straits brouhaha, there wasn't any attempt made at such a performance in 2018, effectively letting down that niche group of people who were clamoring for a Jon Bon Jovi and Ric Ocasek collab.
HIGH: Ric Ocasek's snazzy outfit.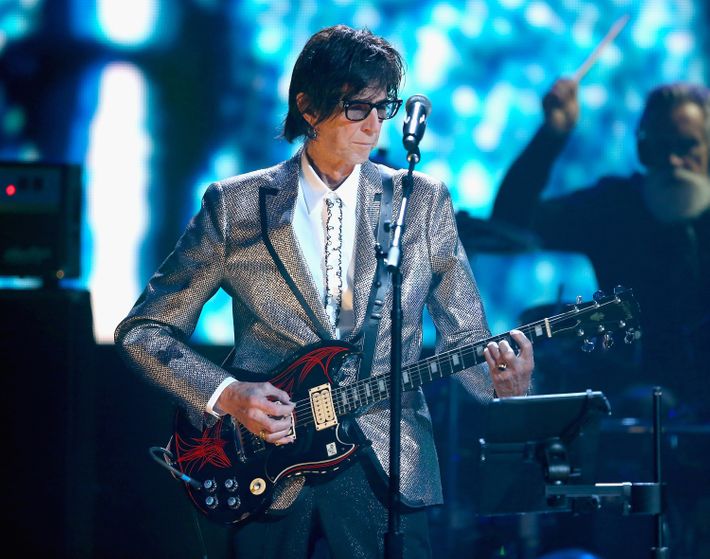 Don't cha stop serving those lewks, Ric.
WHOA: All of the speeches that dissed the Rock Hall.
A whole mélange of people took time out of their induction speeches to throw some shade at the Rock Hall experience, with the general grievance being how long it took for the institution to recognize them as musicians worthy of the honor. "Some days I write the thank-you speech, other days I write the fuck-you speech," Jon Bon Jovi pointedly peppered into his musings. "I know, I know, it's about time." (We don't need to repeat what Howard Stern said about co-founder of the Rock Hall, Jann Wenner. Reread the first paragraph, or his entire speech, if you so desire.) The Moody Blues' Graeme Edge also let his frustration be known: "It was so long that we were eligible and didn't make it that I got a real sour grapes thinking about it."
Dire Straits' Illsley, meanwhile, voiced his subtle annoyance with how the Rock Hall handled their strange induction situation while serving as the band's pseudo-presenter. "As as fellow member, I found I might be the most qualified one to do this. It's a bit weird, but life's strange," he said from the podium. "I know it's a little bit odd, but it's my honor to welcome Dire Straits into the Hall of Fame." And last but certainly not least, Nina Simone's brother, Sam Waymon, had thoughts about why it's ironic for her to be inducted at all. "It's the oddest thing for you to induct her because Nina Simone is a nonconformist; she's a non-traditionalist," he said. "But still, you know if she was here she would've said thank you, but she also would've said, 'Damn, Sam, what took them so long?'"
LOW: Jon Bon Jovi's speech.
Few would disagree that Jon Bon Jovi seems like a genuinely nice fella who's done New Jersey proud. (Although some might dispute the merits of his band being in the Hall.) But there's really no excuse for his supersized 20-minute speech in an already-long ceremony, especially since it took the form of a condensed Wikipedia entry about his career, as opposed to more poignant musings about the band's evolution. As someone who's literally said that he started writing this induction speech when he first picked up an instrument, you'd think he would've had time to reflect and appropriately hone it over the last few decades.